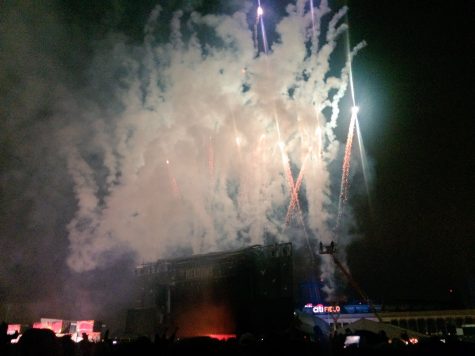 Nora-Grayce Orosz, Staff Writer
October 11
Filed under Entertainment
On Oct. 2, hordes of music fans descended the steps of the Willets Point 7 train station in Queens, heading towards the Meadows Music and Arts Festival. Boasting big, mainstream headliners like Kanye West, Chance the Rapper, the Weeknd, J. Cole, and more, New Yorkers as well as bridge-and-tunnelers...
Staff Profile
Hannah Calver
Impact Staff
Hannah is majoring in Journalism at Roehampton University in London. I am currently completing a semester abroad at Mercy College and she hopes to fulfill her adventurous side of discovering as much of...
Read all stories written by Hannah Calver
Nora-Grayce Orosz
Impact Staff
Nora-Grayce is a Journalism major from Yonkers, NY. She is a music and pop culture addict who lives for concerts and festivals. In her spare time she can be found binge watching the X Files, photographing...
Read all stories written by Nora-Grayce Orosz
Kayla Simas
Managing Editor
Kayla Simas is a Journalism major at Mercy College. She's from the forgotten borough of New York - Staten Island. She's an avid coffee drinker and enjoys the company of her Jack Russell, Romo. She...
Read all stories written by Kayla Simas
Christian Arriaga-Flores
Staff Reporter
Christian Arriaga-Flores is a Radio/Television Production major at Mercy College born and raised from Newburgh, NY. He likes to chat about anything from pop culture to politics. On his spare time he enjoys...
Read all stories written by Christian Arriaga-Flores
Amanda Depew
Staff Reporter
Amanda Depew is a Radio/TV Production major at Mercy College. Her hobbies include working all the time along with eating all the time. She has many jobs including being a substitute teacher, manager at...
Read all stories written by Amanda Depew
Kimberly Franco
Staff Writer
Official records will say I am Kimberly Franco, others may know me as Kiki Facts! I am a Media Studies, TV/Radio Production major at Mercy College. I am addicted to self-help books and healthy living. I am ...
Read all stories written by Kimberly Franco
Weronika Raczek
Digital News Editor
Weronika is majoring in Media Studies/Radio and Television Production at Mercy College. Her hobbies are obsessing over television shows, mainly Supernatural (yes, it is still on the air) as well as...