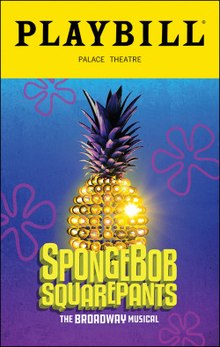 Danielle Sarasky, Staff Reporter

February 15, 2018

Filed under The Broadway Brat
Being a brat is easy but being a Broadway brat is much harder. Being a college student and loving Broadway just doesn't mix but you can't knock a girl for trying. The best way to get cheap tickets is by going to the TKTS booth in Time Square. You know those big red steps everyone goes on to take...
Danielle Sarasky
Impact Staff
Dani Sarasky is a Media Studies major with a concentration in Television and Radio production. She is from a very small town on Long Island called Floral Park. She is a member and captain of the Mercy...
Read all stories written by Danielle Sarasky
Nicole Acosta
Impact Staff
Nicole is from the Bronx and is a journalism major at Mercy College. Her hobbies include discovering new places to eat, photography, listening to every current album you could think of, and re-watching...
Read all stories written by Nicole Acosta
Michael Dunnings
Impact Staff
Michael Dunnings, otherwise known by the Hungarian equivalent "Miska", is a native of Dobbs Ferry and a senior studying Journalism at Mercy College. Michael can either be found wasting countless hours...
Read all stories written by Michael Dunnings
Caroline Newman
Impact Staff
Caroline is a junior TV/Radio Production major at Mercy College. She is from the picturesque valleys of Medford, Oregon. She is a member of the production team and helps shoot and edit our videos. In her...
Read all stories written by Caroline Newman
Stephen Lyons
Impact Staff
Stephen Lyons is mostly found on chairs and couches in front of a Television. When he isn't wasting his life with Xbox games or TV series, he likes to write and take long walks on the beach. His goal is...
Read all stories written by Stephen Lyons
PJ Gueye
Impact Staff
Rapper​ ​Flawless2wavey​ ​has​ ​been​ ​underestimated​ ​his​ ​whole​ ​life.​ ​"​ ​All my​ ​life​ ​,​ ​I​ ​felt​ ​like​ ​I​ ​wasn't​...
Read all stories written by PJ Gueye
Andrea Loaiza
Staff Writer
The name is Loaiza, Andrea Loaiza. She is currently a junior in Mercy College on her way to getting her bachelors in Media and Journalism. She was the managing editor for her high school newspaper...
Read all stories written by Andrea Loaiza
Nora-Grayce Orosz
Impact Staff
Nora-Grayce is a journalism major from Yonkers. She's a music and pop culture addict who lives for festivals and food. In her spare time she can be found binge-watching crime dramas, Instagramming her...
Read all stories written by Nora-Grayce Orosz
Karen Polanco
Impact Staff
Karen is dull and boring and that is why she can't write a bio. She lives in Connecticut. Or something. She edits videos fairly well. Rumor is she loves donuts. She can be reached at...
Read all stories written by Karen Polanco
Chloe Digianni
Impact Staff
Chloe is a senior TV/Radio Production major at Mercy College and is the main videographer. Her talents range from shooting footage in the studio to chasing protesters in Washington D.C with her trusty...