What Are Reasonable Expectations as an Ohio State Buckeyes Football Fan?
If you were to ask an Ohio State football fan their yearly expectations for the team, I think most would repeat the same message to you: To win the National Championship. But it's been a tough stretch for the Buckeyes since their magical 2014 title run. They are 1-4 in College Football Playoff games since hoisting the first ever trophy, with multiple of those losses leaving the team and fanbase feeling like they deserved to win those games. 
Abysmal officiating and untimely injuries have deflated the Buckeyes from reaching the championship stage again. A loss to the Clemson Tigers in the 2019 Fiesta Bowl by 6 points was a tough pill for Buckeye Nation to swallow, given that an awful overturn was made on a scoop and score play for Ohio State, which arguably could have won them the game.
Then you have our most recent heartache, a 42-41 loss to the Georgia Bulldogs in the 2022 Peach Bowl. A game which every football fan, not just those from central Ohio, knew that the Buckeyes dominated the field that night. A helmet-to-helmet hit on Ohio State star wide receiver Marvin Harrison left him unconscious momentarily, removing him permanently from the game. Harrison had been tearing apart the highly touted Georgia secondary before the injury, eclipsing 100 yards receiving while adding two touchdowns. The type of player nobody should have to "play without."
It seems it's a relaying cycle with this team. They bulldoze through the recruiting trail as strongly as any premiere program in the country, play a fantastic regular season schedule leaving Buckeye fans feeling hopeful heading into January,
and then it collapses. Like a cheap tent.
So, with all of the knowledge we possess about the tendencies of this team, why do Ohio State fans, myself included, feel that every year is THE year?
I'll tell you why. That's because even without much national hardware over the past two decades, Ohio State has maintained themselves at the top of the food chain. But how is that possible?
Well, nobody in the history of college football has a better all time winning percentage as Ohio State. Although they've been known to drop in the playoffs, the Buckeyes have been as strong in the regular season as any program in the country during that time frame. 
Head Coach Ryan Day has been great in his first four seasons as the leader of the program. Day has won 73% of his games vs Top 10 opponents in his short tenure, which is excellent given he's played in 15 of those games already.
The Buckeyes have also had more players drafted into the NFL since the new century began. A program that develops elite talent at multiple positions, but have just struggled to put it all together over the last eight years.
That is a small token of why the belief is so high in Columbus, Ohio every September. You're mistaken to believe there is a talent gap between the Buckeyes and those who have won National Championships in that period of time. It came down to execution in January during the CFP, as well as a new problem at hand, execution against their biggest rival, the Michigan Wolverines.
Ohio State has lost their last two meetings with arch rival Michigan, getting outscored 87-50 in both contests, including an embarrassing 56-17 point ratio in the last two second halves of those games.
The Buckeyes could have won a national title this year despite their awful loss to the Wolverines, which is what's crazy. But you have to think that a win vs. Michigan puts Ohio State in a much better situation for the playoffs, putting them at the #2 seed with a first round matchup with anyone other than the defending champs.
A win in Ann Arbor, Michigan won't be any easier this time around. A new starting quarterback winning in that brutal environment is a tall, tall task. 
Even after getting dominated in back to back seasons, I'm confident most Buckeye fans would tell you they expect a win over the Wolverines when November comes around, because that is the arrogant confidence that resides in the hearts of every true fan.
I'm confident that that arrogance is just what fuels this Buckeye team. Expectations with fans are multiplied by a million by the people in that locker room. A standard has been built at Ohio State that doesn't just wash away with some soap and water. It's tradition, the pillars placed by the greats long before them. That is what Buckeye football is all about.
So with all that being said, what are MY expectations for this 2023 season?
That's easy. We're winning the National Championship.
Leave a Comment
About the Contributor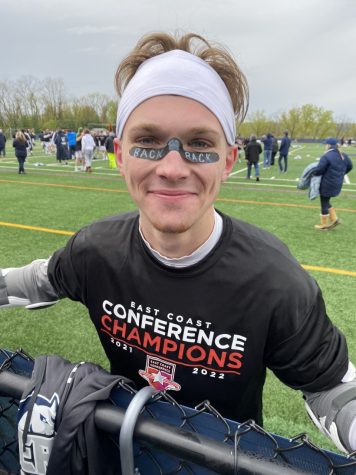 Thomas Heyder, Impact Staff
Thomas Heyder is a man of few words. He is a senior Media Studies major studying journalism. He plays lacrosse. He plays lacrosse. He writes like a champ.

He...