Keys for a Potential Ravens Playoff Berth, even with injuries at QB
Despite being the 3rd seed in the AFC at 9-4, Baltimore will have to overcome the Lamar Jackson injury and hope Cincinnati falls behind them record wise in order to win the AFC North.
Just like last year, backup quarterback Tyler Huntley, for at least another week or two, will have to take care of business till Lamar Jackson returns. Jackson, early in a game two weeks ago, suffered a knee injury that was deemed as "not season-ending" according to Ravens head coach John Harbaugh when it occurred in Week 13 against the Denver Broncos. It was later diagnosed as a sprained PCL that would be a week-to-week injury, as it usually sidelines players for one to three weeks. The timeline when he returns would most likely be next week around Christmas weekend if there are no setbacks and he is ready to go, according to ESPN's Adam Schefter.
However, something that could accelerate or slow down his return would be whether or not Baltimore can keep winning to stay ahead of the AFC North. Along with the risk of re-injury, Jackson is the type of player to go as soon as he is cleared, but if he is not fully himself and the Ravens can secure a spot in the playoffs early without him down the stretch, it could be seen as safer for his health to save him for the playoffs. That said, a relatively easier schedule becomes tougher without their starting quarterback, despite winning the last two games with the collective of Huntley and Anthony Brown, who had to come in relieved of Huntley, who suffered a concussion early against the Pittsburgh Steelers last week.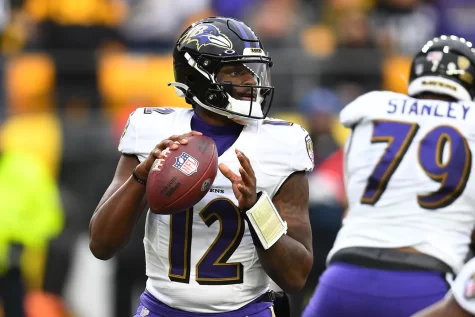 Baltimore, who sit at 9-4, will still have to manage to get into the playoffs with the likes of backup quarterbacks for a few weeks and keep pace with Cincinnati, who is also at 9-4 and surging at the right time. The Ravens' win over the Bengals back in Week 5 still looms large, at least up until the last week of the regular season when they rematch again in Week 18. The wildcard is still a possibility if Baltimore does drop a game or two but that will feel like deja vu from last year and that allowed the Bengals to get into the playoffs, to then lose to the Los Angeles Rams in Super Bowl LVI.
In 2021, Baltimore lost Lamar Jackson to an ankle injury for the season with four games left but had a good record at 8-5, to then lose all those games and miss the playoffs entirely, falling to last in the AFC North at 8-9 last season. The Ravens can't let last year's collapse define them, as this season, 2022 started off strong but since then, it has tailed off completely at different times for both sides of the ball. The offense not having enough weapons to move the ball through the air and on the ground. The defense choking away leads like nobody's business in close games and allows teams to throw their way back into games. Things that were problems last year (and prior seasons) and even though there are injuries, it happens every year it seems to many teams, so it is not an exception, and a better gameplan needed to be prepared for in terms of closing those games.
I already mentioned Baltimore's defense in a previous article, but with a backup quarterback especially, they will have to lean on the likes of their star linebacker duo Roquan Smith and Patrick Queen. Both made their impact known on the field, as they each nabbed an interception against Pittsburgh last week. The combo of "Ro and Queen" is highlighted as the centerpiece of one of the best run defenses in the NFL, shutting down opposing running backs on the ground the last few weeks. Not to mention the veteran defensive lineman saving the day with a blocked field goal in veteran Calais Campbell to essentially seal the game as a Ravens win over the Steelers.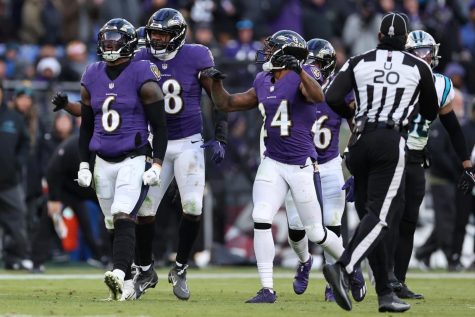 The secondary should be improved with safety Marcus Williams coming off injured reserve, as he is the ball hawk the Ravens were missing. He also had an interception this past week against Pittsburgh, as the turnovers have come in bunches in key moments whenever Baltimore gets the win. Rookie safety Kyle Hamilton is coming around as one of their better coverage defenders in their safety rotation along with Chuck Clark. While cornerbacks Marlon Humphrey and Marcus Peters look to rebound next week, as their defense can build on complementing their top-tier run defense with great pass defense. So far this season, Humphrey has been a pillar in covering the opposing top receivers this season (other than the rare occasion) and his presence is sorely missed whenever he is not on the field.
With this defense, Baltimore has gone back to its roots by pounding the rock, especially with the return of J.K. Dobbins. The duo of Gus "The Bus" Edwards and now Dobbins back in the fold will help the Ravens move the ball in more scoring situations, as it was a struggle against tougher defenses. Adding Kenyan Drake and Justice Hill, who can spell them in a pinch, should both get in the mix occasionally if health is still an issue for either running back. Still, it is nice to see a dominant performance from Dobbins (against the Steelers) and hopefully, this is just the beginning for the Ravens' run game to get going finally after weeks of it being ineffective at times this year.
Dobbins came off the injured reserve due to another knee surgery to remove scar tissue from a previous ACL surgery that hampered him earlier this season when he tried to come back. These torn ACLs for both Dobbins (actually had more than ACL damage, also involved torn LCL, hamstring, and meniscus) and Edwards occurred before the season began back in 2021.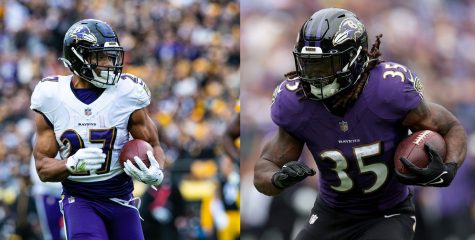 While the Ravens haven't ruled out Jackson for this Saturday's game against Cleveland for the second time, I don't envision him playing in Week 15. Huntley, a former undrafted rookie back in 2020 from Utah, looks like he is on track to clear concussion protocol so he should get another start but if he sustains another injury, the current undrafted rookie quarterback Brown (from Oregon) will see more playing time.
With backup quarterbacks potentially playing this coming week and in future weeks, both the run game and the defense will need to be relied upon to secure victories. Baltimore will rematch the Steelers in Week 17 after facing the Browns in Week 15 and the Atlanta Falcons in Week 16 when Jackson should be back. That Week 18 rematch against the Bengals could ultimately decide the winner of the AFC North and one of the big four in the AFC playoff race.
Leave a Comment
About the Contributor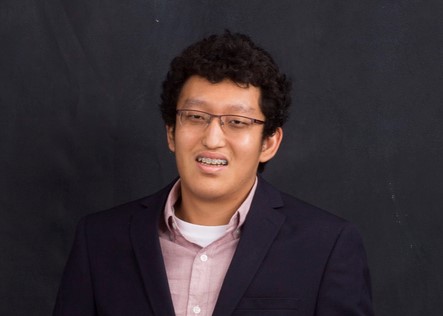 Andrew Kim, Impact Staff
Andrew Kim is a senior majoring in Journalism. Transferring and switching majors a few years ago was a big risk but it has been well worth it so far. Andrew...