Reaction to "The Social Network"
Hang on for a minute...we're trying to find some more stories you might like.

Facebook is a social network website that allows people to connect with family and friends. It was created in 2004 by Mark Zuckerberg and his roommates in Harvard University. The idea of Facebook was originally made for college students in Harvard but as it kept expanding, the company made it worldwide for everyone to use it.
It was first called "TheFacebook" but they decided to drop "the " and leave it as Facebook. The movie "The Social Network" showed us how the idea of Facebook came about, the life of Mark Zuckerberg during that time and the obstacles he had to face to get Facebook to where it is now. Facebook is now worth billions of dollars and as of today, it has over 250 million users.
In modern media, Facebook has become one of the most popular social networks.If you ask anyone who has Facebook , there is a large possibility that every has one. Mark Zuckerberg changed the way we communicate with each other when he launched Facebook. He gave people the ability to look up anyone online and be able to find everything about them . You can see anyones profile which consist of their pictures, their basic information, relationship statues, interest, and friends. You can chat with people who are miles away and meet new people and look them up before you even see them in person.
The creation of Facebook is important to modern media in many ways. People are always on Facebook finding out the new trends, news, the life of celebrities, etc. We no longer have to turn on the tv to see the news or read a magazine to know what is going on in the entertainment industry, everything is now on Facebook. It's the new way of communication, Mark made it easier for us to know everything about everyone and the things around us.
He got the idea of Facebook when three students from prestige university came to him with the idea of creating a network for college students, Mark agreed but turn his back on them and made it better with the help of his roommates. He made it possible for everyone to connect and share things with each other online. That is the new form of communication and how people use Facebook in the modern media.
Facebook plays a major role in our daily lives. There is never a time in which we don't check Facebook to see what everyone is doing, we are always in our devices checking our social networks. Because Facebook shows us what is going on in the world around us, we don't have to get a newspaper to find out or watch the t.v , we go directly to Facebook to find out these things. Facebook isn't just for your own purposes of connecting with friends and family and checking what they are doing, it is more than that. We can see what everyone around the world is doing and what trends and news are happening. Facebook plays a big role in media convergence.
Advertisement, news, trends, etc are all now connected to Facebook so you can see what is new. Facebook is also connected to any device, on your phone, on your computer, on your tablet, everywhere. Before we didn't have that, we used a phone for one thing and a computer for another but now Facebook is part of the new way of gathering everything together so you wouldn't have to get every single device or newspaper.
The movie "The Social Network" shows us exactly that, many people were using Facebook because they had the chance to see what is going on around them and what the people around them are doing. I can agree that Facebook is huge part of media convergence, I spend a lot of time on Facebook and find out everything everyone is doing and what is going on. For example, my mother and I was watch t.v and we find out about a snow storming coming upon so I went straight to Facebook and everyone was talking about it.
The movie "The Social Network" shows us how Facebook was created and how it become successful. It also shows us Mark Zuckerberg life during that time and the lawsuit he faced when his friend sued him for giving him zero percent of the company's money and the three students who thought of the idea. Though some of the scene are based on true event , it is safe to say that some weren't and that the filmmakers made up some characters and some scenes.Some changes were that they made up a new character and they made the characters in the movie different than how they really are.
Mark Zuckerberg's character in the movie is an angry,insecure cocky young man but in reality Mark is known for being confident and very calm man. In my opinion, the filmmakers made these changes to grab the audience attention. I think they wanted to make him look like the bad guy of the story to put in more drama into the movie so people would watch it.
They wanted people to watch the movie so they made things up that didn't happen to make the plot more interesting for the viewer to watch it and make it successful. These changes enhance the story of Facebook to show people that it is difficult to launch a social network and to show them that it takes  a lot of patience, time, struggles, etc to make Facebook happen.
Facebook has not only become one of the most popular social network but it has also become part of our daily lives and the new way of communication. It has changed everything we knew about the network industry and communication field. We are all on Facebook updating our statuses and profile, checking news feed, looking up friend, everything.
It has everything we can possibly imagine in it, we get information quickly and learn about people without them actually knowing us. The way it has changed so drastically is remarkable, everyone is so into Facebook that has become the way we gather information and communicate with each other. The media convergence has advanced so quickly because of Facebook, we no longer have to check every single media communication to see what is going on. 
It's seems that our grandparents and parents are now using Facebook, we have moved on to other social networks. But lets try to being Facebook back to us, after all it's where everything started. Not including Myspace, that's another story of it's own.
About the Writer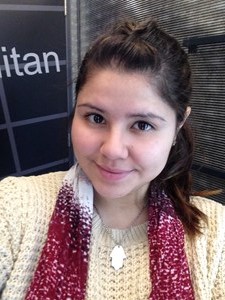 Andrea Loaiza, Staff Writer
The name is Loaiza, Andrea Loaiza. She is currently a junior in Mercy College on her way to getting her bachelors in Media and Journalism. She...