Friends Seek Lyrical Success In Band 'ODC'
Two dedicated young men who share an interest in music took it upon themselves to create a hip-hip duo around the foundation of their friendship, so solid and promising that it has taken them from their hometown of Fayetteville, North Carolina to their new home for the next four years at Mercy College.
Ricky Williams and Anthony Martin, who refer to themselves as ODC, an acronym for Original Dope Crew, met each other through a mutual friend just before entering middle school. Once a friendship was established, the two realized that they both shared something in common – a passion for hip-hop. By the time Ricky and Anthony reached high school, they had made a name for themselves by throwing unforgettable house parties, which they later used to their advantage as an opportunity to showcase their music. At 19 years-old, both Ricky and Anthony have come to Mercy College as freshmen hoping to create a buzz for themselves, much like the one they have already created back home in Fayetteville.
On Thursdays, Mercy students walk around with T-shirts and sweaters displaying a logo which looks like a snowman or Despicable Me minion at first glance, but Ricky explains that Javier Encarnacion, a mutual friend who is deeply involved into graphic designing, came up with the logos concept by taking the letters O-D-C and merging them together side ways adding two dots inside the O to make it look like a figure that they eventually tattooed on their arm. Anthony finds it humorous when spectators try to make sense out of their clever logo and enjoys the mystery of it.
"Whatever it looks like to you, we have heard it. I think its cool how people view it differently and then when we explain it they seem surprised. 'What is that?'" he mimics. "'Ohhhh,'" he says, acting out the most common reaction.
The two began their "ODC Thursday" tradition while they were still in high school. One summer ODC held a huge house party where they sold CDs and T-shirts. Because the party was such a success Anthony took it upon his self to upload a post on Instagram asking all of those who purchased T-Shirts to wear them at school the next day, which happened to be a Thursday.
"I just hoped everyone wore their shirts and I hash-tagged it #ODCThursday."
Although only a handful of people wore their shirts, Anthony smiles with a huge grin as he remembers, "That post is still there. If you scroll down those five hundred posts you'll see it and only five or six people actually liked it." Despite their small support in the beginning, it wasn't long before people started to join in on ODC Thursdays.
"We went from people not buying our shirts to 'ah maybe ill buy one' to 'when are you guys going to get more shirts?" Ricky says proudly of their growth. Today, ODC Thursdays aren't just about the T-shirts, but a creative way of promoting the release of a new song.
"The shirt is cool and we like to see people walking around wearing them but it's bigger than that. It's about the music," Anthony emphasis.
Although it took some time for people in their hometown to join their movement, creating a name for themsleves wasn't difficult upon the duo's arrival at Mercy College. ODC was able to perform at Mercy's last orientation this past summer with the help of their Pact mentor, Ariel Rabadi.
"It was our first time being in New York together, first time being at Mercy College, and our first time performing acapella," Anthony says with excitement as he was brought back to that day.
After spending the day doing group activities, getting to know one another and mentioning to a few people that they do music ODC was asked by their Pact mentor, who had met them hours ago, if they would like to perform for everyone in Mercy's Lecture Hall. The performance had a great response and to make it even more special it coincidently took place on a Thursday. Once the semester took off, ODC began building friendships with people who were willing to support them and soon found themselves able to continue their ODC Thursdays at Mercy. Anthony is extremely thankful for the acceptance and support of the Mercy student body as he mentions, "A junior came up to me recently and said 'you guys just got here and have so much support already, that's crazy' and I appreciated that so much. It makes us feel like we're back at home."
Ricky and Anthony both major in music industry and technology and are very satisfied with the program as their first semester at Mercy comes to an end. "The main thing we like about the music program is that it extends our learning and teaches us how to use programs that we didn't know how to properly use," Ricky says, adding, "The professors definitely knows how to teach."
Anthony voices his reasons for liking the music program as well, "Whether you have experience or not, they can build you from there." While the music program, which the two refer to as amazing, was a big factor in choosing Mercy as their ultimate choice, Ricky and Anthony say the college's affordable tuition was definitely a plus. So far the freshmen duo have learned a variety of things from synthesizers and sequences to piano and midi notes, which are music notes from virtually played instruments.
With influences such as 50 cent, Kendrick Lamar and J Cole, who is also from Fayetteville, ODC believes in making music that is positive and fun. Farewell, their most recent work of art, titled right before their move to New York, features songs that deal with what they believe are important and realistic topics. As they express the importance of feeling good, self-motivation and the encouragement of cutting down the use of social networks ODC wants their peers and listeners to view them as two young men who rap about real issues while using their talents to help stimulate the minds of their generation and generations to come.
Along with high traffic on their website, ogdopecrew.com, ODC currently has over 6,000 YouTube views on music videos produced and directed by supportive friends, Brandon Noel and Mark Mayr, and yet the young entertainment group of two says that although they have come pretty close to their ticket into the world of main stream entertainment, they are surprisingly happy it hasn't happened yet.
"We would have fell off. We would have been inconsistent," Anthony explains, adding, "There's a lot that we've learned and still have to learn about business, about music about being a group."
Extremely confident in their music, ODC has no intentions on creating a plan B. "This is it. Plan A is our only plan," Ricky says as Anthony includes, "Music is what makes us happy so if we aren't doing music then we aren't happy and we don't want to be unhappy."
Aware that they are still underground artists with a lot of challenges ahead of them, ODC humbly asks that their Mercy colleagues continue to support them, as they are certain of making it to the big time. "You don't have to like our music although we would like you too. We don't expect people to act as if we're famous because we're still just normal humans." Ricky pauses as he and Anthony share smirks and nod their heads in agreement to what is said next, "But of course, we want you to know that we got something."
Leave a Comment
About the Contributor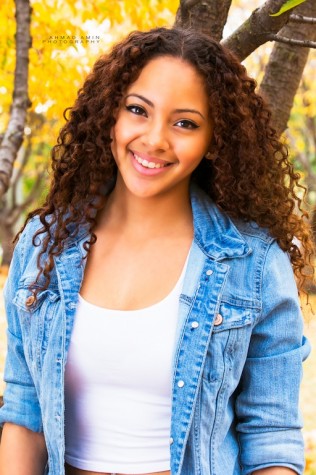 Maritza Velasco, Feature Editor
Maritza is a senior majoring in journalism and is in her first year on the Impact. Although she greatly regrets waiting so long to join such a great...