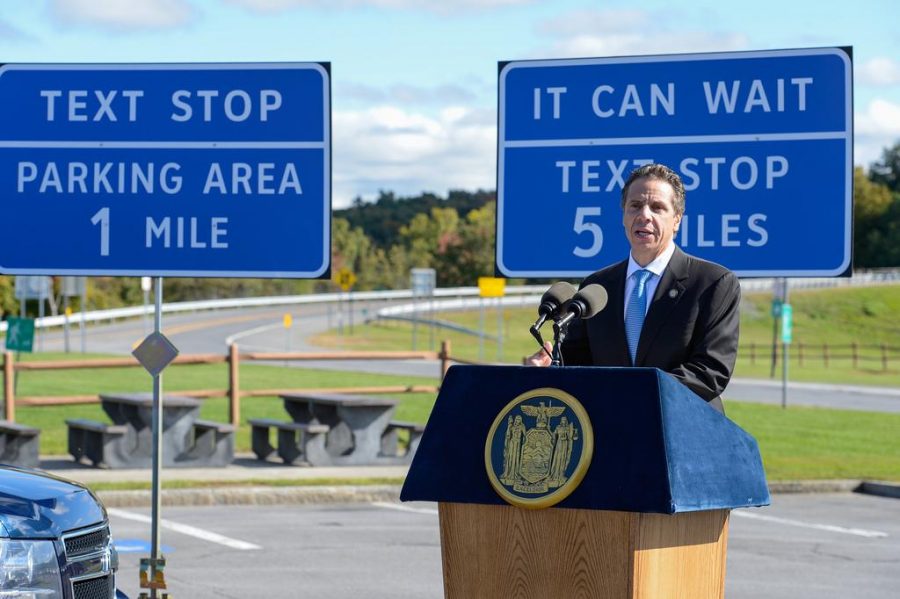 Today, travelers who are going a far distance and need to stop for food or to use the restrooms usually use highway rest stops.
Locals who take a minute and fill up the gas tank in their cars also use rest stops. But who would have known that rest stops are now a part of our law system?
The state of New York has decided to step it up in the prevention of accidents from drivers who like to text and talk on their phones.
New York is one of the 41 states that ban texting while driving.
Over 90 texting zones are now available in various rest stops here in our very own state and 298 signs are now strategically placed along state highways.
Now if drivers need to send a quick text they must stop at a "text zone" by law.
Violators of this law will face up to $50 – $150 fine for a first offense, $200 for a second offense within 18 months and up to $400 for a third offence.
Governor Andrew Cuomo announced a 365 percent increase in tickets issued in the summer of 2013 compared to the summer of 2012 for distracted driving.
"We are sending a clear message to drivers that there is no excuse to take your hands off the wheel and eyes off the road because your text can wait until the next Texting Zone," said by Governor Andrew Cuomo
State police issued 21,580 tickets surpassing last summers total of 5,208 tickets.
Distracted driving vary from texting, using a cell phone or smart phone, eating, drinking, grooming, using a navigational system, reading/including maps, adjusting a radio, CD player and/or a MP3 player.
Although it seems like the law is trying to make drivers sit in their cars in utter silence and do nothing, the focus on the roads.
This law can prevent the 23 percent of auto collisions caused by cellphones that accrued in 2011, and for those who aren't good in math, that means 1.3 million crashes because "it couldn't wait."
Not to mention the 3,331 deaths and the 387,000 injured caused by distracted drivers.
If you are one of the 77 percent of young adult drivers that are somewhat confident that they are able to text while driving or the 55 percent of young adult drivers that claim its easy to text in drive keep that in mind.
For the students that have a mobile device with AT&T, you can now log on to the AT&T website and sign up to be an advocate for their "It can wait" campaign and pledge not to text and drive.
People who sign up can also share their texting and driving stories and/or read others experiences with it.
A texting zone is available for Mercy students who commute on Westchester I-87 Ardsley service station.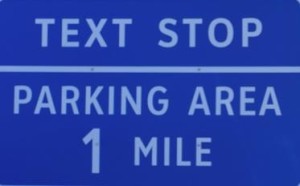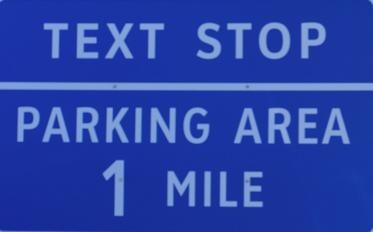 The list of the 91 texting zones and their locations.
Albany, I-87, New Baltimore Service Area
Albany, I-87, Rest Area – 3 miles south of Albany
Clinton, I-87, Beekmantown
Clinton, I-87, Point Au Roche
Clinton, I-87, Valcour
Essex, I-87, High Peaks NB
Essex, I-87, High Peaks SB
Essex, I 87, Elizabethtown
Essex, I 87, Lewis
Rockland, I-87, Ramapo Service Area
Rockland, I-87, Sloatsburg Service Area
Saratoga, I-87, Clifton Park
Ulster, I-87, Ulster Service Area
Ulster, I-87, Modena Service Area
Ulster, I-87, Plattekill Service Area
Ulster, I-87, Malden Service Area
Ulster, I-87, Rest Area – 11 miles south of Catskill
Ulster, I-87, Rest Area – 8 miles north of Kingston
Warren, I 87, Lake George
Warren, I-87, South Glens Falls
Warren, I-87, North Glens Falls
Westchester, I-87, Ardsley Service Area
Cortland, I-81, Preble
Livingston, I-390, Mt. Morris
Livingston, I-390, Geneseo
Cattaraugus, I-86, Allegany River
Chautauqua, I-86, Chautauqua L./Ellery
Cattaraugus, I-86, Randolph
Cattaraugus, I-86, Randolph
Allegany, I-86, Friendship
Steuben, I-86, Kanona
Steuben, I-86, Campbell
Steuben, I-390, Cohocton
Steuben, US Hwy 15/I86, Erwin
Steuben, I-86, Erwin
Steuben, I-86, Hornellsville
Jefferson, I-81, 1000 Islands/Orleans
Jefferson, I-81, Watertown
Jefferson, I-81, Ellisburg
Jefferson, I-81, Ellisburg
Jefferson, I-81, Orleans
Jefferson, I-81, Pamelia
Jefferson, I-81, Pamelia
Jefferson, I-81, Pamelia
Jefferson, I-81, Watertown
Orange, I-84, Wallkill
Orange, I-84, Middletown
Dutchess, I-84, Stormville
Dutchess, I-84, Fishkill
Putnam, I-684, Brewster
Weschester, I-684, Bedford
Orange, I-84, Greenville
Orange, I-84, Greenville
Chenango, I-81, Whitney Point
Tioga, NY 17, Nichols
Tioga, NY 17, Owego
Delaware, NY 17, East Branch
Sullivan, NY 17, Roscoe
Broome, I-81, Penn State Line
Otsego, I-88, Unadilla
Otsego, I-88, East Worcester
Suffolk, I-495, Huntington
Suffolk, I-495, Huntington
Cayuga, I-90, Port Byron Service Area
Erie, I-90, Clarence Service Area
Erie, I-90, Angola Service Area EB
Erie, I-90, Angola Service Area WB
Erie, I-90, Rest Area – 2 miles east of Eden/Angola
Erie, I-90, Rest Area – 7 miles west of Hamburg
Genesee, I-90, Pembroke Service Area
Herkimer, I-90, Iroquois Service Area
Herkimer, I-90, Schuyler Service Area
Herkimer, I-90, Indian Castle Service Area
Madison, I-90, Chittenango Service Area
Monroe, I-90, Ontario Service Area
Monroe, I-90, Scottsville Service Area
Montgomery, I-90, Mohawk Service Area
Montgomery, I-90, Rest Area – 10 miles east of Canajoharie
Montgomery, I-90, Rest Area – 2 miles west of Fultonville
Oneida, I-90, Oneida Service Area
Oneida, I-90, Rest Area – 3 miles east of Verona
Oneida, I-90, Rest Area – 3 miles west of Verona
Onondaga, I-90, Warners Service Area
Onondaga, I-90, DeWitt Service Area
Ontario, I-90, Junius Ponds
Ontario, I-90, Seneca Service Area
Ontario, I-90, Clifton Springs Service Area
Ontario, I-90, Rest Area – 9 miles east of Rochester
Schenectady, I-90, Pattersonville Service Area
Schenectady, I-90, Guilderland Service Area
Seneca, I-90, Rest Area – 15 miles west of Weedsport