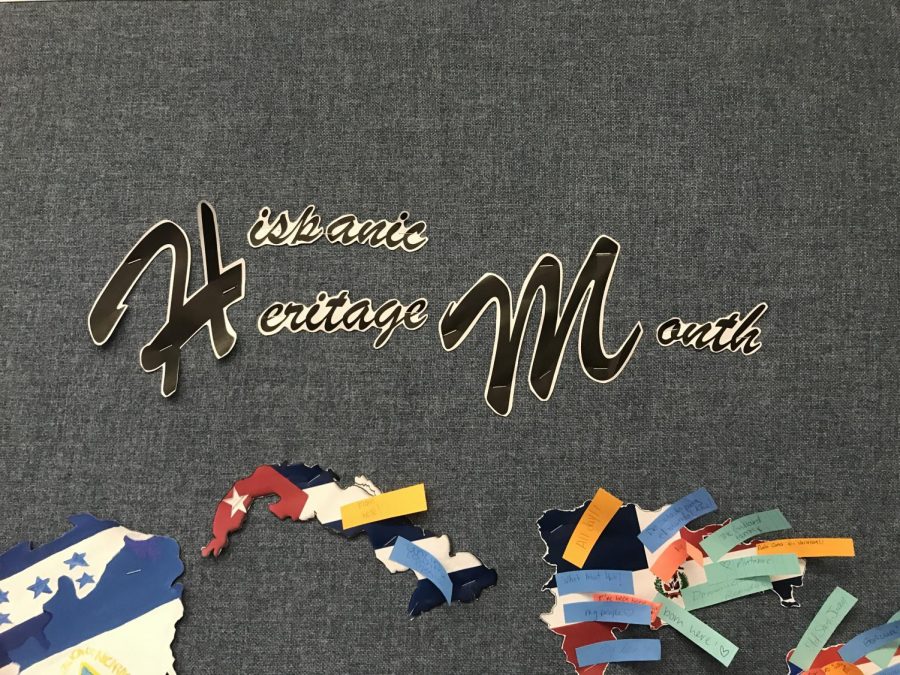 As Hispanic Heritage Month concludes, the college community reflected on how celebrating Hispanic culture is significant among a greatly diverse society.
Hispanic Heritage Month runs from Sept. 15 to Oct. 15. This semester, Mercy faculty and students stressed the importance of recognizing the Hispanic community on campus.
Main Hall had historical decorations showing the history of Hispanic Heritage Month. A bulletin board contained a calendar including important dates that took place throughout history. It also had an interactive map of the many Hispanic countries, in which students could write on a post-it and mention any Latin American country they have visited or would like to visit.
Mercy had multiple events happening on campus to celebrate the successes within the Hispanic community.
The college also had events such as a trip to the El Barrio Museum in Harlem, along with a Mexican poet, who spoke to students and staff in the Rotunda, as well as The Association of Latin American Students that sold empanadas at the Manhattan campus to raise money for the residents of Puerto Rico who have been deeply affected by the recent devastation of Hurricane Maria.
One event which not only occurred during Hispanic Heritage Month but also comes around once a month is a meeting for coffee and conversation in Spanish organized by the Assistant Professor of Spanish, Elise Arnold-Levene.
While obtaining her M.A. and Ph.D. in Latin American and Iberian Cultures from Columbia University, Levene studied in Spain and Portugal where there was a conversation group similar to "El Cafecito."
"El Cafecito" which began in January of this year, is open to all staff and students of any comprehension level of Spanish. Levene wants to create an original creative space for native heritage speakers to communicate, along with assisting the beginners.
"Many students who are speaking Spanish don't have any place to speak it," said Levene.
Levene also created a Hispanic Heritage month that expressed all the independence days and important events that take place during Hispanic Heritage Month. She hopes that next year, students will be more interactive and add any other special dates that Levene had maybe missed. *Hispanic Heritage Month Calendar*
New "El Cafecito" member, Freshman Angelica Campoverde, who is originally from Ecuador says "I wanted to explore my culture and speak Spanish in an informal setting."
Mercy College junior, Nerisha Padilla, who has been an ongoing member of "El Cafecito" states she doesn't regret taking time out of her day to attend the meetings.
"It's such a good experience to be free and talk, and establish communication with different people from different levels," says Padilla.
Padilla, who is also currently majoring in Spanish, believes it is very important for people of Hispanic descent to recognize their history, and understand the importance of being a part of the Hispanic community.
"Spanish is the 2nd most common language in the United States, so it is important that we communicate with the people on campus who don't know about the Hispanic culture," says Padilla.
Padilla also feels it is crucial for the Hispanic people on campus to understand they are not alone despite the many stereotypes the Hispanic community faces on a daily basis.
"It is essential to bash the stereotypes and let them know we welcome them," Padilla states.
Mercy Senior Zulima Munoz has been a member of "El Cafecito" since it's establishment.
Munoz identifies as Mexican American and speaks Spanish on a regular basis.
"I wanted to get to know other people who speak Spanish," says Munoz.
Munoz feels it is not only imperative to understand one's own Hispanic culture, but to explore the similarities and differences within other Latin American cultures.
"We can all learn from each other," stated Munoz.
Munoz also believes the college should also have a Spanish food tasting event in the Rotunda during Hispanic Heritage month to further celebrate the Hispanic community. Munoz also feels it is essential for even non-Hispanic members of the community to know about everyone's culture.
"People don't know much when they stay in their bubble. Spanish is a part of a lot of trends in the business world. Understanding the Hispanic community in school will make for an easier transition into the workplace," says Munoz.
Munoz states, "When in the workplace, people are bound to meet co-workers from different parts of the world, and this awareness on campus will give them a better, open attitude."
Dr. Alan Hartman, Assistant Professor of the Modern Foreign Languages Department, recognizes the relevance of celebrating Hispanic culture on Mercy's diverse campus.
"We have a whole month dedicated to the many contributions Hispanic people have also made to the represent the United States," says Hartman. "It is important to think and reflect on the human experience. It allows us all to come together and reflect meaningly on the beauty of all types of Hispanic cultures."
Hartman also wants to recognize the Hispanic community almost every month of the year, by planning to host a Hispanic visitor at least four times a semester. As for next year's Hispanic Heritage Month celebration, students can also assist in any creative ideas they may have by contacting [email protected]