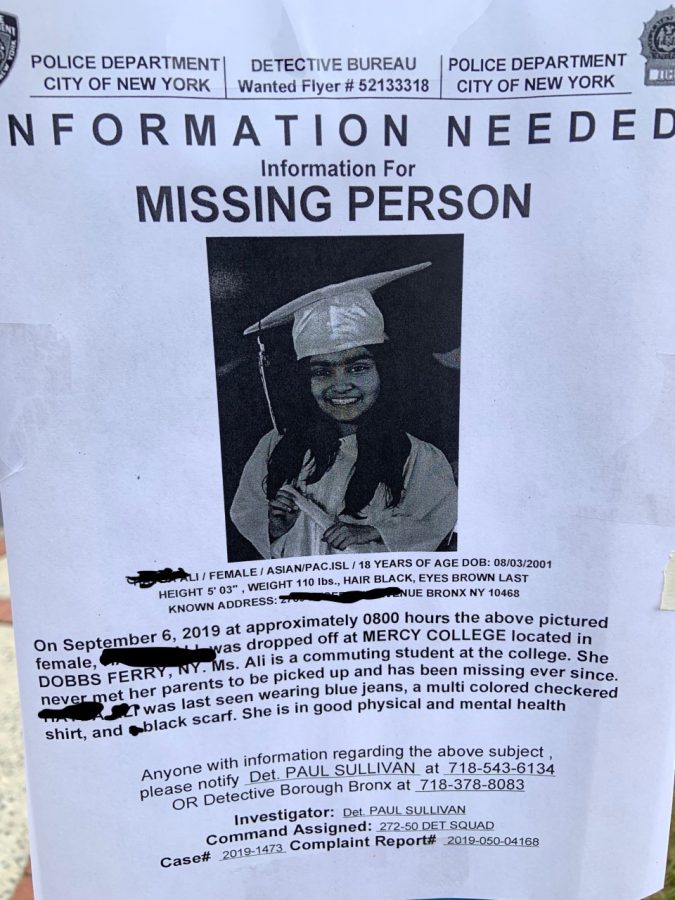 A previously reported missing freshman student who went missing following her first day on campus has been reported safe, according to a statement from Mercy College.
"Fortunately, the NYPD was able to locate and confirm the student was safe. The NYPD has concluded its investigation and the Department of Campus Safety thanks to the Mercy College community for its concern and attention."
The student, 18, arrived on the Dobbs Ferry campus for her first day on Friday, Sep 9., for two classes that would've left her on campus from the time of around 8 a.m. to 6 p.m.
While it is unknown whether she attended her initial classes, when it came time to get picked up, she wasn't present. Despite this, her disappearance was not reported for nine days, until Sep. 15, where the New York Police Department was contacted.
Shortly after, NYPD-generated posters began to emerge around campus, reporting details and other information about Ali.
"As a result, and in close coordination with the NYPD, Mercy College's Department of Campus Safety conducted an immediate investigation which included posting NYPD generated Missing Person fliers throughout the Dobbs Ferry Campus," read the statement.
The Bronx native is a graduate of Bronx Medical High School. She came to Mercy to pursue a major in Nursing.
While the statement confirmed that the student was safe, it did not clarify whether she would return to Mercy or a reason for her initial disappearance. When The Impact sought additional information regarding the story, an email was received stating that school would be "confining [their] response to the official statement."