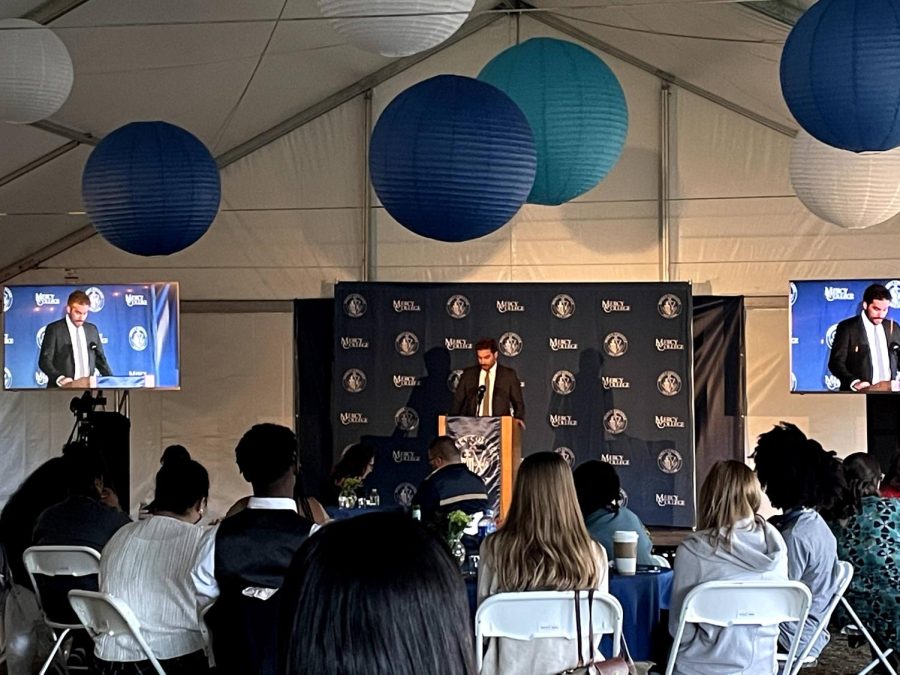 Mercy College continued its annual Mercy Scholars reception to welcome its newest class and existing recipients of the Mercy Scholars Scholarship on Sept 29. In celebration of campus reopening, the Mercy Scholars welcome reception was held in the groove between Victory Hall and Founders Hall.
For the newest cohort of freshmen, Cohort 6, attending the welcome reception was highly encourage as it was a celebration of achieving a great academic opportunity. Like previous receptions, the scholars were greeted by President Tim Hall and the staff members working behind the scholars' program.
"It feels very amazing," Isatou Drammeh, a student of Cohort 6 majoring in Social Work, started, "I feel it is a privilege and something that is very special because not every student gets to have this opportunity, so I really appreciate it."
The Mercy Scholars program accepted its first cohort in 2016 with the helpful donations from Bob and Kate Niehaus, Jim and Marsha McCormick, and many others who believed in the mission of the program, which was to decrease student debt.
With only 25 students at the start of the program, the Mercy Scholars program has welcomed over 80 students with the support of their donors by having tuition, books, and fees covered in full by the donors in the ability for the scholars to reach their full potential.
"The vibe I get from Mercy Scholars is they want us to do good and want us to be impressive, and I am looking forward of getting challenged and experiencing different things," said Rachel Prince-Sheppard, a student of Cohort 6 majoring in Vet Tech.
Looking back at her application process, Mikayla Medine, a student a part of Cohort 6 studying nursing, remembers the challenge of talking about herself in depth. With the support of her teachers, family, and friends, Medline believes the application process is manageable and unrestricted to who can apply.
"It's not something that's super complex or super in depth you have to do," Medline started. "It's something that everyone can do. Everyone can apply as long as you meet the requirements so I feel like they make it challenging in a sense where you are pushing yourself to think more about yourself, but not too challenging where the people can apply are limited."
A senior from Cohort 3, Steven Orantes, studying Criminal Justice, recounted his experience as a Mercy Scholars over the last three years. Entering Mercy College in 2018, Orantes was able to witness campus life pre and post pandemic. Like the majority of classes, the Mercy Scholars program moved online and took advantage of Zoom to continue to engage with its scholars.
"For us seniors, in our prime moments of the scholarship, we didn't have the chance to really get together a lot (due to the virus)," Orantes started. "I just hope as the years go on, as life gets better, there will be more activities to involve everybody from all grades, ages and years"
Alumni and students of the first cohort of Mercy Scholars, Serafina Fichter, made a guest appearance to help welcome the newest group of scholars. Fichter, along with Cohort 1, became the first group of scholars to graduate in 2020, proving this program was worth having.
Fichter is continuing her education at Mercy College to obtain her master's degree in communication disorders.
Instead of setting expectations from the scholarship, Medine explained the expectations she has set for herself now that she is a Mercy Scholar.
"I didn't come in here with expectations for others but expectations for myself," Medline began. "It's more than to make sure my grades are good. Because I am a scholar, and I have to set that example to other scholars and make sure they see that I am serious about it."
Because of the nature of this scholarship, among the scholars, there is an overwhelming want in participating in community service and giving back to Mercy as a thank you to their donors and noticing their potential as scholars
Gisselle Battaglia, a junior a part of Cohort 4, voiced her desire of giving back to the community and more opportunities for interactions between the scholars. Battaglia is ready to embark on the 5-year education track for behavior science.
"Personally, more opportunity for us to give back because we were given so much from the donors and the college community," Battaglia started. "Also building a community with each other. I feel like a lot of us don't know each other well so more mingling opportunities."
The Mercy Scholars program is a unique program that gives their scholars the best opportunities to reach their full potential academically without the burden of tuition, books, and additional fees. Drammeh sees this uniqueness of this scholarship and is thankful to be given this opportunity
"I expect us to get to know each other since we are all Mercy Scholars. I think it's good for us to have events and get really involved," Drammeh started. "If we're Mercy Scholars, we have to be unique so I think we should contribute in a very unique way."