A Story of Resilience: Charles Moore and Rehabilitation Through the Arts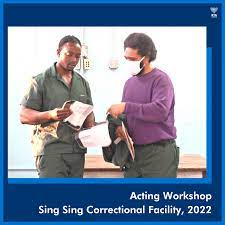 Charles Moore is Director of Operations and Alumni Coordinator of RTA (Rehabilitation Through the Arts), which provides art workshops in correctional facilities throughout New York state. Moore was a formerly incarcerated person himself, who discovered RTA while serving 17 years at Sing Sing Correctional Facility in Ossining, New York.
In his visit to Mercy College as a guest speaker, Moore exclaimed, "RTA saved my life." Moore found out that life is not over just because one is incarcerated. Through RTA, he says he regained his self-esteem and found his love for theater.
RTA is a program, currently in six correctional facilities in New York. With goals of expanding to the entirety of New York, RTA works with the NYS Department of Corrections as a guest in some of the prisons that it serves. RTA provides different art programs for inmates such areas as creative writing, music dance, theater, and more. Moore now works for the same program that helped him transform his life and learn essential life skills. He joined the program in 2004 while serving his sentence of 17 years. He saw this as an opportunity to regain his self-esteem and his humanity.
He says his life was saved by the arts. He strongly believed that he was given a second chance through the resources, skills, and values that he received as a result of RTA's program. The arts provide many benefits; they can help "develop the ability to see the world from different perspectives, encourage positive risk-taking, and allow for the discovery of hidden skills and talents, according to the RTA website. (https://www.rta-arts.org).
Moore is the first RTA alumni to be hired to work full-time for the organization and holds the title of Director of Operations and Alumni Coordinator. RTA saw potential in him when he first joined, he says, and they ended up being correct. According to Moore, RTA changed his life and has been an indispensable tool for bettering himself during and after incarceration.
Through RTA's passion and creative pedagogies, Moore and countless others have beaten the odds of the justice system and were able to successfully re-enter society and flourish.
RTA was created as a program to help decrease the rate of recidivism. Nationwide over 60 percent of people return to prison within three years of release, while less than 5 percent of RTA members return to prison, their website states.
Moore is now brainstorming new ideas for the program and looking for ways to expand RTA in other prisons in New York as well as eventually expanding outside of New York. According to RTA's website "over 40 percent of men and women incarcerated in New York State prisons enter the system without a high school diploma." This is why it is important that RTA allows for the incarcerated to learn crucial values in life through the power of art. More specifically, RTA website states it focuses on building "the ability to communicate, set goals, solve problems and work collaboratively" through their teaching methods.
A human rights approach is not something that correctional facilities often take into consideration when dealing with their population. Luckily, RTA has changed this and helped correctional facilities see that the incarcerated can be rehabilitated through the most unlikely of ways, art. Rehabilitation through the Arts is a program that not only introduces the incarcerated to the arts but helps cultivate skills that they need upon release. Acting in some RTA plays himself, Charles Moore noticed the positive effect this program had on him. Noticed by a representative of RTA while incarcerated, Moore hoped to become a mentor to others when released. Even though the new free world was a shock to him, after his release, Moore went on to work his way up in RTA and earned the position he now holds. He explained that working within the same facility where he was once incarcerated can be difficult at times. But because he is a formerly incarcerated person himself, he believes he cannot give up on the incarcerated because he was once in the same position as them. Previously incarcerated individuals like Moore had the opportunity to act in plays, dance, and create art. What brought Moore's self-esteem back was being able to act, as well as direct and produce plays. According to Moore, RTA changed his life and has been an indispensable tool for bettering himself during and after incarceration
Mr. Moore's visit to Mercy College's Spring 2020 English class (ENGL112DFL) was an interesting experience and much was learned. He discussed what needs to be reformed in what he claims to be an "outdated correctional system" and also answered the questions asked by the class. The class interviewed Moore as a whole, and what was shared was more than just facts about his life; it was a story.
"I felt like my life was over," exclaimed Moore.
He has advice for those who are struggling to find their own path in life, Moore answered, "Have a deep discussion with yourself. Start small, don't try to solve all of the world's problems. Find the simplest thing you like to do, and do it well. Make short-term goals, then gradually increase your goals. Please yourself first, don't try to please everyone else."
Moore also wanted to stress the importance of humanizing the incarcerated, meaning society should no longer call the incarcerated convicts, prisoners, and criminals, but instead refer to them as incarcerated. This language is more respectful to the incarcerated and the more politically correct term used now, he says.
With the skills and resources provided by RTA, Charles Moore was able to turn his life around and went on to obtain two college degrees while incarcerated. He holds a bachelor's degree in Human Services from Mercy College and a master's degree in Professional Studies from New York Theological Seminary. Mercy College, and other institutions of higher education, work with the Hudson Link Program to help the incarcerated change their lives through higher education. Moore is living proof that providing resources to the incarcerated can make a difference and transform lives.
—
Written collaboratively by Sherif Abouhatab, Aliyah Alston, Precious Appiah, Hallah Awwad, Brandon Barreto, Isabella Corelli, Viviana Diaz, Jalen Hanna, Fanta Kante, Robert Lilly, Kaylin Mcgill, Tatiana Moran, Patcy Morocho, Alexis Padilla, Ka-Rin Prince, Edwin Zhanay
—
I would like to thank Mr. Charles Moore for coming to Mercy College, his alma mater, to meet with my students to talk to us about RTA and share his experiences with us. I would also like to thank my students in ENGL112DFL–who conducted the research for this article and wrote it collaboratively as a class—for their commitment and engagement with this project.
Dr. Reissig-Vasile, School of Liberal Arts
Department of Literature and Language
Professor of English
Leave a Comment