The Best Milkshake You'll Ever Have
Would you wait in line for hours to get a milkshake? Well… this one might be worth it.
There is no place like New York City for food trends, it has become almost a destination but these trends. Instagram has introduced to the world some of the weirdest and best trendy foods you can find in the city. We've seen it over and over again, the news usually break out on social media and then you have people waiting in line for hours to get to try the new popular dish. One of the beauties of New York is that there is always new restaurants to try, chances are you will find a place to accommodate your taste and budget. Perhaps one of the most memorable trends, and one if the earliest one were Cronuts, a mix between a donut and a croissant. Everyone remembers the hype, it was all over social media, people were waiting in line for hours and copycats rises quickly around the country. Well, the next dessert trend is here, Black Tap milkshakes.
In the heart of Soho, only a few minutes away from the subway station is Black Tap, a small restaurant that most people wouldn't even notice when walking by. It's occupied with a few high chairs, a tight hallway, and a very small bar. This place has people waiting in line for hours for their insane 15 dollar milkshakes, that can pack up to 1,600 calories.
The restaurant is fairly new when you think about how successful it is, and owes it's success to social media. The very photogenic milkshakes blew up on Instagram by the end of last year and now has people waiting in line so they can post their own. If you search #blacktap, you will see thousands of posts. It's not shocking that social media was the cause of a trend, especially in such a big city were people are always on the lookout for the next trendy place.
When you get there you are told to wait in one of the lines that go around the block. Yes, there's more than one line.
Depending on the day, the wait could be 30 minutes or three hours. Once inside, the place looks oddly small for such a big fuzz,  but that makes it a bit special. It feels like you're part of a secret club that no one knows about.
The overall vibe of the place is kind of what you would expect: cool artwork, neon lights and really nice employees. With such a big line, you would expect workers to rush you, but they never do. Instead they make sure you enjoy the experience as a whole; it kinda feels like going to your friend's house.
Now onto what really matters…the milkshakes. What makes them so special are the toppings. After all, who doesn't want an ice cream sandwich or a donut on top of your milkshake, right?
You have about ten options to choose from, including seasonal milkshakes. So, there's a good chance you'll see one you like. Although all of them are basically a mountain of sweets on top of a regular milkshake, you might want to share it with someone.
You can also get burgers, which they are quite popular for, fries, onion rings and regular milkshakes. But let's be honest, everyone goes for the fancy milkshakes.  Although if you are more of a burger fan you might want to order take out and enjoy the hype in your own home.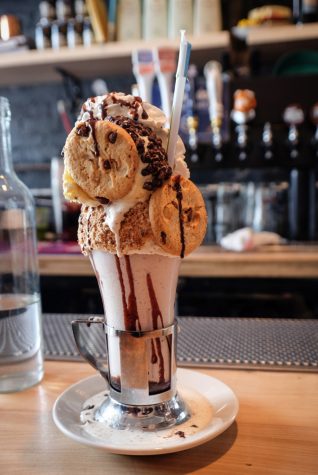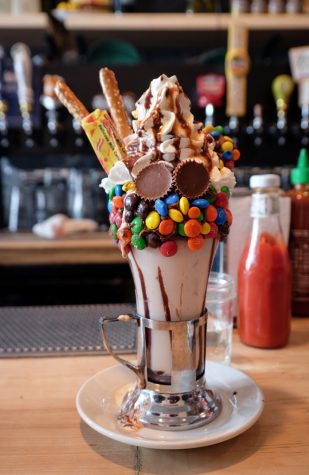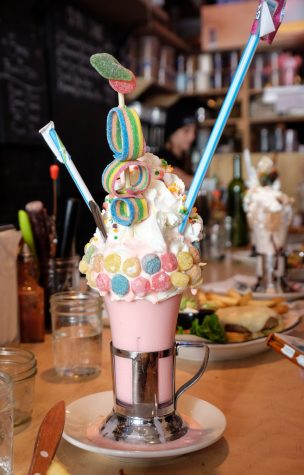 To get to the Soho location, you have to catch the E or C train to the Spring St stop and then walk for about five minutes. From there, you'll see the long line down the road. There is also another location in the meat packing district.
Overall, it is quite the experience. The wait is really worth it from a very friendly and efficient staff, to people's names all over the walls, to the very Instagram worthy milkshake. However your might want to go during the week because the line gets ever more crazy during the weekends. Black Tap is a must for those who enjoy trying new things and want to see what the hype is about. It is excepted that restaurants around the country will copy this delicious milkshake trend but there is nothing like trying the original one, right?
If you can't make it to the restaurant, or simply don't feel like waiting in line, you can pre-order their cookbook. It will include tips, techniques and will feature more than 40 easy to follow recipes of their most popular menu items. Aside from their milkshakes, theres also their burgers, too. So you can recreate them at home and maybe add your own twist to it.
There's really no excuse not to try this extravagant dish. Just a food for thought before going, the milkshakes are really hard to finish.
About the Contributor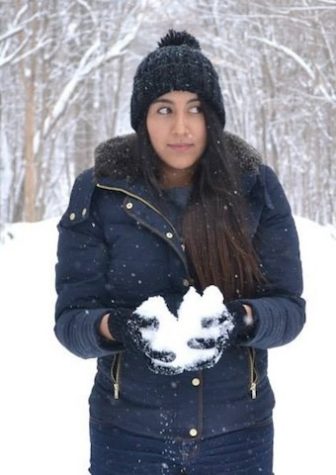 Alejandra Naranjo, Staff Writer
Alejandra is a Music Technology major at Mercy College who is born and raised in Colombia.

She writes a column titled Let's Talk...

She can reached...