The Weeknd Brings 'Trilogy' Vibes with New EP 'My Dear Melancholy'
It seems as though music artists understand our neverending need for new bops with each coming season. Although this year's spring equinox has felt like a ceaseless winter, The Weeknd revived the OG XO fam with his newly released EP, My Dear Melancholy.
Yes, it's not a full-length album but its as close as we're going to get for now. To make satisfying music, at least to please my ears, the more time you spend working on it, the better. So the two-year wait for new music from The Weeknd is pretty worth it when the songs sound as seducing as these six.
After blessing us with this surprise masterpiece on March 30, he proved that an artist doesn't always need weeks or months of promotions to ensure clear-cut sales. As of April 8, it was reported by Billboard that he totaled in on his third consecutive No. 1 album on the Billboard Top 200 chart. This chart defines anybody and everybody's musical success, so being at least in the Top 10 is, for the most part, fairly flattering.
"Call Out My Name"
The gradual entry of distant piano melodies allows for his anything but nostalgic tone to flow with lyrics such as "I put you on top/I put you on top/ I claimed you so proud and openly." This leads to a protruding chorus that grants us that vulnerable side of him that is far from fake.
This first song has gained the most media attention out of the bunch, after his emotional performance of the song at last weekend's Coachella music festival set. His tears sparkled against the harsh lighting, and his pulsated vibrato became weaker with each lyric.
As many have speculated, his ex-girlfriend, singer and actress Selena Gomez, seems to be the primary source for the reasoning behind the EP's creation.
Former to its popular attention at Coachella, he released the only music video for the entire album so far, for this song. Was there a reason? Who knows, but you can watch and decipher:
"Try Me"
"Wasted Times"
"I Was Never There"
"Hurt You"
"Privilege"
Stream here: http://theweeknd.co/mdmFp
About the Contributor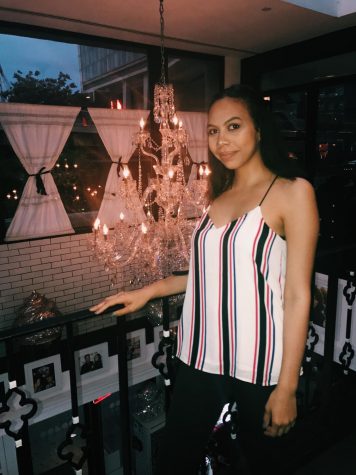 Nicole Acosta, Managing Editor
Nicole is from The Bronx and is a journalism major at Mercy College. Her hobbies include discovering new places to eat on a budget, photography, listening...