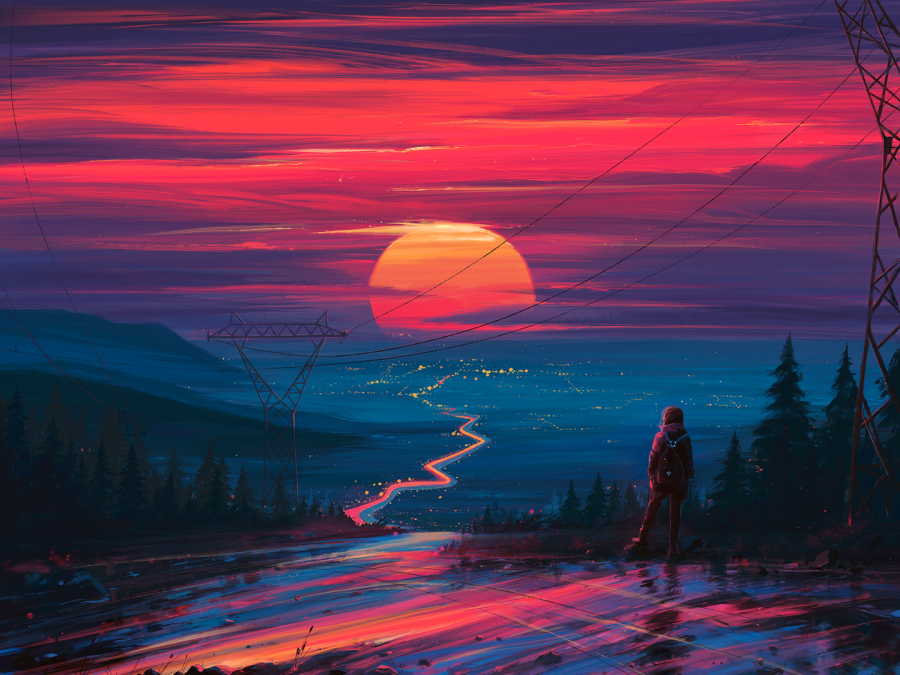 I've recently realized that growing up is remarkably similar to painting over an old canvas.
We try to cover up our past mistakes — painting over the parts we didn't like to make a more beautiful picture. Over and over, we continue this process, until we depart, and then we leave the world with one final painting. The one we hope gets remembered.
I don't think I need to restate my story, I've already told it many times. I've really been trying to work on not repeating myself so often; I just love sharing the things that make me happy.
As of the day this is being posted, it will have been a full year since I posted "Where Do We Go From Here?" which I wrote the day after I broke up with my then-partner. As time has passed from that, I've come to another realization: the end of my relationship wasn't the end of a chapter. It was the climax.
I really believe that the past 365 days have led me here. I've taken my brush and have tried to paint over everything that I could. With everything, the acknowledgment of my brain, body, and heart, it occurred to me that my setting needed to change for me to leave behind the person I keep claiming that I'm not anymore.
With that said, this will be my last piece for The Impact. As of next semester, I'll be attending Stony Brook University.
You'd be surprised at how much that took to type out. I still can't believe it.
I don't think, when viewing one's character, that we are necessarily "heroic" or "evil". Cliche as it may sound, I think people are mentally androgynous; we only exist as the heroes within our own narratives.
I'm not suggesting that everyone is a wicked person, on the contrary, I believe that humans are naturally good, but that's another topic for another time.
The reason I bring this up is that I can't pretend that I've been perfect. I've said and done things that still bother me, that disgusts me. The most troublesome part of moving past the person you once were is the fact that no matter how far you run, the past is always right behind you.
I've found that throughout this year, no matter how much I worked out, played my guitar, or did anything else, I existed in the same setting that the old me did. I sat in the same places, ate the same food, and spoke to the same faces. This sounds so (expletive) stupid to write out, but it's the truth, and if anything has ever been true about me, it's that the truth is key.
Mercy simply makes me unhappy. I don't regret my time here, because the funny thing is, I loved Mercy at one point; it was what I needed. But honestly, my time in Dobbs Ferry has been going downhill since the beginning. But to be in a small environment, where I could learn how to become an adult, I think it worked for an 18-year-old Steven.
On the academic side, I've finally become the student I could be. I got accepted into New York University while going through this transferring process. For the kid who couldn't have cared less in high school, I've built a genuine work ethic, one that will carry me for the rest of my life.
No matter how many times I've been demonized for being lazy or not caring, I know that in my heart, in my heart, what I am. And if people want to make you feel bad for being you, then you owe it to yourself to find your own path. You also owe it to find people who support you and your dreams.
The me now, the one writing a year after thinking I (expletive) everything up forever, needs to be in an environment that reflects what I want to be. I want to be an author. I want to write for The New York Times. I want my words to change the world. I'm tired of waiting for the action to happen, I want to force it.
Like I said, I don't regret my time at Mercy, nor with The Impact. I've definitely grown as a writer and storyteller — but I know that at an institution with the right resources and tools, I can grow even further and succeed more. That's all I've ever wanted to do: to make the people who love me, proud of me.
Despite my excitement to start anew, I can't help but not get emotional when thinking about how I won't be in Westchester anymore. I'm a Long Islander through and through, no question, but there was something about being upstate that really appealed to me; the mystique, the wonder, it was exciting to explore, I will miss that a lot.
I will also miss the friends I've made at Mercy. The genuine ones. The ones who supported me all the way, not just when it was convenient for them. The ones who wanted more out of life than just whatever they could get. The ones who taught me that love isn't reserved for just partners.
I will never forget my time at Mercy. It will always be where I fell in love for the first time, won my first major writing award, lost that love, found it for myself, and then decided that I wanted more.
My open wounds have finally become scars; it's time to pick up the paintbrush and start again. Until next time, stay true and keep moving forward.
Forever and always,
Steven Keehner