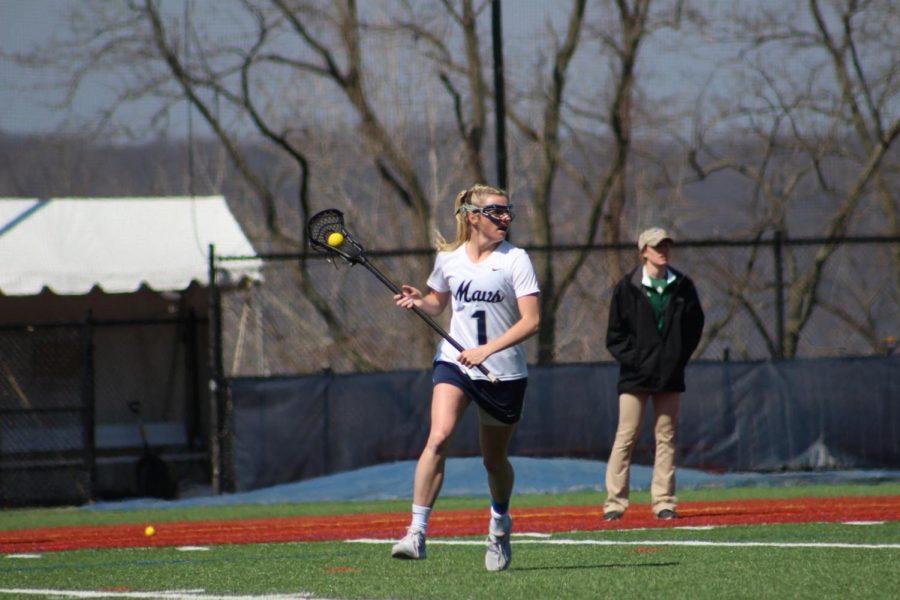 The Mercy Mavericks women's lacrosse team extended their winning streak to four games on Saturday April 20 by defeating Saint Thomas Aquinas College, 21-3. With the win the Mavericks improved to 12-4 on the season and 6-1 in ECC play.
The game was the first ever CODA awareness game which was dedicated to raising awareness about people going through mental health challenges and substance misuse/addiction. Mercy College Athletics was scheduled to have its first annual CODA awareness 5k walk on April 20, but was canceled due to the weather.
Mercy had a booth set up outside of Main Hall for people to stop by and learn about CODA and both the men's and women's lacrosse games were dedicated to CODA as well as the baseball and softball games, which will be played April 22.
The day began with women's lacrosse taking the field first going up against St. Thomas Aquinas, where they cruised to a 21-3 victory.
The game saw Mercy take control right the jump with senior midfielder Hunter Isnardi getting the Mavericks on the board just 25 seconds into the game scoring off of an assist from junior attacker Mary Mackie. The Mavericks followed up the opening goal two more goals coming unassisted by Isnardi and one from freshman midfielder Kaitlyn Grzelaczyk with just over five minutes into the game.
The Mavericks scored a total of six goals in the first 6:20 of the game to gain control early on. After Isnardi scored her fourth goal of the game to make it 7-0, the Mavericks reeled off three more unassisted goals to push the lead to 10-0. When the first came to a close, the Mavs had extended the lead to 14-0. It was the second time this season that the Mavs shut out their opponent in the first half.
In the second half, Mackie dished out two more assists leading to goals from Isnardi and sophomore attacker Casey Shimborske to give the Mavs a 16-0 lead. The Spartans got on the board with three straight goals to make it 16-3, but the Mavericks ended the game scoring five straight goals to make to cruise to a 21-3 victory.
In total, the Mavericks had twelve different players score at least one goal.
Mercy held a 32-8 edge in shots, an 18-10 edge in ground balls and an 18-6 advantage in draw controls.
The Mavericks will look to extend to a season high five straight wins when they take on NYIT on Wednesday April 24 at 4 p.m. in what will be their final game of the regular season. The regular season finale is also Senior Day for the soon to be graduates on the team.