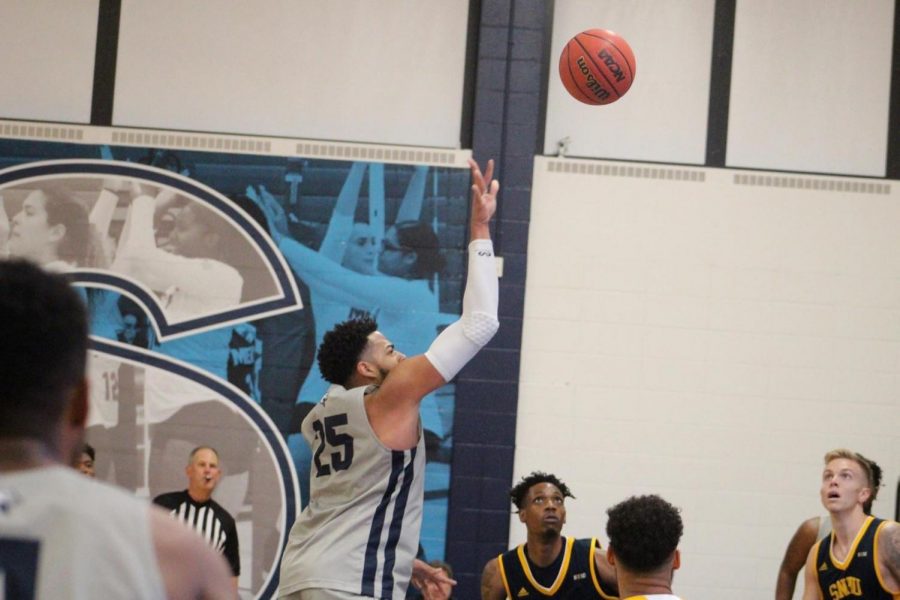 The Mercy Mavericks men's basketball team picked up their first win of the season on Saturday, Nov. 23, when they defeated Georgian Court 64-60.
The redshirt junior, Bryan Griffin, led the team with a game-high 17 points and eight rebounds to help the Mavs get their first victory of the season.
Griffin went 7-of-12 from the floor and the team also got contributions from junior, Nakeem Hamilton, who scored 11 points and grabbed seven rebounds.
Mercy opened the gate with a 5-0 deficit on their hands but quickly responded with a 6-0 run to take their first lead of the game just under five minutes into the first half.
With the game tied at 11 midway through the first half, Georgian went on a 10-0 run to take a 21-11 lead with just under 6:30 left in the half.
Despite Georgian looking to pull away from the Mavs, Mercy answered with an 8-0 run of their own to cut the deficit to two. At the end of the first half, Mercy went into the locker room trailing by only three points.
Similar to the first half, the second half was a battle with both teams going back and forth. Five minutes into the second half, Mercy had a 37-36 lead before Georgian responded with a 14-4 run to take their largest lead of the second half at 50-41.
With just over eight minutes left in the game, the Mavs were still trailing by nine points and Georgian appeared to have the game in hand. However, Mercy answered back with a massive 17-0 run over the next 3:19 which was capped off by two free-throws from Griffin.
Mercy gained all the momentum and had its largest lead of the game with eight points leading 60-52.
Despite going on that massive run, Georgian continued to put up a fight by scoring six straight points to cut Mercy's lead to two.
The Mavs were clinging to a two-point lead with just over a minute to go, as Georgian was looking to tie the score.
Mercy's defense came up big by drawing an offensive foul on Georgian and they iced the game with two free-throws from Hamilton to secure their first victory of the season.
Mercy shot 43.8 percent from the floor and also knocked down six threes and went (16-of-19) from the foul line. Georgian shot just 37.9 percent from the field and just 20 percent from the three-point range. The Lions also made just 12 out of 20 free throws, which proved to be crucial.
The Mavs are now 1-5 on the season