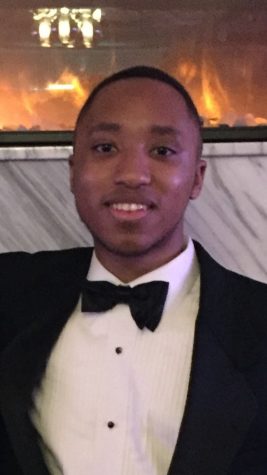 Ellis is a junior Media Studies major who is looking to become either a sports writer or sports broadcaster after he graduates. He believes writing for the Impact will help him achieve his goals and give the world exposure to his writing.
He writes a column titled
Sports With EJ.
He can be reached at ....
Ellis Joshua, Impact Staff
Oct 13, 2019

Elena Delle Donne Has Finally Captured Her First Championship

(Story)

Sep 29, 2019

It's Now or Never for the New York Yankees

(Story)

Sep 26, 2019

Students Respond Positively to Enhanced Manhattan Campus

(Story)

Sep 21, 2019

It's Time to Get AB the Help He Needs!

(Story)

May 09, 2019

Make a Difference and Volunteer with Feeding Westchester

(Story)

May 06, 2019

Women's Lacrosse earns first-ever ECC Championship over LIU Post behind Isnardi's Six Goals

(Story)

May 02, 2019

Isnardi sets NCAA Division II Goals Record as Mavericks Cruise to ECC Championship

(Story)

May 01, 2019

Women's Lacrosse Set To Battle Molloy in ECC Semifinal

(Story)

Apr 26, 2019

Women's Lacrosse earns win on Senior Day to Finish the Season 13-4

(Story)

Apr 24, 2019

Three Mavericks Hit RBIs Yet Softball Falls To Bridgeport In Double-Header

(Story)

Apr 21, 2019

Women's Lacrosse Wins Fourth Straight In First CODA Awareness Game

(Story)

Apr 18, 2019

Isnardi and Corace lead Mavericks to Dominant win over Bridgeport

(Story)

Apr 17, 2019

Mav Friendly Market: Fighting Food Insecurity Across Campuses

(Story)

Apr 11, 2019

Walk-Off Home Run Leads Mavericks to Split with Pace

(Story)

Apr 04, 2019

Soccer Names Danny Leon Jr. as Women's Interim Head Coach

(Story)

Mar 21, 2019

Top 5 Tourist Attractions in NYC

(Story)

Mar 20, 2019

Mercy's Manhattan Campus Hosts Diversity and Gender Inclusion Workshop

(Story)

Mar 18, 2019

Women's Lacrosse Comes Up Short In Overtime Battle Against Bentley

(Story)

Mar 17, 2019

It's Time to Hold the NFL and Its' Players Accountable

(Story)

Mar 14, 2019

Isnardi Scores Game-High Six Goals in loss to Assumption

(Story)

Mar 07, 2019

Isnardi's 11 Goals sets School-Record as Mavericks Improve to 4-0

(Story)

Mar 03, 2019

Free Agency Fever is Finally Over

(Story)

Feb 28, 2019

Women's Lacrosse Wins Home Opener to Improve to 3-0

(Story)

Feb 24, 2019

Why Zion Quitting on Duke Would be a Bad Idea

(Story)

Feb 21, 2019

Hunter Isnardi Scores Six Goals as Mavs Erase Five-Goal Deficit

(Story)

Feb 21, 2019

MTA is Planning For Yet Another Fare Hike

(Story)

Feb 17, 2019

Why Kaepernick's Settlement With the NFL Is a Major Victory

(Story)

Feb 14, 2019

Griffin, Barbetto Score in Double Figures as Mavericks Fall to Queens College

(Story)

Feb 10, 2019

The Tales of the Kardashian Curse

(Story)

Feb 07, 2019

Mavericks Snap 14 Game Losing Streak Behind Amber Brown's 34 Points

(Story)

Feb 03, 2019

Knicks Trade Porzingis in Hopes for a Big Off-Season

(Story)

Jan 31, 2019

Lady Mavericks Go Down To The Wire Against LIU Post

(Story)

Jan 27, 2019

Mariano Rivera Elected Unanimously to the Baseball Hall of Fame

(Story)

Dec 05, 2018

First Year Mercy Professor has Been Through it All

(Story)

Dec 05, 2018

Women's Basketball Victorious in Home Opener

(Story)

Nov 15, 2018

Top 5 NBA Point Guards

(Story)

Nov 07, 2018

Women's Basketball Building On Last Season's Improvement

(Story)

Nov 07, 2018

META Club Returns After Brief Hiatus

(Story)

Oct 30, 2018

Boston's Sports Dominance

(Story)

Oct 30, 2018

Green, Durant and the rest of the Reality Show Known as Golden State

(Story)

Oct 21, 2018

Heading in the Right Direction

(Story)

Oct 14, 2018

Do the Giants Regret Drafting Barkley over Darnold?

(Story)

Oct 12, 2018

Men's Soccer on a roll; Jumps to 17 in Ranking

(Story)

Oct 07, 2018

"Bullpenning" is not the Answer

(Story)

Oct 03, 2018

Mercy Ready To Unveil New Gym

(Story)

Sep 30, 2018

Farewell to the Captain

(Story)

Sep 23, 2018

Who's Really in Control?

(Story)

Sep 16, 2018

Why KD will Never be LeBron

(Story)