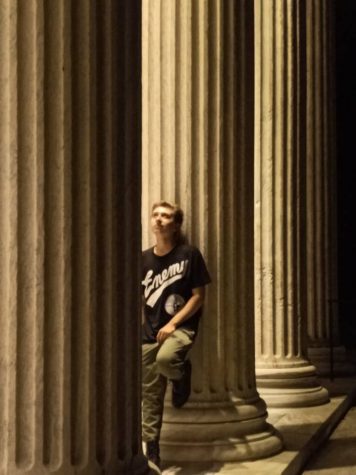 Jack Seda-Schreiber is the music columnist for The Impact News.
Born in New Jersey, Jack has an almost encyclopedic knowledge of music and a wide and diverse range of musical tastes.
Jack not only runs an up-and-coming indie record label known as Studio Suzuki, but is a musician in his own right. You can find stuff he releases on all streaming platforms whether it's his artist/producer alter ego "Super Jack" or his many projects such as the band "Room 13."
Jack runs the "Talking Music With Super Jack" column where he hopes to do music reviews, think pieces, musical analysis, and interviews.
You can reach Jack at
[email protected]
Jack Seda-Schreiber, Impact Staff
Nov 06, 2019

Michael Kiwanuka Finds Himself on 'Kiwanuka'

(Story)

Oct 30, 2019

Why Kanye West's "JESUS IS KING" is No Second Coming

(Story)

Oct 18, 2019

THE SCENE: RetroP

(Story)

Oct 11, 2019

Steve Lacy Brings New Album "Apollo XXI" to the Legendary Apollo Theater.

(Story)