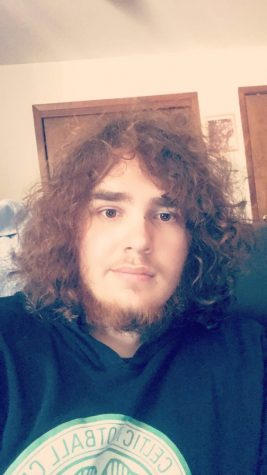 Steven Keehner is a journalism major with an unhealthy addiction to coffee and the band Oasis. Hailing from the mediocre town of Oyster Bay, New York, he was the Editor-in-Chief of his high school paper, 
The Harbour Voice
. He dreams of becoming a professional journalist after his time at Mercy College; his favorite writing topics are soccer, politics, and social issues. But he'll never say no to taking a chance on a new topic.
He currently runs the
Park The Bus Blog
and the column, Tales Of An American Redhead for 
The Impact.
Steven can be contacted at
[email protected]
Steven Keehner, Impact Staff
Oct 19, 2018

An Imperfect Guide to Loving Yourself

(Story)

Oct 01, 2018

Students React Well to Renovations Within the Hudson View Café

(Story/Media)

Oct 11, 2018

Let's Clear the Air About Socialism

(Story)

Oct 04, 2018

Bands FC: Bands as Soccer Clubs, Soccer Clubs as Bands

(Story)

Sep 27, 2018

Steven Responds to Himself About Vegans and Vegetarians at Mercy

(Story)

Sep 20, 2018

5 Tips That Will Win You Your Fantasy Football League

(Story)

Sep 20, 2018

Mercy College Doesn't Care about Vegans or Vegetarians

(Story)

Sep 13, 2018

The Art of Evolving as a Band Ft. Turnover

(Story)

May 22, 2018

Mercy's Transgender Community Gain a Massive Victory Towards Gender-Neutral Housing

(Story)

May 02, 2018

Mercy Professor Set to Release First Book of Trilogy

(Story)

Apr 19, 2018

5 Reasons Why Steven is The Greatest Name

(Story)

Apr 17, 2018

The 'Work' of Ultimate Storytelling: Professional Wrestling

(Story)

Mar 18, 2018

The Dreams We Have as Children

(Story)

Mar 15, 2018

The Curious Case of the New York Cosmos: The Second Act

(Story)

Mar 14, 2018

The Curious Case of the New York Cosmos: The First Act

(Story)

Mar 04, 2018

Founders Floods as Winter Nor'easter Plows Through Campus

(Story)

Mar 04, 2018

Question(s) of a Lifetime – Part Two

(Story)

Feb 08, 2018

A Look Into Mercy's Growing Rap Scene (Featuring 3peat)

(Story/Media)

Feb 23, 2018

So Close to Greatness, Yet Also So Far: A Review of Kingdom Come: Deliverance

(Story)

Feb 18, 2018

Question(s) of a Lifetime – Part One

(Story)

Feb 08, 2018

Staff Picks: Favorite Childhood Cartoons

(Story)

Feb 08, 2018

A Word That Rhymes With Pavement

(Story)

Feb 03, 2018

USL D3: Could Promotion & Relegation Come To American Soccer?

(Story)

Jan 27, 2018

How Fortnite: Battle Royale Has Risen Above All Expectations

(Story)

Jan 06, 2018

How America's Soccer Revolution is Moving Away From America (Kind Of)

(Story)

Dec 24, 2017

The JBA: Is LaVar Ball On To Something?

(Story)

Dec 18, 2017

Kaepernick Before Kaepernick, Curry Before Curry: The Mahmoud Abdul-Rauf Story

(Story)

Dec 11, 2017

#MinnieHOF: The Tale of Minnie Miñoso

(Story)

Dec 10, 2017

Stanton's in The Bronx! Now What?

(Story)

Dec 09, 2017

Staff Picks: Albums of the Year

(Story)

Dec 06, 2017

A Writer's Dilemma

(Story)

Dec 01, 2017

Staff Picks: Best Shows to Binge Over Holiday Break

(Story)

Nov 30, 2017

The Ultimate New York Yankees Offseason Preview 2017-18

(Story)

Oct 30, 2017

More Than A Game: What Soccer Means To Me

(Story)