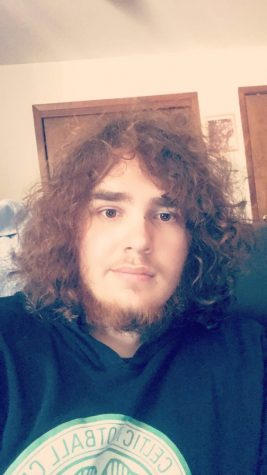 Steven Keehner is a journalism major with an unhealthy addiction to coffee and the band Oasis. Hailing from the mediocre town of Oyster Bay, New York, he was the Editor-in-Chief of his high school paper, 
The Harbour Voice
.
He dreams of becoming a professional journalist after his time at Mercy College; his favorite writing topics are sports, politics, and social issues. But honestly, he'll complain about anything.
He currently runs the
Park The Bus Blog
and the column, Tales Of An American Redhead, for 
The Impact.
Steven can be contacted at
[email protected]
Steven Keehner, Impact Staff
Dec 06, 2018

Campus Safety Emphasizes Importance of 'Mercy Alert' System After Stabbing Incident Near Campus

(Story)

Nov 04, 2018

OP/ED: We Can't Keep Ignoring The Transgender Community

(Story)

Nov 01, 2018

One Year Later, Fortnite: Battle Royale Continues to Thrive

(Story)

Oct 27, 2018

Paul Brown: The Cleveland Years

(Story)

Oct 19, 2018

An Imperfect Guide to Loving Yourself

(Story)

Oct 01, 2018

Students React Well to Renovations Within the Hudson View Café

(Story/Media)

Oct 11, 2018

Let's Clear the Air About Socialism

(Story)

Oct 04, 2018

Bands FC: Bands as Soccer Clubs, Soccer Clubs as Bands

(Story)

Sep 27, 2018

Steven Responds to Himself About Vegans and Vegetarians at Mercy

(Story)

Sep 20, 2018

5 Tips That Will Win You Your Fantasy Football League

(Story)

Sep 20, 2018

Mercy College Doesn't Care about Vegans or Vegetarians

(Story)

Sep 13, 2018

The Art of Evolving as a Band Ft. Turnover

(Story)

May 22, 2018

Mercy's Transgender Community Gain a Massive Victory Towards Gender-Neutral Housing

(Story)

May 02, 2018

Mercy Professor Set to Release First Book of Trilogy

(Story)

Apr 19, 2018

5 Reasons Why Steven is The Greatest Name

(Story)

Apr 17, 2018

The 'Work' of Ultimate Storytelling: Professional Wrestling

(Story)

Mar 18, 2018

The Dreams We Have as Children

(Story)

Mar 15, 2018

The Curious Case of the New York Cosmos: The Second Act

(Story)

Mar 14, 2018

The Curious Case of the New York Cosmos: The First Act

(Story)

Mar 04, 2018

Founders Floods as Winter Nor'easter Plows Through Campus

(Story)

Mar 04, 2018

Question(s) of a Lifetime – Part Two

(Story)

Feb 08, 2018

A Look Into Mercy's Growing Rap Scene (Featuring 3peat)

(Story/Media)

Feb 23, 2018

So Close to Greatness, Yet Also So Far: A Review of Kingdom Come: Deliverance

(Story)

Feb 18, 2018

Question(s) of a Lifetime – Part One

(Story)

Feb 08, 2018

Staff Picks: Favorite Childhood Cartoons

(Story)

Feb 08, 2018

A Word That Rhymes With Pavement

(Story)

Feb 03, 2018

USL D3: Could Promotion & Relegation Come To American Soccer?

(Story)

Jan 27, 2018

How Fortnite: Battle Royale Has Risen Above All Expectations

(Story)

Jan 06, 2018

How America's Soccer Revolution is Moving Away From America (Kind Of)

(Story)

Dec 24, 2017

The JBA: Is LaVar Ball On To Something?

(Story)

Dec 18, 2017

Kaepernick Before Kaepernick, Curry Before Curry: The Mahmoud Abdul-Rauf Story

(Story)

Dec 11, 2017

#MinnieHOF: The Tale of Minnie Miñoso

(Story)

Dec 10, 2017

Stanton's in The Bronx! Now What?

(Story)

Dec 09, 2017

Staff Picks: Albums of the Year

(Story)

Dec 06, 2017

A Writer's Dilemma

(Story)

Dec 01, 2017

Staff Picks: Best Shows to Binge Over Holiday Break

(Story)

Nov 30, 2017

The Ultimate New York Yankees Offseason Preview 2017-18

(Story)

Oct 30, 2017

More Than A Game: What Soccer Means To Me

(Story)