'The Nightmare Still Lingers'
October 6, 2016
Merryl Wiener, sixty years old, sits on the subway trapped underground, though the train is still moving.
It stops.
The doors open and people flood in.
Panic strikes her face as her breathing doubles and her anxiety strikes.
"Breathe in, breathe out. In. Out. In. Out," she thinks to herself.
Merryl looks around in every direction possible as she profiles every Middle Eastern looking man, woman and child.
She saw one and panicked. Almost getting up and running out of the train, she realized the doors had already closed and the subway was moving forward again.
"Is he going to blow up my train?"
Flashes of Sept. 11 flood back into her memory, and she closes her eyes hoping that the next time she opens them, the subway doors will be opened and she can run.
I called Merryl at 8:30 p.m. to talk about her experience surviving Sept. 11. She told me that she didn't like to talk to people face to face.
She apologized for taking a little longer to get home for our call and had just gotten home from work at Corporation Service Company. But she had only been five minutes late for our scheduled call.
As soon as I got on the phone with her, I made sure she knew I was sympathetic towards her feelings and if there was anything she felt uncomfortable saying, that she didn't have to tell me. It's her story, after all.
"Talking to you about this is my therapy," she said back to me. "I will be a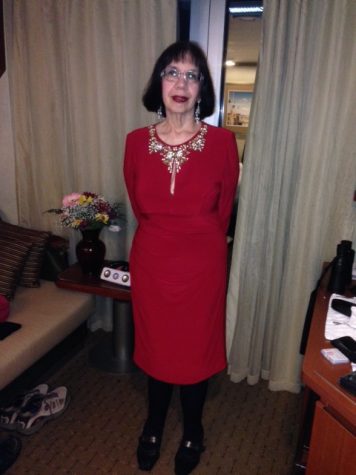 ble to relax and sleep tonight because of you."
She is not in front of me, and that is as close to a hug as we will ever get. But it is a warm hug. We both needed to hear those words.
**
Every year on Sept. 11, Merryl wakes up and looks out her window. She hopes that it's a cloudy, rainy day.
"On Sept. 11, it was an absolutely beautiful day out. It was warm. Not a cloud in sight. I cannot face another Sept. 11 day looking like that."
Merryl worked on the South Tower, 87th floor, just two floors above the impact zone.
She had stopped to get Mamma Mia tickets in the city on her way to work. Soon after she arrived at work, she smelled ignition fuel. The building shook but most people would not leave the floor.
"People wouldn't leave because they thought they would lose their job. Our superiors told us it was nothing and to stay, so we didn't think it was any emergency," Merryl said.
Merryl decided to leave anyway and took the nearest staircase.
"The staircases should have been packed but weren't because so many people stayed behind because they were told everything was fine."
A lot of people died on her floor, along with her cousin, John, who worked in the same building.
"We didn't even get a bone of his body to bury. There was nothing left of him," Merryl sadly whispers over the phone.
It took Merryl twenty-five minutes to get out of the South Tower and into the streets. That is when she knew at least one plane had hit a tower.
"There was so much smoke, I couldn't tell which tower had been hit." She continues on, "There was another plane in sight. It looked like a big eagle, disoriented."
The streets were packed with frantic people running in every direction, screaming and crying.
"The ground rumbled as if we were experiencing an earthquake except worse. It felt like the earth was just giving away right beneath our feet."
Merryl started running while stumbling over piles of debris, as if she were running up and down sand dunes in the desert, her feet drowning in the soil. But she continued hopeful she was running in the right direction. More and more smoke collected, taking over the entire city's face. Dust and debris filled the air making it harder for her to see and even harder for her to breathe. She looked down at her feet as she ran because it was the only thing she could see and even then, it was like standing in the middle of a hurricane, tornado and earthquake whirling at the same time. Still not knowing which direction she was headed, she kept going. She could barely make out any person running within a foot of her because they were completely disguised in the dust and debris from the buildings and smoke.
She made it to what seemed to be Brooklyn, and there she stopped and turned around for the first time.
"It was hell. I swore I was staring into hell."
She stopped and found a payphone, shuffled through her pant pockets for a few quarters, and called her son and frantically told him she was in Brooklyn and he needed to meet her.
She hung up the payphone and felt a shiver throughout her body.
"I hung up that phone and then realized that there was a chance I would never see my son again. That could have been the last time I ever heard his voice."
While Merryl was searching for her son, she came across a lady who had been on her way to chemotherapy before the towers hit.
"If she can make it to her therapy, I'll make it to my son," she thought.
It took her a year and a half to go see Mamma Mia after that grim day. But it took her even longer to go back to the site of sheer hell.
Merryl went to the 9/11 museum when it first opened up because survivors were allowed to go for free.
As soon as she walked in, she saw people taking family photos and selfies all throughout the museum.
"It's hallow ground," Merryl angrily said. "They disgust me."
She never stepped foot back.