The adorable and lovable red furry muppet who goes by the name of Elmo and who lives on Sesame Street, loved by children and grown ups alike, has a sad but true story that has made recent headlines. The voice and puppeteer of Elmo is Kevin Jeffery Clash who is a 52-year-old African American. Elmo promotes love, sharing, kindness, good times and friendship and he always refers to himself in third person with his favorite saying, "Elmo loves you." The smiles and joy that Elmo brings to so many people is endless and Elmo by far is the most popular muppet on Sesame Street and on television period. There are so many fun, upbeat and inspiring songs that Elmo sings with his other muppet friends that make him a one-of-a-kind character who holds a very special place in the hearts of millions of people. There is no other muppet that could convincingly replace Elmo in any way shape or form. A documentary came out last year that told the real life story about what it is like to play the character Elmo and it was entitled "Being Elmo: A Puppeteer's Journey." This documentary won the Sundance Film award and delved into the life of Kevin Jeffery Clash and how he became a puppeteer and the love and talent that he brings to being the character Elmo. Whoopi Goldberg narrated this documentary, along with other famous people, who starred in this movie.
Elmo is only a little three-year-old little boy furry red muppet but a character that has touched the lives of many and Kevin Jeffery Clash is the true heart and soul of the beautiful muppet Elmo since the early 1980s. That precious laugh and funny humor of Elmo will be missed now that Kevin Jeffery Clash has resigned from Sesame Street and will no longer be the person behind Elmo. What will become of the muppet Elmo and who could ever take the place of Kevin Jeffery Clash? I have seen Kevin with Elmo doing some excellent interviews on television and Kevin always seemed to me like an upstanding, down to earth, great guy but what the media has now revealed is shocking. He had told the media that "I am resigning from Sesame Workshop with a very heavy heart." First, a Pennsylvania young man accused Kevin of having a relationship with him when he was just 16. Later he recanted his allegations and admitted he was 18 and not a minor but rather a consenting adult. In a second case, Cecil Singleton, a 24-year-old wannabe model and now a college student said he had a sexual relations at the age of 15 with Kevin he filed a lawsuit seeking $5 million in damages. Kevin has not yet admitted or denied these charges. Singleton's attorney said he was contacted by two other possible abuse victims. Even though these events have taken place several years ago the people who Kevin had these sexual encounters with are just now coming forward to the media about what had happened. Kevin stated to the press "I have loved every day of my 28 years working for this exceptional organization," he continued. "Personal matters have diverted attention away from the important work 'Sesame Street' is doing and I cannot allow it to go on any longer. I am deeply sorry to be leaving and am looking forward to resolving these personal matters privately." Cecil Singleton, who is 24 now, claims that he met the 52-year-old children's entertainer on a gay phone chat line in 2003 when he was just 15 years old. How could someone whom the public believed loved kids do this kind of act on a kid? What was Kevin thinking? He probably was lonely and not thinking since he was never married and at the time he was 43 years old and most likely was in need of some sexual company. I was not aware that Kevin was gay. The first young man who Kevin had relations with was 18 at the time and of consenting age but the relationship is thought of as inappropriate because of the big age difference (18 versus 43 for Kevin at the time).
Hasbro, the main toy licensee for "Sesame Street" products, said in a statement "We are confident that Elmo will remain an integral part of 'Sesame Street' and that 'Sesame Street' toys will continue to delight children for years to come." That is all well and good for Elmo toy dolls and especially for the most famous doll, "Tickle me Elmo" that was a huge sell out one Christmas but what about on television? Is this the end for the television character or will the Sesame Street Workshop find someone else to take Kevin Clash's place. But whatever happens, without Kevin, Elmo will never be the same muppet that he was. Mr. Clash had taken a leave of absence to defend himself when the first accuser received attention from the gossip web site TMZ.
Production of "Sesame Street" will not be majorly affected by his absence, in part because Mr. Clash has been helping to identify other puppeteers who could play Elmo. Sesame Street will still go on with its production as usual but it will not be easy for Kevin Clash to find someone who will be able to embody the full personality of Elmo the way he has done over the 28 years of Elmo's existence. But Kevin is determined to find the right person to fill his shoes. It is not clear if the charges against Kevin are indeed true but he is resigning because he does not want to bring any trouble to the Sesame Street name and disrupt the excellent works that they do with children. PBS and WLIW who airs Sesame Street have enriched the lives of children everywhere and have gave parents a way for their child to learn, grow and develop with characters that teach and promote wonderful messages. The complaint by Cecil Singleton, who is now 24, called a gay chat line when he was just 15 years old and that is where he met Kevin Clash. This means that this incident took place 9 years ago and for Cecil Singleton to confess about what went on now seems odd but nonetheless still wrong of Kevin Clash if he really did what Cecil Singleton is accusing him of because Kevin has not confessed if all this is true or not. Kevin Clash supposedly did not have sexual intercourse with Cecil Singleton when he was underage but they did engage in some dry humping and this is according to what Singleton recently has told the media. But Singleton does claims that while they never had sexual intercourse, the two did engage in several sexual activities together which included groping, masturbation, intense kissing and dry humping. They did not have intercourse until years later when Singleton was of legal age. When looking at photos of Kevin with Elmo, it is like looking at two very good friends who care about each other very much. Kevin Clash has brought human-like characteristics to Elmo, which has in return made Elmo extremely likeable. I am sure that Kevin will miss being the puppeteer of Elmo very much but it was Kevin's decision and reportedly the Sesame Street Workshop did not influence Kevin to resign from his job. Kevin felt that his reputation had been shattered and he would rather resign than put the Sesame Street Workshop in harms way.
You can look at other puppeteers who play other popular characters but the connection viewers see from Kevin and Elmo in interviews is remarkable. Kevin fully immersed himself in the total package of who Elmo is and what Elmo expresses and represents to the public. To me, a part of Elmo died when I found out that Kevin Jeffery Clash resigned and would not be the voice and person of the beloved Elmo anymore. The Sesame Street theme song starts out with the lyrics "Sunny day, sweeping' the clouds away. On my way to where the air is sweet." Those lyrics do not mean the same thing anymore as they used to because how can the day be sunny or the air be sweet without the original voice of Elmo doing Elmo. It will be like a part of Elmo had died and will be reborn in another person's body of whoever takes over the puppeteer stylings of Kevin Clash. Finding a new puppeteer to replace a character would make sense if that puppeteer had died or something but Kevin Clash had relations with two young guys but only has come out and admitted to one, the guy who was 18 years old at the time and a consenting adult. The second guy apparently was underage and only 15 years old at the time and if this is true Kevin should not have been with him and that maybe the reason he feels the need to resign, to save the reputation of the Sesame Street Workshop and not bring horrible images to family programing. To keep things more private, Kevin had paid off Cecil Singleton, the second accuser whom 15 years old at the time, to not pursue the lawsuit.
The humor, wit, cuteness, clever lines and personality that Kevin has given to Elmo will forever be missed but Kevin will forever be the only true human spirit that brought Elmo to life and who has made Elmo the great emotional powerhouse that he is today. Kevin Jeffery Clash has had an excellent run but now it is time to say goodbye to the Elmo we all once knew until we find out who the next person is who will try to fill the shoes of Elmo and Kevin. Being Elmo has taught Kevin the most important things in life about being a good person and respecting others. Kevin has stated that being Elmo has changed him as a person and for that he is extremely grateful. Kevin will move forward in his life following and living out the wonderful behaviors that Elmo promotes. Kevin knows that when he is sad he can always remember the good times that he had shared with his best friend Elmo. Perhaps one of the lessons for us in how we deal with this development is found in two of Elmo's important traits – namely kindness and forgiveness.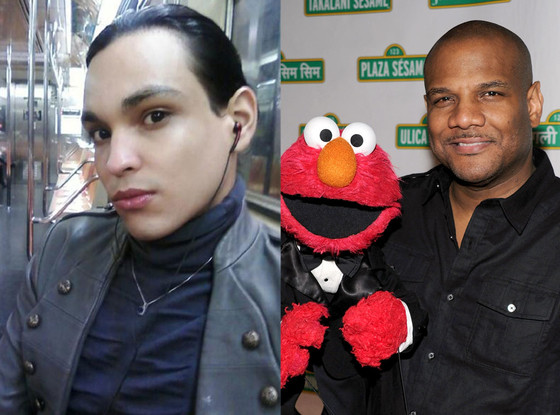 The first video is of Kevin Jeffery Clash doing an excellent interview on a British talk show. Kevin in this interview shows the great love and passion behind the personality that he brings to the character Elmo. It is very cool to see how Elmo interacts with the talk show host and how Elmo spits out some very funny and clever lines. Go into the mind of a true puppeteer and the legend that the muppet Elmo has become over the last 28 years due to the personality stylings of Kevin Clash. Watch the furry red three-year-old boy named Elmo come to life. The second video is of another interview of Kevin Clash on being Elmo on the Nightline New Show. The interviewer asks Kevin if children find it strange when they find out that the voice and character behind Elmo comes from a middle aged African American (Black) man. Kevin Clash has made Elmo an icon among people of all ages but mostly children. This video is very informative and you learn a great deal about the life of the talented man behind the muppet. This video talks about the documentary entitled "Being Elmo" and gives a little background to what the movie is about. The third video was taken on September 25, 2011 and shows Kevin with Elmo talking with a group of children and the audience interacting while they watch Elmo having a good time with the kids and questions being answered. The forth video is of an interview from an editor of Time Magazine of 10 questions she asked that most people are curious to find out the answers to. These questions can only be answered by the man who is behind the most famous character and that is of course Elmo. The fifth video is very unique because it is of Elmo asking his master Kevin Clash questions in an interview. The sixth video is of another interview of Kevin Clash entitled "Elmo walks the red carpet at Sundance." The seventh video is a breaking news report on ABC News that talks about the trouble on Sesame Street and what went on with Kevin Clash and how he has recently resigned from being the personality of the lovable character Elmo. The eighth video is of Jim Henson (the creator of all the muppets characters) and Kevin Clash on the Arsenio Hall show when the Arsenio Hall show was popular and on television. The ninth video is a narration by Kevin Clash discussing his working with Elmo. The tenth video is another narration by Kevin Clash talking about what is it like working with "the great" Jim Henson. The eleventh video is of the official trailer for the documentary entitled "Being Elmo." Viewers see and learn that Kevin is the most comfortable when he gets into the character of Elmo. He becomes Elmo and Elmo in return becomes him and they are one person. The twelfth video is the most important video to this article because it shows the full court interview of Cecil Singleton answering extremely important questions about the case involving the man who is the icon of the character Elmo. The thirteen and last video is of a Live CNN New Report of Kevin Clash who has issued a statement saying,"I am a gay man. I have never been ashamed of this or tried to hide it, but felt it was a personal and private matter. I had a relationship with the accuser. It was between two consenting adults and I am deeply saddened that he is trying to characterize it as something other than what it was. I am taking a break from Sesame Workshop to deal with this false and defamatory allegation." Watch and see what the truth is behind this whole issue and hear Cecil Singleton's side to the story. Elmo will forever be mine and thousands of other people's favorite muppet no matter who takes over as his personality and voice. 
Elmo – Your furry red friend who is always ready to play, laugh and learn new things with you !!