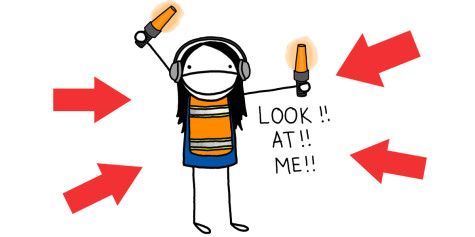 Samuel Neve, Opinions Editor

March 9, 2014
The power of social media has developed drastically over the last few years and it's gotten to a point that many advertisers, charities and individuals have started to run out of ways to grab peoples attention. Read More &raquo...
Jack Seda-Schreiber
Impact Staff
Jack Seda-Schreiber is the music columnist for The Impact News. Born in New Jersey, Jack has an almost encyclopedic knowledge of music and a wide and diverse range of musical tastes. Jack not only...
Amber Perez
Impact Staff
Amber Perez is a Journalist major here at Mercy College. She is currently residing at The Bronx, New York and enjoys listening to music and reading books about romance. Her current favorite writing...
Michael Panteleo
Impact Staff
Michael Panteleo is a senior and studies journalism at Mercy College. He enjoys writing, watching, and playing football and basketball. He is a member of the Collegiate Scholars program at Mercy College...
Jared Naut
Impact Staff
Jared Naut is a junior majoring in journalism hailing from the town of Parlin, New Jersey. When Jared is not writing, you can catch him listening to his favorite acapella group, Pentatonix, or binge-watching...
Adriana Saad-Vinza
Impact Staff
Adriana Saad is from Ecuador. Her grandmother brought her over when she was 15 years-old for a better future. She jokes that her plan did not go as she wished because she became pregnant two years later....
Jess Brandt
Sports Editor
Jess Brandt is a Media Studies major specializing in Journalism. She is from the wholesome town of Folsom located in beautiful Northern California. She is a member of the Mercy College Women's soccer team...
Estefania Salinas
Impact Staff
Estefania Salinas is a senior majoring in Media Studies: Radio & TV Production with a secondary concentration in Journalism. She is a passionate news reporter. She loves to get out in the field interviewing...
Randi Rooney
Impact Staff
Randi Rooney is a person. "I enjoy long walks on the beach!" "6:30, eating dinner with myself; Seven o'clock wrestle with my self-loathing." I live in Rockland County and I've been encouraged to...
Ellis Joshua
Impact Staff
Ellis is a Senior Media Studies major who is looking to become either a sports writer or sports broadcaster after he graduates. He has a passion for writing and loves watching basketball, baseball and...
Jillian Simmons
Impact Staff
Jillian Simmons is a junior studying Television and Radio Broadcasting, with a secondary concentration in journalism. She has a passion for video editing and writing, and after graduating hopes to get...