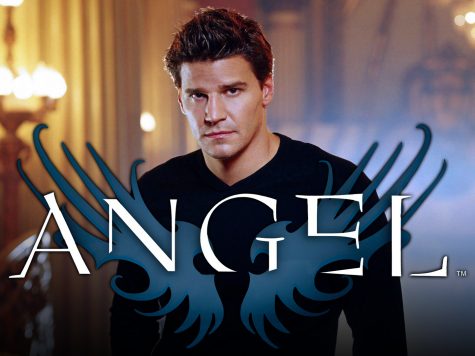 Stephen Lyons, Associate Editor

September 20, 2018
A few Rewatches ago I talked about my love of Buffy the Vampire Slayer. The tales of the blonde slayer wouldn't be complete without a journey to visit her tall, dark, used to be evil, on-again, off-again boyfriend, Angel. For three seasons the vampire with a soul worked with Buffy and the Scoobies to save ...
Tags: angel, buffy summers, Buffy the vampire slayer, dawn, giles, hellmouth, Joss Whedon, tara, willow, wolfram and hart, xander
Jared Naut
Impact Staff
Jared Naut is a junior majoring in journalism hailing from the town of Parlin, New Jersey. When Jared is not writing, you can catch him listening to his favorite acapella group, Pentatonix, or binge-watching...
Alex Wendling
A die-hard sports fan who is eager to learn more about the sports media industry. His dream is to one day work for a big sports news outlet. He is a die-hard Jets fan and on a fall afternoon, one can find...
Steven Keehner
Managing Editor
Steven Keehner is the Managing Editor of the greatest publication on the Hudson. Hailing from the mediocre Town of Oyster Bay, New York, he enjoys going to gigs, playing his guitar, and pizza. He...
Julianna Ilise
Julianna Ilise is a 21 year-old. She grew up in Monroe, New York with her mother, father, sister, step-father and step-brother. She is currently attending Mercy college studying Radio and television production....
Randi Rooney
Impact Staff
Randi Rooney is a person. "I enjoy long walks on the beach!" "6:30, eating dinner with myself; Seven o'clock wrestle with my self-loathing." I live in Rockland County and I've been encouraged to...
Dan Rebain
Impact Staff
Dan is a VERY TALL person, a sports enthusiast that can't stop talking about FOOTBALL, HOCKEY, BASKETBALL, SOCCER, and MMA. Also, he's making jokes on anything 24/7. He is a junior Media Studies major...
Francesca Simone
Editor
Three jobs, five college courses, a huge family, a binge-watching addiction, a deep-rooted passion for Halloween, a never-ending hunger for literally every edible thing in sight (bottomless pit, for sure),...
Jack Seda-Schreiber
Impact Staff
Jack Seda-Schreiber is the entertainment editor for The Impact News. Born in New Jersey, Jack has an almost encyclopedic knowledge of music and a wide and diverse range of musical tastes. Jack not...
Michael Perrota
Adviser
Prof. Michael Perrota began teaching at Mercy College in 2005. Previously, he was a full-time reporter for North Jersey Media Group in the sports and news sections. After he began teaching, he worked in...
Amber Perez
Impact Staff
Amber Perez is a Journalist major here at Mercy College. She is currently residing at The Bronx, New York and enjoys listening to music and reading books about romance. Her current favorite writing...