Mavs Softball Riding the Momentum Wave
Softball, like the majority of sports, is a game of team chemistry and confidence. A team's confidence in itself is essential to have in order to see successful results on game day, and it appears like Mercy Softball just might have found theirs.
The team, which began the season 0-11, is now 4-17 and starting to find its groove.
The Mavericks are coming off of two blazing hot victories over Bloomfield College, winning both games of the two-game series by scores of 11-10 and 13-12. It was a great weekend for Mercy, who captured their first two victories of the season in a nuclear offensive fashion.
"We worked hard on making adjustments during the week," said sophomore Jessica Evans. "It was important to us that we worked on our mental game and mechanics, and when game day came, we came together for each other."
It's not normal to score 24 runs in two games, but the Maverick bats were really just that hot that Saturday afternoon. Mercy was led by senior Sydney Johnston, who went 6-for-8 at the plate, accumulating six RBIs, three runs scored, a stolen base, and a home run to cap it off. With an astounding effort, Johnston earned ECC Player of the Week and Rookie of the Week honors following her performance.
Johnston, however, is not the only player on this team who can swing the bat on this Mercy roster. A strong asset to their game, the Mavs offense has been also fueled by freshman Cayla Crawford, junior Shannon Sisco, and senior Hailey Puglia.
Crawford, the rookie from Walnutport, Pennsylvania, is slashing an impressive .378 batting average with 14 hits and 7 runs scored in her first year in Dobbs Ferry. 
Sisco, the junior and Cicero, New York native has been arguably the best hitter in this lineup, batting .359, with 23 hits. She also has 14 runs scored along with six doubles, which leads the team in both categories.
Puglia, the fourth-year veteran out of Holtsville, New York, has also been fantastic. The senior is batting .298, with 14 hits and 3 additional runs scored.
Mercy has had some growing pains at the pitching mound this season, featuring two rookies in the four-player rotation. But with growing pains comes valuable experience, and these Maverick pitchers have had loads of it this season.
Leading the mound for the Mavs is senior Alexi Benson, the fourth-year player out of Fredericksburg, Virginia. Benson leads the team with a 2.91 ERA, and an exceptional 41 strikeouts on the season. Her durability isn't to be questioned either, as Benson has thrown seven complete games this year for Mercy.
Freshman Marina Benson has been stellar in her first season as well. Benson leads the Mavericks with two wins on the season, while managing a 5.17 ERA and 10 strikeouts.
Angelina Oquendo, the senior from Middle Island, New York, has also pitched well for Mercy in her final season. Oquendo maintains a 6.81 ERA with eight strikeouts this year.
Mackayla Secoda is the other member of this pair of rookie pitchers for the Mavs. Secoda has seen three games on the mound this year, striking out eight batters in those appearances.
Conference play has yet to begin for Mercy Softball, but the Mavericks are chomping at the bit to compete against their yearly rivals.
"We're very excited to play St. Thomas Aquinas and Molloy especially," Benson said. "Those are always exciting games as they are two tough teams. D'Youville is also another great competitor for us every season."
While the Mavericks may have found their confidence at the perfect time, there's another aspect that every successful team possesses: Chemistry. But what does that mean? Well, that would be the closeness between the members of the team. The building block of trust, respect, and accountability amongst each other. That's how a winning culture is built. 
Yes, this team has that too. A close-knit bunch, these ladies have established a positive team environment. Jessica Evans is amongst the majority on this roster who believe in what they have.
"We changed the dynamics of our team this year for the better" Benson preached. "Our energy to push each other every day has been great and it's been noticeable when we enter games. I love that we work together as a whole to adjust what we need to…it makes playing the game fun whether we're practicing or playing a game."
Mercy Softball is trending upward with the new culture these ladies have built. There is a lot of softball still left to be played in this 2023 season, which just may leave the Mavericks' upcoming opponents feeling uneasy.
Leave a Comment
About the Contributor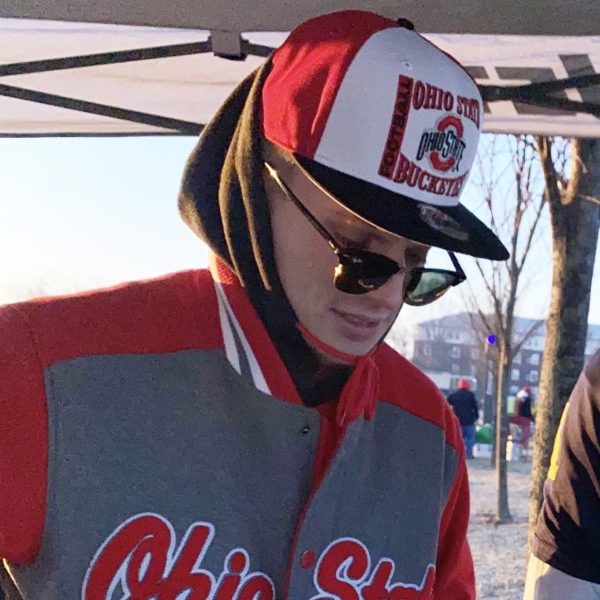 TJ Heyder, Sports Editor
TJ Heyder is a fifth year Media Studies major at Mercy, with a passion for sports journalism. TJ has become a main beat writer covering Mercy athletics...