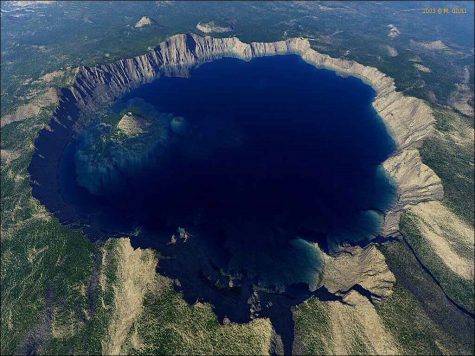 Caroline Newman, Impact Staff

March 8, 2018

Filed under Oregon My Oregon
Ever seen something so jaw dropping it takes your breath away? Ever experience just what Mother Nature can do? Crater Lake is all land made and is breathtaking. Crater Lake is classified as a caldera lake, a lake that is formed when a volcano erupts and collapses in on itself, leaving a crater behind,...
Chloe Digianni
Impact Staff
Chloe is a senior TV/Radio Production major at Mercy College and is the main videographer. Her talents range from shooting footage in the studio to chasing protesters in Washington D.C with her trusty...
Read all stories written by Chloe Digianni
Mark McCarthy
Impact Staff
Mark is a A 22 year old senior English major from Scarsdale. He enjoys video games, comics, movies and occasionally T.V. shows. He wants to become a writer, but has no real specific desire when it...
Read all stories written by Mark McCarthy
Kristin Millard
Impact Staff
Kristin is a musician, audio engineer, and recording studio assistant from suburban Chicago. She is constantly attending local shows to support her friends, and hanging in the studio helping record an...
Read all stories written by Kristin Millard
Caroline Newman
Impact Staff
Caroline is a junior TV/Radio Production major at Mercy College. She is from the picturesque valleys of Medford, Oregon. She is a member of the production team and helps shoot and edit our videos. In her...
Read all stories written by Caroline Newman
Karen Polanco
Impact Staff
Karen is dull and boring and that is why she can't write a bio. She lives in Connecticut. Or something. She edits videos fairly well. Rumor is she loves donuts. She can be reached at...
Read all stories written by Karen Polanco
Nicole Acosta
Impact Staff
Nicole is from the Bronx and is a journalism major at Mercy College. Her hobbies include discovering new places to eat, photography, listening to every current album you could think of, and re-watching...
Read all stories written by Nicole Acosta
Sandra Romero
Impact Staff
Sandra Romero is a senior majoring in Communication Studies with a specialization in Public Relations. She is taking on many projects to end her college journey strong. From interning at an Integrated...