Hogwarts Legacy is Drowning In Controversy
Over the past few weeks, Twitch streamers have been berated with hate for playing Hogwarts Legacy.
The hate largely stems from previous comments made on transgender issues by J.K. Rowling, the author of the Harry Potter series.
And as a result, people online began to attack just about anyone who is playing the game at the moment claiming that they're bigots in support of her denounced views.
This has even resulted in a Twitch boycott of sorts where many streamers are refusing to play the game because of the overwhelming amount of bullying they'd have to endure, simply stating that it isn't worth it. Others chose to cancel their pre-orders or opted not to spend money in the franchise but a debate still stands whether there is a way to separate the work and the artist who created it.
Despite having a divided fandom, it doesn't seem like Hogwarts Legacy has been affected much given that it surpassed Fallout 4 on the Steam charts with over 489,000 players concurrently, even just in the early access period for deluxe edition pre-orders.
This puts it at number two just behind Cyberpunk 2077, but only time will tell if this stands true.
I've been able to sink in around 30 hours into the Wizarding World of Harry Potter that has not only provided an excellent story, but has allowed me to meet a wide cast of diverse characters.
This counteracts the misguided notion of those against the Harry Potter franchise proving that inclusivity is still a major part of the experience. For example, in a previous controversy where one of the game developers had made statements on his YouTube channel in support of a movement called Gamergate.
Gamergate was a movement online that was against anything progressive to translate over into video games, but Warner Bros., the publisher behind Hogwarts Legacy were quick to dissolve this notion.
They not only dispelled the words of their now former employee, but were standing in solidarity with those affected, primarily being minorities or women.
Both the developer, Avalanche Studios and Warner Bros. addressed the concerns made by those parties by going a step further in removing him from development altogether.
Even after they condemned opposing views or hatred to continue, people still found a way to highlight the issue nonetheless.
As I said, J.K. Rowling's resurfaced views have a lot to do with this which doesn't seem to be a fair argument, at least in my opinion because her involvement with the project was indirect.
The developers behind Hogwarts Legacy took her world and recreated it into a medium that fans of the franchise have been waiting on for such a long time.
They also make it a point that each player is going to experience their own story through the lens of their newly created character.
Beginning Hogwarts Legacy invites the player to create their own character in any way that they see fit. By allowing the player to have control over their identity, they're able to feel closer and far more invested into the adventure. Along the way, you'll even get to know transgender or underrepresented communities as characters in main quest's storylines.
Despite this attempt at inclusivity, people are still finding ways to be upset. From what I've seen, this is a losing uphill battle for the creators and minds behind Hogwarts Legacy.
No matter what they do, it seems like others always find something to be unhappy about. Yet, this issue is telling of the time, where people who feel marginalized need a voice to empower their message against the ruthless hate they receive by bigoted individuals.
Regardless of the push for inclusivity, creators using the Harry Potter license may continue to deal with controversy due to no fault of their own which is out rightly unjustified.
In the games industry, we've seen progressiveness begin to creep in but there is still much more work to be done to highlight or represent groups who feel marginalized to further address these issues. I hope at some point that every person who picks up Hogwarts Legacy or let alone any video game feels welcomed to the overall experience.
Inevitably, this all starts with holding those accountable of wrongdoing to enable creators to invent and foster an inviting world to explore, but only time will tell how this all plays out.
Leave a Comment
About the Contributor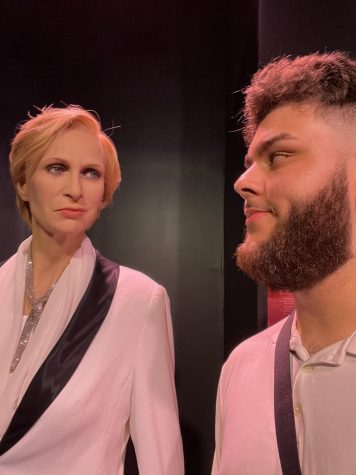 Joshua Ochoa Diaz, Impact Staff
Joshua Ochoa Diaz is a junior year Journalism major at Mercy College.

He writes a column titled "Cluttered Library of Thoughts", where he likes to talk...