Taylor Swift's Evermore: The True Album of the Year
As of me writing this column, it is mere hours before the 64th Annual Grammy Awards.
I, like many other swifties, are impatiently waiting for the moment Taylor Swift wins her fourth album of the year award for her ninth studio album, and her second-best album, Evermore. 
Folklore, of course, still holds that stop number one spot in my opinion. 
I have absolutely no clue if she will win, but I hope with everything in me that she wins the award and public recognition she properly deserves. 
Some may say this idea is completely and utterly ridiculous.
"Why does Taylor deserve to win another album of the year award."
"Evermore isn't even that good."
"What even is Evermore?"
But I say to all these people that I have just made up in my head that Swift's Evermore is a brilliant, rare work of art that few artists could ever accomplish in their entire career.
Swift's deeply personal and almost magical ability of songwriting takes her listeners on a fictional journey of grief, forbidden and secret love, childhood nostalgia, failed romance, and murder. 
Yes, you read that right. Murder. There's a song off this record, no body, no crime, which features the all-female band HAIM, that tells the story of a cheating husband who kills his wife to marry his mistress, but their love affair ends after the wife's best friend kills the husband as revenge and frames the mistress. 
"Good thing my daddy made me get a boating license when I was fifteen. And I've cleaned enough houses to know how to cover up a scene. Good thing Este's sister's gonna swear she was with me. Good thing his mistress took out a big life insurance policy."
This may sound insane and ridiculous to think about and read but Taylor Swift pulls it off perfectly. Tracks like this are able to spotlight Swift's unique creativity and emotional maturity, by giving us completely fictionalized tales that seem too detailed and personal to not be rooted in reality somehow.  
Another gem on the record is her heartbreaking four-minute piano ballad and champagne problems. 
Champagne Problems, a song that was co-written by her muse and boyfriend Joe Alwyn, tells the story of a woman who rejected her lover's marriage proposal because she fears her internal struggles will be too much for him to take on.
She wants nothing but the best for him and wishes for him to find someone that wouldn't embarrass him publicly or ruin the reputation he has in his hometown. 
Swift and Alwyn give their listeners such vivid and tragic images, like dropping his hand while dancing or his dropping and shattering like glass, that it makes it almost too painful to listen to. Again, I have to bring up the fact that not every artist could create such a heartbreaking song, yet still make it beautiful to listen to and fascinating to analyze. 
Many singers could create a good break-up song, but there few could create an epic and poetic narrative that when heard, makes you feel like you've heard something truly unexplainable.  
There are other highlights in this album as well. Songs that continue the fictionalized tales of the record. 
Ivy, which talks about a passionate and fiery affair, and Dorothea, which tells the tale of a hometown friend and them abandoning their past.
But I don't think this album is completely filled with fictionalized stories. Evermore is home to Taylor's most personal and powerful songs that speak about her past, fears, love life, and musical career. 
Marjorie is a song about her late grandmother and all the important life lessons she taught Swift about kindness and power.
And Evermore, the title track of the album, has Swift open up about her past scandals involving Kanye West and the online hate she received and has her admit that she thought that the pain she felt would forever haunt her and that her career would never recover. 
Swift sings: "I was catching my breath, barefoot in the wildest winter, catching my death. And I couldn't be sure, I had a feeling so peculiar. That this pain would be forevermore."
Lyrics like these give us a window into that beautiful mind of hers and give us the opportunity to once again reflect on how the public has mistreated her. 
I don't want you to think that Evermore is a sad album. It's the opposite actually. Swift has stated on multiple occasions that her album is a story of healing and growing from past pain. She takes us on a journey that is simply life-changing. 
Swift has a rare talent. Until all these other artists like bang out an album every year and do as minimal work as possible, she truly hones her craft with every album she forms. Her power is too grand not to be displayed on a stage in front of millions and be given a large golden award. 
Hopefully, she wins. But if she doesn't, it doesn't matter. 
Because in a hundred years, Evermore will 100% still be remembered.
And a silly award won't be a reason that happens.
Leave a Comment
About the Contributor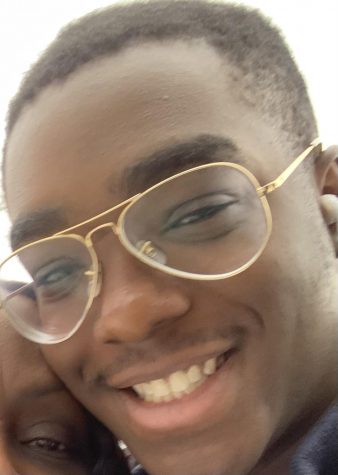 Maleek Munroe, Senior Editor
Maleek Munroe is a senior at Mercy College, majoring in communications. He graduated Nyack High School, where he found his love and passion for both...