Mercy College's Norwegian Invasion
Mercy College has been taken over by Norwegians.
Every year, students from all over the world apply to Mercy College's International student program, where they are given the opportunity to live at an affordable college in New York for a year or for their entire college career.
Sometimes there are multiple exchange students from one country. Last year it was Korea. This is, it is the Kingdom of Norway.
Through Explorius, and the help of their guidance counselor, Miriam Oedegaard and Edda Pettersen found Mercy College. The international program assists students in different parts of Europe with finding a college where they can study abroad. With a network of over 120 colleges to choose from, students can study anywhere in parts of Europe to different places in America.
Oedegaard and Pettersen, both born and raised in Norway, knew Mercy College was immediately the right fit for them.
"I was deciding between Mercy College and Santa Monica State College. I really liked that during the admittance process, Mercy looked at my entire resume, not just my grades. Because of their process, and that I was so set on being close to New York City ," explained Oedegaard, a film and culture major. "Mercy was an easy choice."
Both Oedegaard and Pettersen were more excited than scared when they landed in New York on Aug. 28, 2014, eager to start the school year and experience New York on their own. Living their entire lives in Norway, they were ready to start their own lives.
"I decided when I was three years old that I wanted to come to New York City. I told my parents, and they thought I was just kidding, but it's been a dream of mine for as long as I can remember," explained Oedegaard.
Pettersen felt the exact same way.
"I've always wanted to come to America too. In high school, I was part of an exchange student program, but they put me all the way in Idaho. It just wasn't the place for me. New York was the dream I never thought would be possible until now," said Pettersen, whose major is undecided.
Culture shock struck both of them immediately as soon as they arrived on campus. Along with the set-up of the dorms, students their age in Norway are treated completely different than students in America.
"It's the dorming that we need to get used to. When you come from a place with no restrictions and a lot of freedom to a place with a lot of rules, it's a little weird," explained Pettersen.
Despite adjusting to the new dorming life in New York, both of them love everything about their new school. From Mercy College's size of classes to all the attention and help from faculty members and professors, it was obvious they picked the right school.
"PACT has also been really helpful. They make us know we're welcome anytime into their offices. They don't make it like we're seeing a counselor either, it's like we're going to see a friend," stated Pettersen.
Oedegaard, who is originally from Oslo, Norway and Pettersen from Trondheim, Norway first met when they landed in New York. Their friendship was instantaneous.
"Even though I'm the older one, Edda is definitely 'older' than me," Oedegaard giggled.
The two share a mutual love of NYC, where they spend most of their weekends walking around SoHo, window shopping at trendy boutiques, or taking walks through Central Park. They've even taken the opportunity to take a ballet class together.
"On Sundays, we take a beginner ballet class in the city. It's a lot of fun," said Pettersen.
When they're not taking strolls through Central Park or throwing all their money away at the boutiques in SoHo, they spend their time watching and discussing their love of movies. Oedegaard, whose dream is to become a director, can talk anyone's ear off when it comes to movies. When asked what her favorite movie of all time was, she didn't know how to answer.
"I love all movies, so that's really difficult for me to answer! From silent movies to Lord of The Rings, I love them all. I can't wait to write something myself, and bring it to life through directing," explained Oedegaard.
Because of their love of movies, Pettersen is having a really difficult time figuring out which major she wants to choose. While Oedegaard is determined to finish her Bachelor's degree at Mercy and go onto graduate school, Pettersen is still trying to decide becoming a child psychiatrist or a director.
"I think I might want to be a child psychiatrist. But, I've also always had a dream of becoming a director because of my love for books and movies. I'm just so conflicted," stated Petersen.
The one thing Petersen isn't confused about is her love of traveling. Both Oedegaard and Petersen have big plans on traveling around the United States, hoping to explore everything America has to offer. Although the two don't have drivers' licenses, or a car at the moment, they plan on doing whatever it takes to start their road trips.
"I bought this book called The 52 Best Places to Road Trip to in America and we plan on doing them all," excitedly stated Oedegaard.
From seeing the windy city of Chicago to visiting the Grand Canyon, these two best friends plan on becoming real world travelers together. Both Oedegaard and Pettersen were taught at a young age that traveling was a good thing, and was encouraged by their parents.
"My parents spent money on taking us to different places around the world. They taught my siblings and I that traveling is a wonderful thing," explained Oedegaard.
As for being homesick, the two both miss their families, but are reluctant to go home anytime soon.
"I miss my brother a lot. I feel like that because I have done this before, I'm kind of used to it. We keep in touch through social media. I'm sure it'll eventually hit me," said Pettersen.
Being homesick will not get in the way of working toward achieving all of their goals. They plan on seeing all of New York and the rest of America, all while keeping a high GPA.
"We're here to work," stated a determined Oedegaard. "We want to learn and see everything, but our main goals are to just graduate and follow our dreams."
Leave a Comment
About the Contributor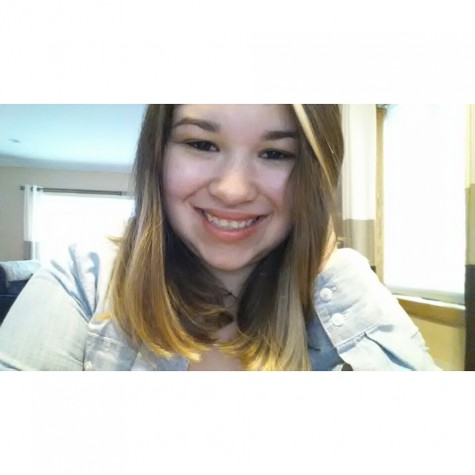 Maria Elena Perez, Managing Editor
I'm a senior at Mercy College majoring in journalism, and have been writing for The Impact since my sophomore year. Currently, I am the Managing editor...