Candle Light Vigil Honors Fallen Muslim Students
Students and faculty gathered outside Main Hall last month for a candlelight vigil held by the Muslim Student Association in memory of the three Muslim students who were shot to death on Feb. 10 in Chapel Hill, North Carolina.
Thirty Mercy College students and faculty members braced the cold wind to pay their respects to the victims Deah Shaddy Barkat, 23, Yusor Mohammad, 21, and Razan Mohammad Abu-Salha, 19.
"We don't want them to die in vain. The way we prevent that is by speaking and spreading the word about this issue," explained Mustafa Sakarya, the advisor of the MSA club.
Craig Stephen Hicks, 46, from Chapel Hill was arrested after he turned himself in to the authorities. The three students were possibly shot over an ongoing parking dispute, according to police. On Feb. 16, Hicks was indicted with three counts of first-degree murder.
Sakarya, the library director at Mercy College, began the vigil with a story about his father's dictionary. He spoke about how tattered and torn it was because of how much his father used it, and he began to think about the three victims.
"I thought about Deah studying dentistry and how he might have a dictionary filled with dentistry terms in his room. A nice, fresh, hard bound book that he's never going to open again. That book sitting on Deah's desk won't go on a journey like my father's dictionary did. It's not going to become tattered or ruined, and that's the ultimate tragedy."
In his speech, Sakarya continued to say how ignorance took the lives of three students who were capable of changing the world.
"These students were not just model Muslims, but they were model Americans. The ultimate American dream is represented here. They're going to school and studying just like we're doing and were going to take those skills and plow them back into American soil. That process completely died. None of that will happen because some people believe that Muslims are bad."
According to a poll by the non-profit Arab American Institute, only 27 percent of Americans look favorably of Muslims.
"It's sad. Rather than use proactive demonstration, we have to constantly prove and defend Islam," he said.
Students and faculty were moved by the turnout of the event, and what a great impact this tragedy had on the Mercy College community.
"I'm heartbroken by all of this. But, knowing that people really care about this and seeing the Mercy Community come together makes me realize we're one big family," said Ayyad Algabyali, President of the MSA club.
Prior to 9/11 attacks, between 20 and 30 anti-Muslim hate crimes were recorded, according to the FBI's Uniform Crime Report program. In 2001, that number sky-rocketed to 500 and in the years since, hate crimes against Muslims have hovered in the 100-150 range.
Since the Sept. 11 attacks, 55 percent of Muslims agree that it is more difficult to be a Muslim, due to stereotypes and misconceptions, according to a Pew Research Center Survey.
"I was upset and really surprised when I first found out about the shooting. The fact that it could've been me is the biggest connection I have with these three people," explained Aisha Malik, the MSA event coordinator.
Malik, a junior and biology major, is proud to be Muslim, despite the shootings and other events regarding anti-Muslim hate crimes. She's not afraid to say she's Muslim or wear her hijab, a head covering that some Muslim women wear in public.
"When you see cases like this, it's really scary. But I proudly wear my hijab and say that I am Muslim."
Since she was a sophomore, Malik has been a part of the MSA club and has high hopes that through the events she plans, people will better understand Muslims and the Islamic faith.
"This year we handed out roses on 9/11 with a quote from the Quran attached to it. We want people to know that Islam doesn't promote violence," she explained.
According to MSA National, students who participate in the club meetings are "uniting a forum for Muslim students from diverse backgrounds for decades." Malik plans on holding more events throughout the semester, like a hijab wearing event, so more students can experience the Muslim culture.
Sister Mary Hartman from the School of Nursing also said a few words and a prayer before the candle lighting.
"God doesn't care what we call God. Whether we call God Allah, Creator or whatever. Even if you don't believe in God, we're all still brothers and sisters," explained Hartman.
After the prayer, students were able to go outside for a moment of silence to light some candles in honor of the victims.
"It shouldn't matter what religion they practice. Three people shouldn't have died over a parking space," said legal studies major and senior Pascale Jean Giles.
During the moment of silence, it was clear that no matter what race or religion you are, Mercy College will always come together when someone needs it the most.
"This isn't just about a parking spot. I believe it has to do with their Muslim faith," stated Sakarya. "Lives were cut short because of their faith, and it's unfair."
Leave a Comment
About the Contributor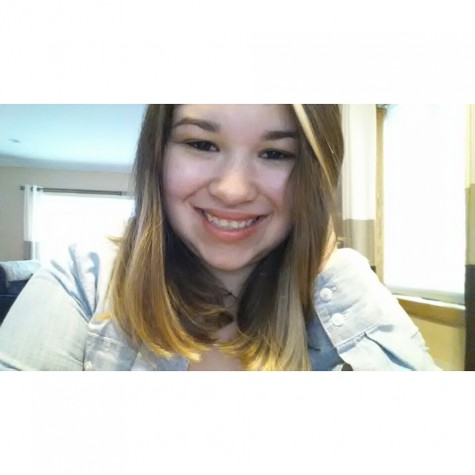 Maria Elena Perez, Managing Editor
I'm a senior at Mercy College majoring in journalism, and have been writing for The Impact since my sophomore year. Currently, I am the Managing editor...