Students Smash Competition At Video Game Tournament
Students Go All Out in VIdeo Game Tournament
Rolling around. Jumping in midair. Constantly hitting its opponent. Trying to knock out them out of the stage. A Sub Zero Racer patiently waiting to make his final knock out. He goes for it and does his recognizable "Falcon Punch" attack. The audience applaud and yell with excitement while the two players shake hands.
Rotunda Hall was filled new/old gaming systems that came from the Gaming Battle Network (GBN) and from other various sources. The equipment and monitors came from from Mercy College and GBN. Mercy College IT and Ellucian sponsored the prizes for the event.
The Gaming Battle Network hosted a Super Smash Bros Brawl and Street Fighter Four tournament at the Rotunda Hall. It was filled with aggressive gaming competitors pressing control buttons aloud and repeatedly, in hopes advancing to the finals and winning the grand prizes.
Angel Cespedes, CEO and Founder of GBN, has hosted many gaming tournaments at Mercy College and in the Westchester area. Cespedes has one goal: To make gaming tournaments mainstream and to welcome all competitors to tournaments without breaking a bank.
"No one has to travel far. Local competitors don't have the money to travel to these big tournaments. We're all gamers from the heart with needs of competing in tournaments for prizes or just for fun."
Cespedes goal was indeed accomplished.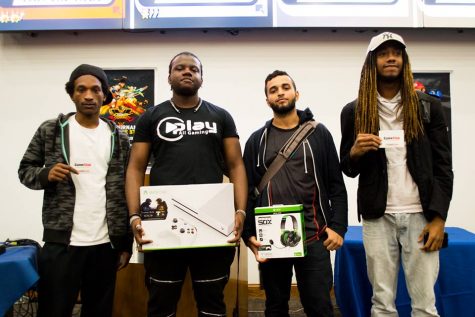 John Mosata, 13 years old from White Plains, heard about through social media and from his neighbors. Mosata and his neighbors came because it's in their hometown and it's free to compete.
From the locals of Westchester to the residents of Rhode Island heard and traveled to the GBN event.
One in resident in particular is 28 year old, Bobby Swieciki. Swieciki was traveling for his job but took a break from the road and decided to pull up in his Half Life t-shirt with his Wii remote control for some Smash action.
Barry Paust a Street Fighter competitor from Poughkeepsie was carrying his big arcade stick. He feels comfortable playing with his arcade stick since he grew up with the arcade stick generation. Paust competed and also sponsored the event.
Gaming players were patiently waiting to register for the gaming event. Many of them carrying their own gaming controller in their hand. Voices were being exchanged of favorite characters, battle tactics and even gaming threats were being made.
"You better not face me. I'd beat you with Jigglypuff and knock you out using her rest KO," says one individual as he waves his controller.
While tournament players wait for their match to be called on. Many of them were also able to relive their nostalgia by playing the Sega Dreamcast, Nintendo 64 and the Nintendo Gamecube.
Joe Giron, who goes by his gaming nickname "DawnPitch" is a computer science major at Mercy College and is the president of the Gaming Club. He too helped set up and also enjoyed seeing everyone come together to play video games.
"I love to set up for these events. It's an amazing experience. Everybody is here to game and it's what we love to do. It's like a dream job."
Ashley Rivera, Criminal Justice major at Mercy College, was one of the very few girls that participated in this event. Rivera only came to practice on her Smash skills.
"No, I don't get intimidated playing with guys. I usually play against them. I lost the first round but hopefully I win the second round."
The event ended with prizes given out to the top four players for each game tournament. The Xbox One was the grand prize that was awarded. Street Fighter winners were: Ryan "TrueLionHeart" McDaniel, Samir "igotdembombs" Mohamed, Chris "BigHomieC" Holmes and Kaseem "Volzar21" Norman. Super Smash Bros Brawl winners were: Dillon "Ho3K Dill" Rubin, Lou, TSG Manie, Daniel "DK_Dan" ThePadulo.
Leave a Comment
About the Contributor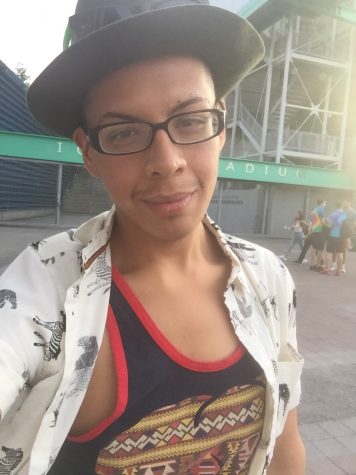 Christian Arriaga-Flores, Staff Reporter
Christian Arriaga-Flores is a Radio/Television Production major at Mercy College born and raised from Newburgh, NY. He likes to chat about anything from...