Youth Voices Of Change: Creating Awareness About Co-Occurring Disorders
When some teenagers or kids fail in an activity, they feel that there are no ways to get out of those problems.
This can be as simple list of problems. I'm failing a class, my friends laughed about me today, my coach told me I need to improve, and no one wants to hang out with me. Young adults are easily seduced to try "new ways" to get rid off their problems. However, many young people end up with mental health problems, substance abuse addiction or possibly overdoses due to substance misuse.
In order to fight these kind of problems in young adults, the founder of The Harris Project, Stephanie Marquesano, together with Westchester County Executive George Latimer, the Department of Community Mental Health, the County Youth Bureau, Montefiore Hudson Valley Collaborative, Student Assistance Services Corporation and the Westchester Coalition for Drug and Alcohol Free Youth, hosted the second Annual Youth Summit at the Westchester County Center to create an awareness to teens about mental health and substances misuse that can lead to COD (co-occurring disorders).
Co-occurring disorders (COD) means a person has both a mental health disorder like anxiety, depression, bipolar, and/or post-traumatic stress disorder; and, misuses substances like alcohol, prescription medications, or other illicit products.
Around 300 hundred students from 46 Westchester County high schools had the opportunity to assist and gather together at the Westchester County Center to create awareness about this situation, forming the organization Co-Occurring Disorders Awareness (CODA.) All these high schools create support to keep creating awareness to young people on how to deal with personal problems so they don't fall in the world of drugs, or just to help the ones who are already dealing with mental disorders or the abuse of substances.
As their website explains, CODA encourages youth to recognize where they might fit into the narrative through an understanding of paths to substance misuse/addiction, including: the relationship between mental health/wellness and substance misuse; sports injury/wisdom tooth removal and opioid addiction; as well as brain changes caused by use (the brain isn't fully developed until age 25) to make empowered decisions. In addition, CODA fosters opportunities for peers to connect, support each other, and be a link to resources. This can increase help seeking behavior and reduce the number of teens who misuse or become addicted to substances.
The Harris Project became available after his founder, Stephanie Marquesano, lost her son at a young age from an accidental overdose. Her son left her and all their family members with broken hearts and confuse. Harris was diagnosed with anxiety disorders and later with ADHD, he was with psychological and psychiatric help, also he was assisting many programs that were supposed to help him battle with self-medication and misuse of prescription medication. However, none of these programs were able to help him with what he was dealing with, COD.
As a mother, Marquesano needed to help young adults who were going through same situations as her son but since there were not many programs that ended up with positive results, so she decided to create The Harris Project. She believes young adults should be aware of these kinds of problems before they fall on them. She is dedicated to gather as many schools as possible, to create a movement that can expands throughout cities, states and even nationwide. She is aware that new generations do not pay attention as much as she would like to, but it is confirmed that young adults do give up 90 seconds of their time to pay attention to every topic.
"f we can hook them in these 90 seconds, it means they understand how important is to learn about these dangerous problems that anyone could be exposed to," she says.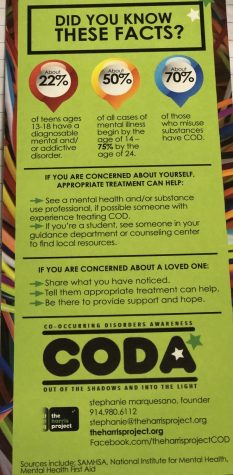 Marquesano doesn't want young adults to feel sad when they talk about these problems when talking about COD, because just as when people talks about the pink ribbon for breast cancer awareness, people share their experiences and inspire others to keep fighting against cancer. That's what she wants for CODA, a day to celebrate the strength of young adults to become over all these problems.
With its participation, New Rochelle been the first high school committed to CODA, and Irvington was the first to create an official newspaper for CODA. Not only high school districts are compromising with these movement but also important people such as the Commissioner of the Department of Community Mental Health, Michael Oarth. He shared with The Impact how exited this movement is. He admits that this is such a wonderful movement because there are not many appropriate programs for young adults. Also, teenagers feel comfortable talking with people around their age, sharing their experiences and aren't afraid of what are they are going through. Oarths shares the idea with Marquesano on expanding the movements as much as possible to reach and save as many lives as they can. He is more than happy to collaborate in anything necessary to make many aware about the importance of mental health.
Westchester County is the only county in the nation committed to the prevention of COD, she says.. All promoters are expecting to keep expanding the movement, and she has already been already in contact with Rockland County in order to show her ideas and projects.
During the event, they met with Sherman Browne, game-changing personal growth expert, who is dedicated to empowering the masses to unlock their potential while activating their legacy. Sherman has established himself as a sought-after authority on leadership, personal and organizational achievement systems, mental conditioning, peak performance and youth and millennial empowerment strategies, as his website describes him.
Sherman's major inspiration is his daughter, even though his daughter is not a young adult yet, he would like her to be prepare for future challenges. His brother was once involved on similar problem and thanks to the right help at that moment Sherman's brother was able to overcome any difficult situation. That's why he believes that helping anyone at the right moment can help a lot.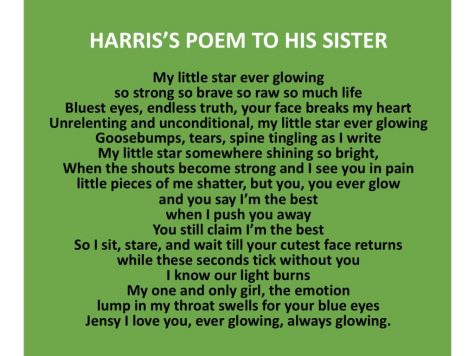 After the speech, students were able to attend different workshop rooms dedicated to leading change, mindfulness, social media and trends, transformation through the arts and sport, creating connections and supporting friends and peers. Stress, anxiety, depression, ADHD and additional mental health disorders, trauma and sports injury were all highlighted as challenges that can lead to substance misuse, and the students discussed ways to increase awareness, create change and improve outcomes.
Students felt free to talk, they were able to give ideas on how to solve the problems. Without the enthusiasm from students the workshops wouldn't be as active as they were. Many college students and athletic coaches were there too to support these young adults and share their experiences as the case of sports editor, Jess Brandt, and the Director of Athletics at Mercy College, Matt Kilcullen. She is involved and promoting these movement as much as possible. In April, Brandt, together with Marquesano and the athletics department's help, will do a march to promote CODA in Mercy college.
With all the help given by these people dedicated to help and aware young adults, the future of these kids looks brighter. It takes one person to change things that are wrong but if they joint together, we can't expect anything but the best for future adults.
Marquesano's words at the end of a video on her website about the goal of the Harris Project speak loudly.
"To be the voice of those with COD and bring COD out of the shadows and into the light. We share Harris's story with you because Harris would want us to. It won't bring Harris back, but we have the opportunity to change the outlook and prognosis for millions!"
Leave a Comment
About the Contributor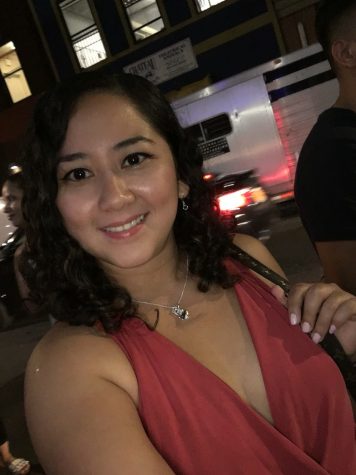 Adriana Saad-Vinza, Impact Staff
Adriana Saad is from Ecuador. Her grandmother brought her over when she was 15 years-old for a better future. She jokes that her plan did not go as she...