Champions League Is Back!
Champions League football is back, and every soccer fan will be happy to see that the world-famous competition has returned two months after the final that was won by Bayern Munich. The season will be a unique situation since the COVID-19 pandemic paused all matches from March to May.
The 2020-21 season began on Oct. 20 with the biggest game: Paris St. Germain vs. Manchester United. Paris was the runner-up from last season's final and will try again this season to win it. Manchester United had a rocky start to the season with many losses, players not playing well, and a board of staff who were criticized for every move they made. The game ended in a 2-1 victory to Manchester United which surprised the world since their team consisted of players who were condemned by the press and fans.
Once again, David De Gea saved many balls from Paris and was considered the man of the match. Sevilla and Chelsea played at Stamford Bridge in London and the game ended in a tie after a fairly boring match.
Juventus played against Dynamo Kiev and Alvaro Morata who returned to the club after four years, scored twice, and won the team three points to advance to the knockout phase without Cristiano Ronaldo, who tested positive for COVID-19.
Photo Credit: AFP via Getty Images
Many people are worried that Ronaldo will not recover in time for Barcelona to play against Juventus at home, after leaving Real Madrid two years ago. They will face each other once again. Barcelona played against Ferencváros and scored five goals, which intimidates Real Madrid fans.
Barca will play against Real Madrid in the famous El Clásico next. Liverpool played against Ajax in the Netherlands and was gifted in a goal that many people are criticizing the Ajax defender for. He looks like he shot the ball into his own goal which is making Ajax fans furious. Since I am a Real Madrid fan, of course, I watched the match against Shakhtar Donetsk which they lost 2-3.
Madrid's loss has been the worst start to the Champions League season since 2005. A goal that Madrid made at the 90-minute mark was annulled due to VAR reviewing it for an offside position. Last season's champion, Bayern Munich, faced Atletico Madrid and scored four goals. Two of them were considered the best goals of the week from Kingsley Coleman and Tolisso.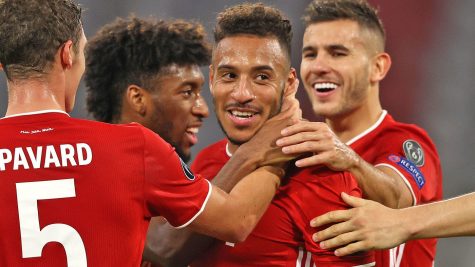 Photo Credit: ANDREAS GEBERT/Getty Images
This Champions League has started great with the number of crazy goals that were scored. Each team this season is suffering, as many of their best players have tested positive with COVID-19. This year's competition was planned differently since the pandemic started, but the UEFA Federation is trying to finish the group stage matches by the end of the year. It's become stressful for some teams since it will interfere with their respective leagues and domestic cups. Players' fitness is also affected since games are played two times a week. Real Madrid played on Wednesday and their next game is on Saturday, and they have minimal time to prepare for the match.
Once again, the top two teams with the most points from each group will qualify to the Round of 16, while every third-place team will transfer over to the Europa League competition.
Like always, there are favorites in the competition, but most teams that were successful don't have great teams overall. In my opinion, the strongest teams that could potentially win this year are Bayern Munich, Juventus, and Manchester United. I feel that Real Madrid isn't as good as it was two years ago, but most of the team now is in the golden era since they won four Champions Leagues in five years.
Since the departure of Ronaldo, the coach hasn't found the solution to make this team great again, but slowly and surely the team will be building and figuring out their players' situations, by replacing or buying some new ones to bring glory back to the club. Europe's greatest competition is back and regardless of what's going on in the world, sports bring families together to see their team attempt to win a trophy and I think that's what's great about this sport. Passion.
Leave a Comment
About the Contributor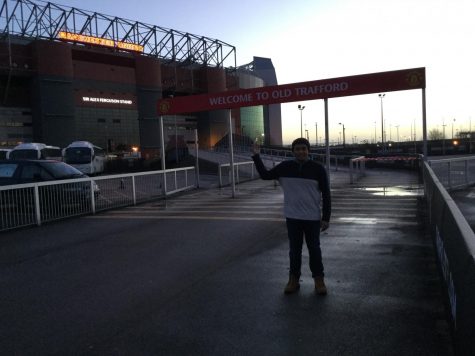 Gino Alva, Impact Staff
Gino Alva is a junior majoring in Journalism. Gino is an avid fan of the New York Yankees, Real Madrid and Manchester United. Soccer played a huge part...