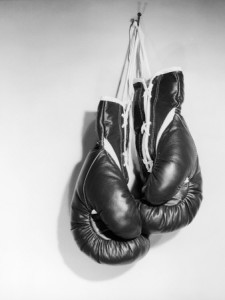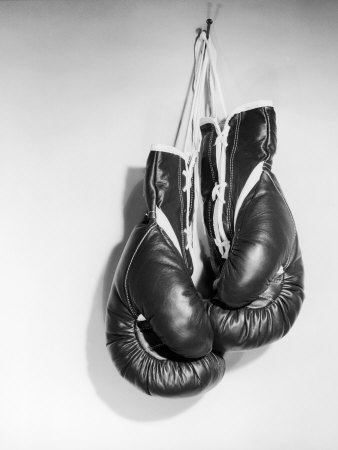 This is an old story.
This is a common refrain that's been spoken often over the last several years.
It's a ubiquitous sentiment that is becoming ever more evident the longer Manny Pacquiao and Floyd Mayweather manage to avoid each other.
There are several issues with boxing as currently constructed and here's the main one: when was the last time there was an American Heavyweight that mattered? I'll give you a hint, he's doing a one-man show in Vegas now and is better known by kids today as the guy who punched out Zach Galifinakis than as the "baddest man on the planet".
Mike Tyson was the last American Heavyweight who mattered. Do you realize how long it's been since Mike Tyson was a relevant boxer? OJ Simpson was still in court, baseball was on strike, and Timothy McVeigh became a household name. THAT long.
There has been an awful dearth of boxers that mattered and the Klitschko brothershave put the Heavyweight division in a proverbial headlock. They, though not great boxers, are both giants who have made a career of beating up on the sacrificial lambs the heavyweight division have offered them. Worse yet, the Klitschko's refuse to fight each other ( a promise they made their mother) meaning that their respective titles won't be unified until a challenger goes through the entire Klitschko family, (pardon the pub but) that's a tall order.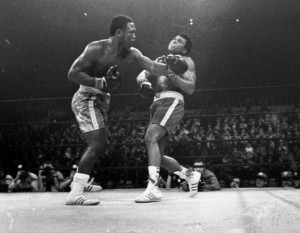 There are other issues than just the lack of a dominant American Heavyweight (which is critical though. Boxing, in it's heyday always carried a chain of major American heavyweights: Tunney – Dempsey – Louis – Marciano – Patterson – Liston – Clay/Ali – Frazier – Larry Holmes– Tyson- ?). The unbelievable volume of divisons and weight classes (16 weight classes and 13 championships) make it impossible for Americans to care about boxing…it's impossible to keep track. Between the WBA,WBC, IBF, WBO, IBO, IBA, IBU, IBC, WBU, WBF, UBO, WPBF, and The Ring, keeping track of the different champions is a task and assignment of epic proportions.
The other huge issue, are all the different and independant promotions and promoters who essentially run boxing. Back in the day, a boxer would have a manager and occassionally, even his own team but a fee would be negotiated, a locationn decided, and a match booked. Nowadays, there are politics involved (Top Rank has to try to deal with Golden Boy, etc.), there are a million different fees to be paid, stipulations to be met, and promoters to go through before a match is booked. Pacquiao and Mayweather have been circling each other for years, yet, like tentative fighters, refuse to engage as a bevy of politics, egos, dollars, and emotions have permeated the negotiations and prevented the only marketable fight available today: a clash of welterweights.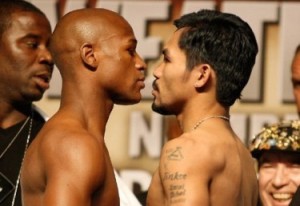 Of course, a factor that is contributing largely to the poor draw that boxing's been suffering in the past few years has been the meteoric rise of Mixed Martial Arts (MMA) and the UFC in particular. The UFC, owned and run by Dana White (part owner anyway) was a fringe sport when it began in the mid 90's ( around the time that Boxing began it's decline. During the Lennox Lewis/Evander Holyfield era) that invited fighters of all disciplines and weight classes to compete in a tournament to determine the best fighter in the world, regardless of weight class. There was only one title and it was one by the proverbial "David", the 175 pound Royce Gracie in three of the first four tournaments. It was the kind of fight and the kind of tournament that boxing could never hope to pull off.
The sport evolved, adding rules, weight classes, and fighters. Still, the slew of fighters, especially in the heavyweight division, the engaging personality, and the heated rivalries (the Liddell, Ortiz, Dana White triangle in particular jumps to mind) captured America's imagination.
Sure it's more grisly and gory than boxing is which is a definite draw for the sport but it also has several other draws: three-five rounds instead of the 12-14 round marathons that boxing promotes, the different techniques and styles an opponent can use to knock out or submit their opponent, and the resume's of their respective fighters. Most importantly however, is the presence and impact of Dana White.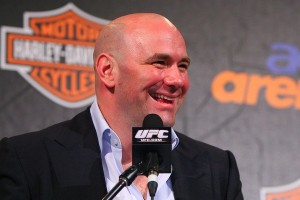 White, the charismatic and oftentimes bombastic owner and promoter of the UFC is an engaging and honest personality who's done more to launch a single sport than perhaps anyone. White is the sole matchmaker in the UFC and the format there is simple: White books you in a match. If you don't like it, feel free to find a fighting promotion in Japan. It's that simple, take it or leave it. And UFC is the last major MMA league still standing. Strikeforce is a bastard stepchild that hasn't folded yet but every other rival to the UFC has either gone under or been bought out so the options are few. Take the match or find a new line of work. The Pacquiao/Mayweather embarrassment would never happen in the UFC.
White has also taken to social media, tweeting regularly and promoting his cards and events with the type of social media blitzkreig that turns a fledgling tournament into a billion dollar industry.
MMA and the UFC has taken over the fighting game. Now boxing, next to maybe baseball, is the American sport most stooped in tradition. The recently deceased Bert Sugar, one of the all time personalities and historians in all of American Sports could have regaled anyone with years' worth of stories about the characters and moments of the noble sport. Still, it is in desperate need of repair. An American champion in the mold of a Tyson, unification of some of these inane championships, and an engaging front as opposed to all of the different divided parties involved in boxing. If boxing doesn't present a united front and undo all of the damage done by Don King and his peers, grab your shovels. It'll be time to bury boxing.