In Sickness and in Health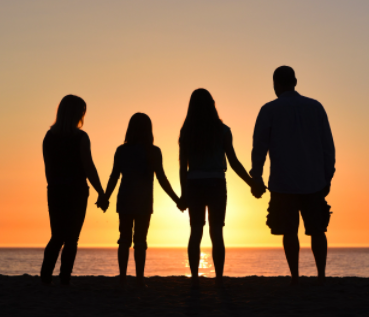 My palms were sweaty and my stomach tightened as the nurse revealed my positive test results over the phone. What would this mean for me; for my family?
On March 16, during our wonderful return home to virtual learning due to the pandemic, my family and I had the misfortune of all testing positive for COVID-19.
You could imagine just how terrified and confused we all were. Forced to quarantine – my father, mother, sister, and I had to stay home for three weeks while we all experienced the terrible symptoms.
It was the first time in months that the whole family was back together since I had been dorming and my mother and father worked 24/7, and of course, we all got sick. We had to prepare for what was to come; we had to work together as a family.
You could say that God was testing our faith to see how we would overcome it. Will one of us be another tragedy to mourn? We were all very anxious and afraid, and I had to step up as the big sister if we were going to get out of this alive.
My parents were diagnosed a few days before I was, so I sort of knew what to expect: the fever and chills at night; the coughing and trouble breathing; the body aches. The doctors told us to treat our parents with Tylenol and that if their symptoms worsened, we would have to bring them into the hospital.
The nights were restless. My fever went up to 101 degrees and I had terrible chills. My parents took turns watching after me and I watched after them. One night, my mother's blood pressure was very low and she felt like she was close to fainting. With a terrible cough, I ran downstairs for an orange, in hopes of it getting her blood sugar going. Her weeping shook me to my core, but the last thing I wanted to do was bring her to the hospital.
Watching all the horror stories on the news every day had us dreading the thought of having to put any family members on ventilators. It seemed like that would be the equivalent of digging our own graves.
We brewed tea for the four of us which consisted of ginger, lemon, and six Tylenol. Our family and friends sent us prays and "get well" messages and helped us by delivering groceries to our door.
My mother made it a habit of getting us to pray together every day so that God could heal us.That was something we hadn't done in a while. Though we were afraid, we all had peace within. We knew that if God was with us, no one could be against us. I think that is something I learned from the experience. Through the trials and tribulations of life, I needed to stand strong in faith for my family's sake.
There is a verse in the Bible that came to mind.
Is there any sick among you?let him call on the elders of the church; and let them pray over him, anointing him with oil in the name of the Lord.And the prayer of faith shall save the sick, and the Lord shall raise him up; and if he have committed sins, they shall be forgiven: James 5:14-15.
I was no longer picking petty fights with my sister, nor was I talking back to my parents. My sister, having had the fewest symptoms, dedicated her time to each one of us, making sure we had everything we needed and were comfortable in our beds.
It's funny how tragic times bring people together. I truly understood the true meaning of family: no one gets left behind. We took turns making the tea, cooking meals, and ordering our groceries. We had time to actually watch movies, pray, and laugh together.
We were a dream team. When one teammate was down, another was there to tap in and help.
Thankfully, all of us recovered within a month and were each able to go back to work. I understand that this is truly a blessing because not many can say the same. It was God's grace and our faith that saved us, I defiantly do not take that miracle for granted.
COVID-19 taught us how to be a better family because, at the end of the day, we are all we have in this life. We all have a responsibility to take care of one another.
We are planning to donate blood so that our plasma can be used to help others recover. I ask anyone who has recovered from the virus to please do the same. Health professionals are in desperate need of donors with convalescent plasma to use for those fighting COVID-19.
God must have a soft spot for us – we are still alive. However, my heart goes out to everyone who is still fighting this battle and to those who have lost loved ones to this dreadful virus.
Leave a Comment