Mark Sanchez Ruined By The Jets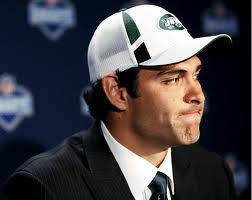 Eli Manning has been in the NFL for eight years and things were very sketchy early on. In fact, many people gave up on Eli ever living up to that number one overall pick, justifying all those draft day picks that were traded to acquire him. Then he unexpectedly took the Giants to the Super Bowl in '07 and a second championship in the 2011-12 season. Now Eli is king in New York and can do no wrong in the eyes of sports fans in this fickle and harsh city.
Fifty five-seventy five-seventy seven. Those were Eli Manning's quarterback ratings his first three years in the NFL, years in which teammates along with sports writers alike questioned whether he was the guy for the job. Eli was never babied nor was he ever asked to lead the team and make things happen, but that didn't stop people from questioning his toughness and his personality. Yet here we are today after the organization stuck with him and allowed him to grow and mold the team around who he is, not who we as fans wanted him to be.
Now let's talk about the badly managed Mark Sanchez. His first three years in the league in terms of quarterback rating is as follows: sixty three-seventy five-seventy seven- an average of seventy three percent. Now of course quarterback rating is not everything and circumstances matter a lot also, but no one has been managed worst as a young signal caller.
Mark "Sanchise," as many people in New York have called him, has had to deal with the shortest leash possible for a high quarterback prospect. Dealing with a gun guy offensive coordinator and a defensive minded head coach who prefers to rely on his defense/running game and not trust his young front man. Whenever Sanchez makes a mistake his leash tightens and he plays like a quarterback on a leash afraid to make mistakes. Let's not forget this is a player who has led the Jets to four playoff wins in his first three years in the NFL, meaning he is not scared of the big moments as many people have suggested.
The curse of Sanchez is that he was drafted by a good team that never allowed him to make mistakes as every young quarterback must in order to grow and become confident championship caliber quarterbacks.
Now after a season when you halfheartedly allowed him to take the reins and lead a fragile team with a declining defense, you have the nerve to expect dramatic improvements- and when he falls short, you turn around and bring in the most polarizing figure in the NFL today-none other than Tim Tebow. The Jets don't know what to do any more and with this move, they signal to Jets fans that they no longer trust or want to count on Sanchez long term. Sanchez is no longer the answer- that is what this move clearly says.
Now people are saying if Sanchez is who they expected him to be three years ago, he must fight and claw his way to being that guy. It doesn't show mental toughness to have to withstand Tim Tebow and Tebow maniacs. In fact, no young quarterback should have to, not after doing all that Sanchez has done for the Jets- considering the limited chances he has been given to develop and be that guy.
Rex Ryan has ruined Mark Sanchez and at this point we will never know what he could have been. If I'm Sanchez I don't ask for a trade, not because I want to co-exist or  be above it all, as someone like Donovan McNabb would do in this situation, I stay because I want to be around when Tebow takes down the Jets and Rex Ryan.
Leave a Comment
About the Contributor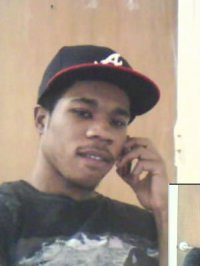 Clodel Remy, Staff Writer
Clodel Remy is a media studies/ journalism major finishing his senior year at mercy college. He is writer and contributor  of The Impact. He hopes to...