Lifetime's Aaliyah Biopic: A Complete Failure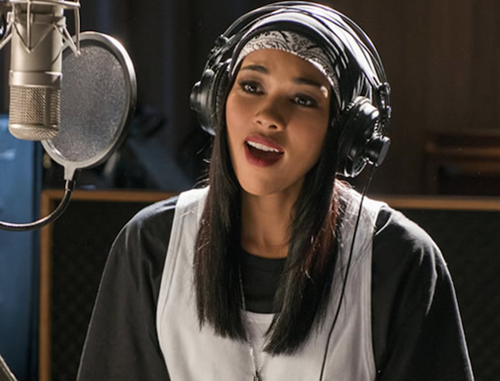 If you are Aaliyah fan, then this past Saturday was a huge disappointment.
Over the course of the year, the Aaliyah biopic has been a reoccurring topic of discussion. Before hearing about any real detail on the movie, I was very excited that a movie on Aaliyah's life was going to be made. Although I was very young during the R&B superstar's career, I often replayed her music and watched past performances and interviews. Like many others I had fallen in love with her music and her soft-spoken, delightful personality. It is only right to honor such a beautiful spirit and talent that has gone too soon. Unfortunately this biopic was failed tremendously at meeting those standards.
With such great anticipation behind this film, many fans were instantly shocked to discover that the biopic would be on the television network Lifetime, instead of hitting the big screen. Television has brought us some great biopics such as 1992's "The Jacksons: An American Dream", 1998's "The Temptations", and 2013's "Crazysexycool: The TLC story". However, a network like Lifetime, that is known for its dramatic and sometimes over the top films that centrally revolve around murder, lies, kidnapping and love gone wrong, it was only right to question the direction of where this movie was going.
Another tough pill to swallow was learning that the Aaliyah's family would not be a part of the film, meaning that any credibility or original music would be absent from the biopic as well. The basis of this movie majorly derives from Christopher John Farely's book "Aaliyah: More than a Woman".
The movie sparked up even more backlash with its blatantly poor choice in casting. Such harsh casting that teen sensation, Zendaya Coleman, who was originally cast to portray Aaliyah, dropped out with only having the role for a month.
After Coleman dropping out, fans for sure thought that their demands for this production would cease, but News Reporter and Gossip troll, Wendy Williams saw this as a shining opportunity.
On Williams' talk show, she announced that she would join production and continue on with the film despite wishes of Aaliyah's family & fans. She also told fans that having Aaliyah's original music wouldn't be a problem since the central focus of Aaliyah's legacy was her rumored marriage to producer R.Kelly when she was a teenager.
At this point I had it clearly made up in my mind that I would not be watching this film. Many people who claimed that they were against the film said that they would still watch anyways with the sole purpose of making fun of the movie. On Saturday night when the movie, all social media was buzzing with extremely hate and backlash against the actors, Wendy Williams, the lifetime network and the movie's existence.
Even successful producer Timbaland who was very close to the late songstress participated in sharing some of the memes and tweets against the film on his Instagram.
The morning after the premiere of this disastrous production, it was agreed amongst all that this was completely horrible and really should have never been made.
Despite all of the negative backlash, Wendy Williams boasted about how high the biopics ratings were.
Although I enjoyed the dragging of the film, I hate the fact that we gave this film any attention at all. When it comes down to it, this movie generated great business for all who apart of it. Whether it was good press or bad press, the film would be a success to these people.
Hopefully we can learn that in order to kill anything negative, we must reject and ignore its existence. And as for us fans, hopefully one day we can get the real Aaliyah biopic- one that truly honors the amazing human being that she was.