The 2017 Brit Awards: The 1975 Winning British Band to their Hack on their Performance
The 1975 being who they are always stand out. It may be the words that come out of Matty's mouth, their choice of clothing, or even the way they wear their makeup. Either way, one always has something to say about the band.
On the night of, February 22, it was the annual Brit Awards where the British band, The 1975, were awarded an award for British Band and lost the award for British Album of the Year to David Bowie. In a recent interview, lead singer, Matty Healy said that he does not mind losing to Davie Bowie. However, the band won their first Brit Award.
It's kind of weird to see this band that used to perform at small shows in New York City to now selling out everywhere they go. And now winning awards for their second album, I Like It When You Sleep, For You Are So Beautiful Yet So Unaware of It.
It's a bit weird because the band in 2014 won NME's Worst Band award to winning Best Live Band in 2017. Matty's speech he says, "Thank you. Stop talking. Listen. This our second NME Award. The first time we were the shittest band. Now it's for being good, so I don't know what that proves. I don't think it proves anything, I think it proves that…hey listen Mike Williams came out this evening and he said if you're an artist, we have a duty to make pop music didactic. I know this is unfashionable and boring and no-one really gives a f**k but everything is f**ked. And if your music isn't purposefully informative, then there's no point to it. So let's make sure that we do that. Thank you." Matty on the same night, gave that award away to a fan seeing that he did not want to keep it since it obviously meant nothing to him.
You can watch the acceptance speech here. Not sure if you can tell but, Matty was unimpressed by this and wanted the ones in attendance and those watching to know so.
However, winning a Brit Award his speech was completely different than winning a NME award. You could tell that the band and everyone that worked with them were very excited. I mean winning their first Brit Award, they have something to be proud about. The band took a year off from touring (I believed that they deserved it anyways) to work on their second album. The album then debuted on Billboard as their first number one album on Billboard's 200 chart. Then earning them to be number one with the longest title on Billboard's charts.
Matty who usually does speak on behave of the band said this: "This is mental. We've been a band since we were 13, for 14 years now. The only thing we tried to do with our album was to get back to that place where music made us feel alive. And I just want to say… people in pop music and in the broader public consciousness are told to stay in your lane…  but if you have a platform, don't stay in your lane."
The band were nominated along with other big name UK artists like Bastille, Little Mix, Radiohead, and Biffy Clyro. Fortunately, they ended up winning. (Yay!!) You can watch their Brit Award acceptance speech here.
The band performed their hit single, 'The Sound.' It is actually one of my favorite songs to be performed live and also a reminder that the concert is about to end. (Always a bummer.) It was just a normal performance until these random words kept popping up on the screen. There were people freaking out about this random "hack" that was happening on the screen. Words like, 'Is this a joke?, 'Do People Really Still Make Music Like This?,' 'They're Essentially Making Robotic Huey Lewis Tunes,' and many others popped up on the screen.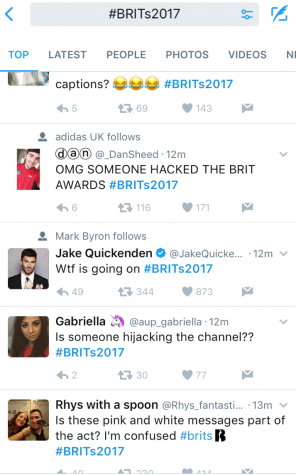 Little did they know that these words came from critics that criticized their first album that is entitled, The 1975 (haha how creative.) Fans like myself who have seen the music video for The Sound knew that this "hack" that everyone was talking about were critics criticizing the band's last album. You may watch their live performance of The Sound here.
Leave a Comment
About the Contributor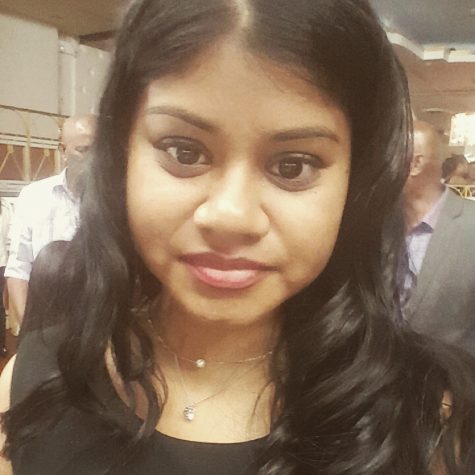 Britney Hoobraj, Impact Staff
Britney is a Journalism major at Mercy College. She was raised in New York City and her hobbies include attending concerts, attending protests, and re-watching...