Honky Tonk Man
I've traveled to a good number of places in the world and I'm always pleased when an instance of culture shock happens close to home.
I recently went to Austin, TX to attend the wedding of a good friend. The night before the wedding was just as it should be. Friends and family had traveled from far and wide to attend the event; acquaintances were made and the mingling of guests was lubricated by a continuous flow of Texas-sized margaritas. After the rehearsal dinner, the bride and groom invited everyone to a local honky tonk. And not just any honky tonk, the bride emphasized, but one of the oldest honky tonk's in Texas.
Of course we would all go. But since I didn't know what a honky tonk was, my mind automatically clicked through possibilities of just exactly where it was we were headed. Maybe a rodeo? Or a bar with thick sawdust on the floor where men in Wranglers rode mechanical bulls? I had always vaguely thought honky tonk was an adjective that described a type of person so, stubbornly, my mind got stuck on the image of a cowboy with his thumbs hooked through his front belt loops, a half smile on his face as he kicked his legs in and out to show off his cowboy boots.
A honky tonk, as it turns out, is nothing as gimmicky as I'd imagined. We entered an authentic dance hall where a live band was singing twangy country music, and couples were twirling and dipping skillfully around the dance floor. The hall was a long, wide room with concrete floors, a shabby low tiled ceiling, and too many fluorescent Miller Genuine Draft signs hanging on the walls to count.
The Texans in our party immediately blended in. The groom's brother was suddenly wearing a cowboy hat and expertly country-waltzing with his wife around the dance floor. Those of us from more northerly parts of the country took some time to absorb the scene.
As is my habit in a new culture, I stare at people a lot, cataloging how they interact with each other, and as I was looking around, an elderly gentleman was scanning the crowd, looking for a dance partner. His eyes locked on mine with a wink of acknowledgement, and he began to walk towards me.
My husband and I had gotten somewhat separated in the crowd, and I realized my mistake. I was standing at the edge of the dance floor, manless, like I was looking for a partner.
Anyone who knows me can confirm that would be the last thing I would do, given my absolute lack of skill and grace on the dance floor. Even with a singing voice to match my dance skills, I'd rather sing karaoke to a roomful of people than partner dance in a country-western bar among people who looked like they'd been dancing since kindergarten.
Just before my partner reached me, I turned to a friend and wondered out loud, "What's the etiquette here? Can I say no?" But the music was loud enough that she replied, unhelpfully, "Go dance! I'll hold your beer."
My partner was not a day under 85-years old. He was a solidly-built man, about a foot taller than me with wide shoulders, and a head of thick silver-white hair. He walked stiffly, with a cane, but in one fluid movement, he placed his cane in the corner and grabbed my hand, and once we started dancing his unsteadiness dissolved. He glided me across the floor like he was a man of twenty-five.
As he led me through difficult dance steps, he appeared completely unselfconscious in a way that I can never be while dancing. I was deeply focused on not stepping on anyone, my brow furrowed while I concentrated on my feet. But eventually my shoulders relaxed and I was able to enjoy the moment a little. I liked how my partner didn't let his age stop him from asking me to dance, and he was a good enough dancer that I could stumble along and follow him, without looking too ridiculous.
Just as I was starting to get the hang of it, the song ended. My partner thanked me for the dance and headed back to fetch his cane from the corner. I won't be going to another honky tonk any time soon, but I'm glad to know it's there.
Leave a Comment
About the Contributor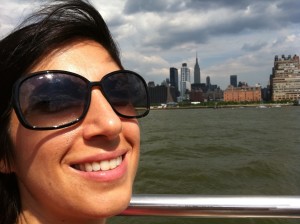 Michele DeBella, Impact Staff
Michele DeBella is a journalism major who loves to discover the interesting stories in people around the world. After more than ten years of living a nomadic...