Shameless : The Most Underrated TV Show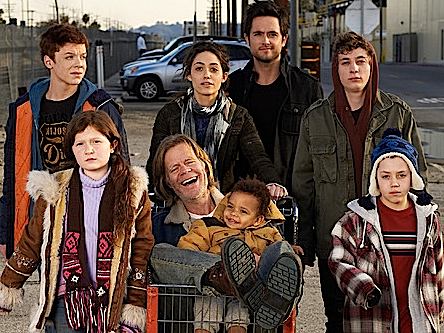 I have very few shows that will force me sit down once a week to only watch an episode at a time while knowing that the miserable emptiness of a cliff hanger is swiftly approaching. We all know this feeling, the excitement that builds deep within our gut as that fateful day of the week approaches. We talk about the pervious episode all week long in disbelief of what has actually happened. We're forced to accept that our fateful characters now have to live in a reality that is drastically different from the week before. We talk with our friends and the Internet about all the possibilities that could possibly happen attempting to find the most drastic theory as to what will happen next with the hopes that it will blow our minds.
Shameless is one of these shows that I just can't wait to see more of.
So many of the shows that fans are dying for are made up in mythical worlds that we aren't actually sure if they are indeed mythical or perhaps they are just set in the past or some weird distant future. Or, have humans with super powers. These shows seem very far from reality and maybe even more entertaining at points because only in Game of Thrones can I have three dragons. Shameless follows a very real plot,  in a location that I can go visit on a long weekend, with characters that may as well live next door to me. They are real living breathing humans that react badly to situations, say all the wrong things and have somewhat questionable morals. It is the ultimate collection of the worst real life obstacles that many people face when just trying to get by.
Shameless, follows the lives of the Gallagher family. Frank (William H. Macy) the father who is the overly cheerful drunk that never gets a hangover. Lip, short for Philip (Jeremy Allen White) is the oddly attractive eldest son who has a brain that's going to get him far. Ian (Cameron Monaghan) is the redheaded, military driven, gay son. Debbie (Emma Rose Kenney) is the youngest daughter and is in too much of a hurry to grow up. Carl (Ethan Cutkosky) is the troublemaker and Liam (Brenden Sims) is the baby who somehow is part of the family but doesn't exactly fit in. Lastly, there's Fiona (Emmy Rossum) the eldest one of them all that's been forced to play mom after their own bi-polar one left while on a manic trip, while trying to live her own life as a young 20 year old something should.
Created by Showtime, like some of the other very popular shows such as Dexter, Homeland, and Weeds, Shameless has a 8.7% out of 10 on IMDB and a whole lot more going for it. Every episode is filled with sex, drugs, and outlandishly possible ideas that will leave the viewer's jaw on the floor. Within the first episode alone the viewer not only is introduced to the Gallagher family but also meets Fiona's newest, persistent love interest, the beautifully, sex obsessed, mixed couple that lives next door, the agoraphobic housewife who believes her daughter is perfectly pure, the perfectly impure daughter who helps her tutors "pitch a tent" while her mother is in the other room, and the father of the "impure" daughter who has a compulsion towards all things clown. All of these characters come alive by being intricately woven together in paths that are easily followed and are most importantly, realistic.
Sadly, Shameless is not originally from the US but is a UK show. Not having seen the UK version, I'm not sure if both shows are similar or not but they were both created by Paul Abbott so there's at least hope that if they are similar it will because its meant to be. From what I have read they do seem to be but the American version has been "Americanized" in order for an American viewing audience to understand it better. These seem to be small or unavoidable tweaks such as the setting for the US version to be inner city Chicago instead of an industrial area of Northern England, or that the script has been modified to use American slang and jokes. Both shows have been running for a fair amount of time. The UK version started in 2004 and finished its final and 11th season in 2013 while the American version started in 2011, and is currently in its 6th season. A 7th season has already been approved and is now in the works.
For those of you that would like to see what Shameless is all about you can find the whole first episode on Showtime's website. Once you've done all your binge watching, new episodes air on Sunday's at 10pm. For all of you Game of Thrones fans out there, don't worry you can watch too. The season finale for Shameless is on April 3rd, a few weeks before all the GoT mayhem starts so now you have no choice but to catch up and watch.