Are the Younger Generations Musically Incompetent?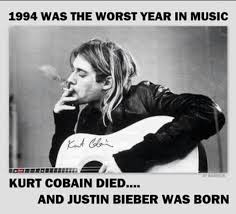 I find that with all the driving I do, I have listened to my fair share of radio. I have seen stations come and go and then come back again. Truthfully I am bewildered as to what is in demand these days.
If I don't have a personally chosen mix playing in the CD player, I have my iPod plugged into the tape adapter of my sweet ride, both having a very broad range of genres. There are times that where I make a conscious effort to turn the radio on and see what it may have to offer.
First station I go to is classic rock, unless a song I need to hear is on its on to the next one because you have to keep it moving in radio.
Quick lesson folks, never settle for just any old song while browsing the airwaves. Even if all you're programmed stations are filled with commercials and advertising (which they may because that's how the bills get paid) hit that scan button, you could stumble upon an "oldie but goodie" or a new tune that is not on any of the mostly pop dominated stations.
Second choice is either one of the rap and R&B stations. Second choice used to be the alternative station that carried morning shows such as the controversially hilarious Opie & Anthony; that is until it was taken off the air, not once but twice. While I truly love all kinds of music I must say I identify more with the alternative genre. New York had 92.3 KROQ back in the 90's and early 2000's, when it was yanked off the air the first time I was young and able to recover. When it came back for few years and yet again replaced by a pop station one random day was like pouring salt in my musical wound when I turned the radio on.
To this day I still cannot fathom how there is no alternative music station in NYC despite it's huge following but I must move on because there's no point in complaining. I now boycott 92.3.
Third choice is a toss up between the oldies station and the new country station along with the publicly funded wfuv. They play some alternative music during the week but they try to keep it fairly mixed for their supporting audience. On weekends the first part of the day is the Irish programming and in the evenings, reggae.
With the exception of the two stations that are dedicated to the music of the previous decades, the airwaves seemed to be filled with absolute shit.
On all levels, every genre has been on the decline since the 90's ended. Not saying 90's had awesome music, I just know a lot of it was and still is better than the noise being technologically enhanced these days. with the exception of a few bands that have talent, it's quite easy to discern the good from the really bad. Even someone as talented as Beyonce has gotten a little desperate for a hit and rushed the song lyrics, i.e. "Who run the world? Girls" being mostly the only line in the song, though she sings it with great gusto.
Sadly, my age shows when I turn on the classic rock station and a song I was singing in fourth grade is now considered classic rock. It's considered old, and that is how I feel when I listen to today's crap.
I just feel as though my own generation has nothing to offer compared to past ones and I am stuck bouncing around to any one of them but my own.