The Re-Birth of Founders Hall
Mercy College has recently renovated the Northeast wing of Founders hall in an attempt to step up to the newest residential building, Hudson hall. Hudson hall was built the year before I entered Mercy. The buildings features clearly bring out the droll and outdatedness of Founders Hall which must have pushed Mercy towards beginning renovations in Founders Hall. This is why the Northeast wing of Founders looks as good as it does. This new addition to the building is where I live this semester.
Last year, I lived in the Southwest wing of Founders Hall. My experience was far from enjoyable. During my first semester in Southwest, my room became submerged in water due to a flood in the bathroom which was directly across from my dorm. Not only did most of my personal belongings get ruined, it took nearly a week and a half for the janitorial service to clean up the room completely. My room had to be re-carpeted and dried out. The flood wouldn't have entered my dorm if there would had been a running board under my door, but since there wasn't, the water moved with ease under my door and into my room. All of this could have been avoided if the dorms in that area of Founders Hall were better kept.
Most of the students that reside in the non-renovated areas of Founders Hall have had their own problems with the living situations, especially freshman. I can relate to these freshman because I too was a freshman who entered Founders Hall excited for my first semester and anticipating the greatness of finally living on my own in a dorm and then being abruptly let down by the conditions that I was expected to live in.
The dorms that are intended to hold two students are incredibly small and can be difficult to live in when two students are expected to study and move around together in such a small space. Another problem with the non-renovated area of Founders Hall is the vending machines, most of them either don't work half of the time or they don't accept credit cards, even though they say that they do.
As of last semester, the washers and dryers in that area were also in poor condition. Sometimes they wouldn't completely dry clothes and even leave them with an undesirable smell. The washing machines would often take money off of a laundry card without even beginning to wash clothes. There were mostly more inconveniences than conveniences in that area of Founders Hall last semester which was an incredible let down to not only me, but many other students including upperclassmen.
Despite the friends that I may have made residing in Southwest, which without them I do not believe that I would have continued to live there, the living conditions were lack luster. The rooms are in poor condition compared to those that have undergone renovations. Their stained carpet and damaged walls clearly show the slow decline that these rooms have faced over the years. The condition of the bathrooms were also quite disappointing, especially the lack of hot water in the showers which could really slow students down in the morning when trying to prepare for class.
All negative aspects of this wing aside, Southwest will hopefully soon be following the Northeast wing in moving towards renovations in the upcoming summer. On a lighter and more positive note, the Northeast hall has produced only positive reviews from its residents. The renovations provided sinks and and better drawers and dressers for the students to store their clothes and personal belongings without creating a crowded mess. The bathrooms are in great conditions, with new showers and shower heads, any students morning routine is made much easier. The only minor flaws that residents of the Northeast wing have faced are the occasional sink not draining and a small power outage that was fixed in a short amount of time. Other than previously stated, the renovations have provided much more comfort and accessibility for students.
Leave a Comment
About the Contributor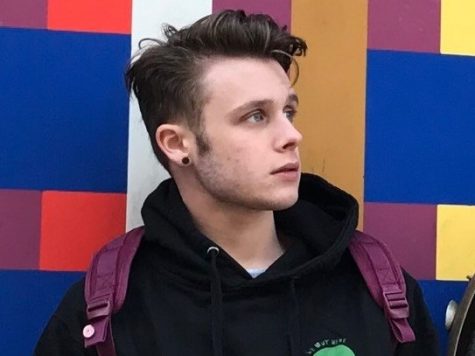 Jack Henry Johnson, Staff Writer
Jack Johnson (no, not the singer)

Jack Johnson has always believed that his writing abilities would be crucial to his future. As a young student the...