NY/NJ Bombing Suspect Captured Closer Then Expected
NY/NJ Bombing suspect captured.

September 19th 2016 started off as a rainy day with dark energy around it. This gloomy day was not your average. Fear and danger lingered close to home. Elmora Avenue is a street that I have walked down millions of times. Memories attached to every crossing street. Now tainted by bad weather. This rainy day served as a reminder that an average face you see every once in awhile could be the source of pain. A local chicken shack I have entered multiple times now has terror written across it and yellow tape. Can we really trust anyone?
Bombing suspect Ahmad Khan Rahami was captured in Linden and charged with five counts attempted murder. Ahmad Khan Rahami has been linked to three terror attacks. The attacks happened at Seaside Park and Elizabeth in New Jersey and Chelsea in New York.
Details about bombing suspect.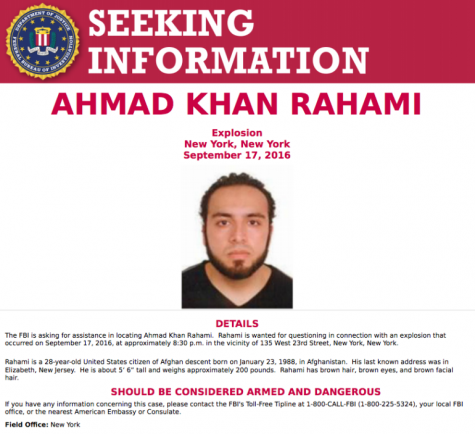 Ahmad Khan Rahami is a 28, naturalized U.S. citizen. He was born in Afghanistan. Rahami lived in Elizabeth and graduated from Edison Highs School. He when on to Middlesex County College studied criminal justice then dropped out. The Rahami's own a fried chicken restaurant. Ahmad worked the frier. Neighbor often complained about the loud nose and the late hours they stayed open. The family filed a federal lawsuit five years ago.
They claimed a neighbor said, "Muslims make too much trouble in this country." The question is could this be connected to the attacks? U.S. intelligence officials say that Ahmad, his father and brother traveled to Pakistan and Afghanistan multiple times within last 10 years. US intelligence officials also say that Ahmad and his family had become "radicalized."
Ahmad Khan Rahami is being held at a $5.2 million bail in connection with the shootout. Two Linden police officers suffered gunshot wounds. While a third officer, was struck by a bullet fragment and two others were injured, authorities said.
Rahami could face up to 20 years on each of the attempted murder counts.
The Union County Prosecutor's Office said Rahami was also charged with second-degree unlawful possession of a weapon and possession of a weapon for an unlawful purpose.
Ahmad Khan Rahami charged with attempted murder of police.
First Attack Seaside park, NJ.
Saturday morning in Seaside Park, NJ. three pipe bombs fizzled near the beach in a garbage pail. The remainders, where rushed to a crime lab. That same road is a route of a military 5k run in Seaside Park. Authorities reportedly conducted a search of the area, according to a report by 101.5. "The NYPD did not have this guy on the radar," before Saturday night, one of the officials, said. Soon, thought he'd be one of the most wanted men in the tri-state area as the bomber attacked again.
Second Attack Chelsea, Manhattan, NY.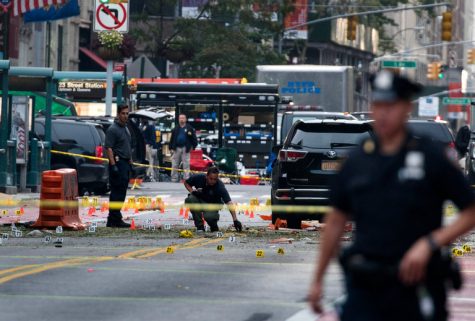 The bomber attacked New York with another explosion. This one on West 23rd Street between Sixth and Seventh avenues in Manhattan's Chelsea neighborhood, was reported around 8:30 p.m. Twenty-nine New Yorkers were hospitalized with injuries. Fortunately they had all been released by Sunday.
Sources say he was caught on camper with facial recognition software hours before the explosion at orange theory fitness in Chelsea occurred. Authorities conclude flip phones used on explosive devices in Seaside, NJ, and the Chelsea section of Manhattan were both bought at same store last year.
However, the terror continued, less than three hours after the New York blast, an object that police described as a "possible secondary device" was found just a few blocks away from the original explosion on 27th Street, authorities said.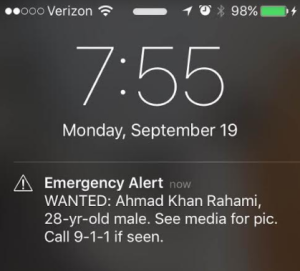 Ahmad Khan Rahami fingerprints showed up on the device that did not explode on West 37th Street. Rahami's fingerprints were in the date of base, matched to a domestic violins change and the search for the suspect began. Police sent out an
emergency alert wanted Ahmad Khan Rahami, 28 year old male. "See media for pic. Call 911 if seen to cell phones in the city," they said.
Bombs In Elizabeth, NJ.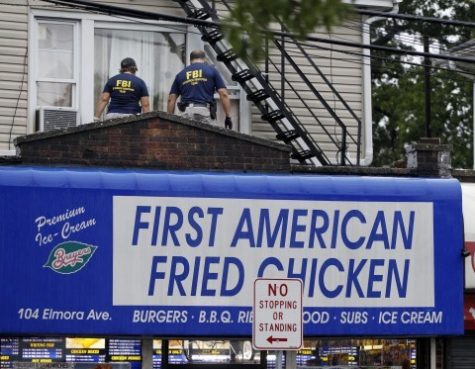 The mayor of the city of Elizabeth Chris Bollwage stated that the FBI and the state police executed a state warren in the corner of Linden Avenue and Elmora Avenue. Connected to new lead from taking in 5 member of his family for question at the Verrazano Bridge last night. It was reported that in Rahami's home had more bombs and bomb components. But the plans for a further attack were unknown.
Late Sunday night, five explosive devices were discovered in a trash can at an Elizabeth train station. Two homeless men found a backpack at around 8:30 pm with pipe bombs; the pipe bombs wear seamed to be taken out of Alchemist's online instruction manual. One of the bombs was detonated on the corner of North Broad in Elizabeth, NJ.
The two men dropped the bag after seeing what was inside, under the railroad bridge and reported to police. Elizabeth police checked it out then called the union county bomb squad and evacuated the area. The FBI and the state police where brought in. Then a robot attempted to dismantle the devices. However that bomb exploited. The other 4 devices found in the same backpack where rapped in bomb proof material then taken out of the area and brought to the middle sex fire academy where the FBI took them for further analyzing.
There is speculation of a terror sell operation out of Elizabeth NJ. But no confirmation of any allies in the terror arrest has been made yet.
A New Jersey police officer Angel Padilla responds to a call about a hoodied vagrant curled up asleep in a bar doorway on Elizabeth Street in Linden, NJ, and quickly recognized the bearded face of perhaps the most wanted man in America.
Harry Bains, owner of a bar in Linden NJ woke up to snap crackle and pops but not in his cereal. When Rahami the suspect to the NY/NJ bombings decided to sleep in front of his bar last night. Bains, said he hear more than 35 shots fired.
Capt. James Sarnicki linden police stated that so hell-bent on killing, Rahami, with a handgun shot a police in the chest. Thankfully the officer's bulletproof vest saved this life. There is video of Rahami, running with the gun in this right hand. Then getting shot and captured by police.

Two officers were wounded. This men are Officer Angel Padilla and Officer Peter Hammer along with Rahami, Officer Padilla recognized Rahami as the wanted man on the social media. Officer Hammer was graved by glass in the head from a bullet going throw a police cruisers window. Officer Hammer remains at the hospital under observation. Another officer's blood pressure went up while trying to reprimand Rahami. Each officer is getting a great deal of thanks by president Barack Obama. Obama states 
"
"It's just one more reminder of the extraordinary skill and sacrifice and courage of our law enforcement officers and what they put on the line every single day to make sure we are safe."
— Barack Obama
It was reported that in Rahami's linden home he had more bombs and bomb components. But the plans for a further attack were unknown.
A two daylong investigation ended with a rainfall of bullets in New Jersey today Sept. 19 2016. The only suspected reported Ahmad Khan Rahami ended his rain of terror on a gurney.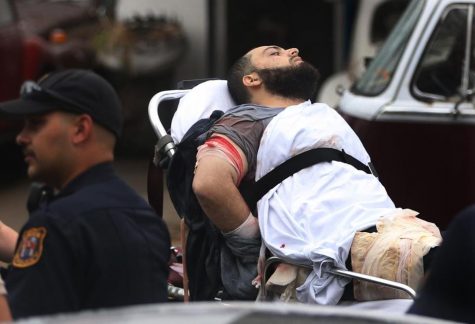 You never think it's going to happen in your town. You never think a terrorist is your local store clerk. The dark energy now lingers in the mist of the foggy drizzle. The rain is gone but the gloominess remains in the air. The threat maybe teamed for now but the question remains how and why? Did Rahami work with others? Will bombings pursue? Although detectives did an amazing job in putting the pieces together with in 48 hours and capturing the number one suspect this investigation is far from over.
Leave a Comment
About the Contributor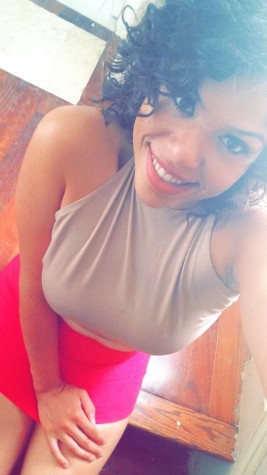 Kimberly Franco, Staff Writer

Official records will say I am Kimberly Franco, others may know me as Kiki Facts!

I am a Media Studies, TV/Radio Production major at Mercy College....