Can I Interview You?
A reflection on how interviewing has helped me grow as a journalist and storyteller, and as a person.
It is not the standard day of a college student or any person to sit on two raised chairs under bright lights, a camera filming behind you, and ask someone who they murdered that led to them serving over twenty years in prison.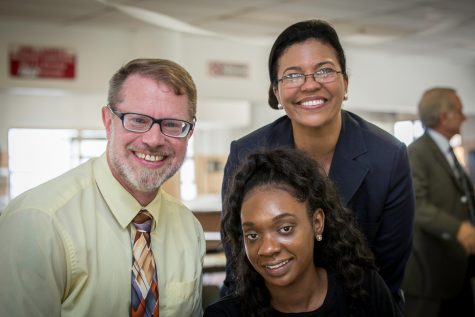 My sophomore year of college I took an Interview Techniques for Today's Media Class and the basis of our course project was to interview an alumni. To the discovery of my group and me, our professor revealed our college was offering courses and, thus, the opportunity to earn a college degree through our school to inmates while they served in prison.
The person assigned to my group was a man named Todd Young. He had served a significant period of his life incarcerated in Sing Sing Correctional Facility for second-degree murder. The 25 minute interview could be seen as my first sit down interview, but at the time, it was my first experience interviewing someone in such a formal manner. This was not creating a story from tweets or creating a background guide and list of questions we would ask someone if we interviewed them. This was a true interview…
…and I loved it.
The interview was only supposed to be 20 minutes, but my professor had to give me a warning I was running out of time, then cut in to bring the interview to an end.
I was surprised how much I was excited with the experience, for a lack of better term, because I immediately started thinking how everything said was going to be used in the print and web stories, podcast, and video we had to create. Maybe, I shouldn't have been surprised looking back because the signs were all there.
I don't know how many people decide to have Dana Bash be one of the first people you follow on Twitter or think a nice night during college is eating Mac & Cheese listening to The Axe Files hosted by David Axelrod.
When I hear the Our America with Lisa Ling full intro or even the shortened several seconds intro for online videos makes me nostalgic and perk up because of what it means to me. It was the first show that made me realize the power of talking to people. How it leads to the creation of a television series that can inform, inspire, incite empathy, and entertain as is the core of every show. I remember watching the a short video on my iPad of Our America, because my cable didn't have OWN, where it introduced me for the first time to what it meant to be transgender when Ling interviewed Hailey, then a child, who started identifying as a girl from a very young age. For someone who never had and never would be taught this in school this was an eye opener for me. Yet, I was as captivated by the subject as I was by Ling for how much empathy and confidence she displayed in every scene of Our America.
I have always been a fan of Joan Rivers and her famous question, "Can we talk?" It should be my motto because there was a time that I would have been scared to ask that question.
I grew up struggling to manage social anxiety, depression, and a lack of self-confidence. I was scared to talk to people no matter whether to simply to talk or group project.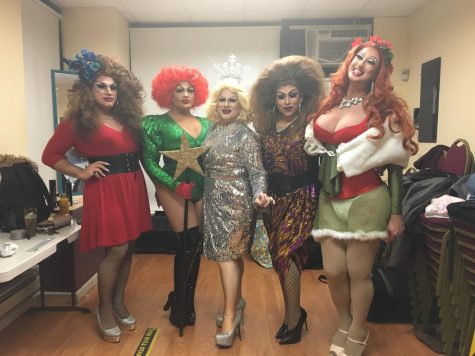 For the past several months, I have had the opportunity to write and be an associate editor the publication whose website you are reading this column on right now. If my childhood, young teenager, or high schooler self had seen a fraction of the people I've interviewed, talked with, and met, he would think it was a complete lie this was him in the future. I look at this as some humble validation of the last several years working to build my self-confidence and comfortability in my own place in the world. This may be the reason I enjoy going out in to the field to interview people in their place in the world.
Music playing in the background is the eternal enemy of bad audio, but what can you expect when interviewing several drag queens in their dressing room before they begin, their since ended, weekly show? It's a challenge, but a welcome one for it reminds me to never get comfortable, but learn how to make it work.
A thought came to my mind after two Thursday nights staying out till after 2am consisting of several interviews and my friend who was the digital news editor/lead camera operator and I contorting ourselves to get the best angles of the performances for video and social media. I thought about how my personal experience as part of the LGBT community had lent itself into how I conducted the interviews. While, someone straight can obviously interview someone of the LGBT community, and vice versa, I think the fact I had a personal reference for what questions I asked and how I asked them lent itself to the article.
It is the personal reference or "human connection" I have found is what changes an interview from standard or "for background and context information" to an interview that can provide the quote or anecdote that becomes the lead or center of the story.
I want to find that "human connection," a relatable human moment, experience, or interest, to work off from. If I am not able to find those connections and elevate their visibility how can I expect the audience to do it.
I always want to push myself outside my comfort zone. I want to learn about and report on the topics or issues I have not before. I took a step outside my comfort zone when I traveled with another writer and the digital news editor to Exxxotica, a convention for businesses, figures, and performers in the adult entertainment/adult industry.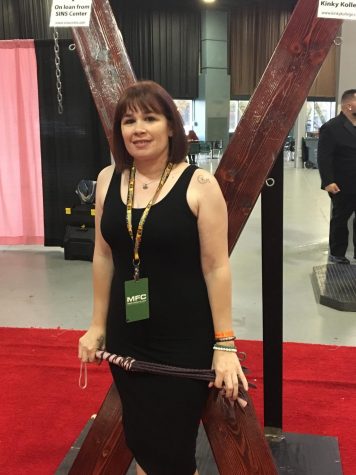 At Exxxotica, my fellow writer and I interviewed roughly a dozen people who worked in some area of the adult entertainment/adult industry. Dee Bertino and Miss Lydia both stood out to me. They were both mothers, had jobs that required them to work beyond the regular 9 to 5, and one was an owner of a sex shop and the other a disciplinarian (different from a dominatrix Miss Lydia explained).
I was excited about the story that came from interviewing businesses at Exxxotica, but I realized I shared some of the embarrassment and uncomfortableness that Miss Lydia and Bertino had experienced from people. While interviewing someone for an article is generally an academic or professional action, I think interviewing someone provides the opportunity for personal growth. I realized as a journalist, storyteller, or whatever the label may be I should not be embarrassed by my work. Period.
Yes, some topics are taboo, uncomfortable to discuss, and controversial, but I enjoy these types of stories. These stories can push boundaries and lead the reader to reflect on their opinions after reading. I need to be confident in my work as I need to be confident when interviewing people, especially public officials and figures.
As I sat with my fellow associate editor and several other students representing their college's media outlets, I felt a more confident and in control of the moment, than when I started reporting a few months earlier in September. After the roundtable interview with Westchester County Executive George Latimer had come to an end I realize the "umms" that usually puncture someone's speaking with they're nervous did not exist for the entire hour.
While, the "umms" did not exist for the interview with the county executive I will admit to a couple "umms" and slight trepidation a couple weeks later at the Pathways to Power conference Mercy College was hosting with Joy-Ann Reid of MSNBC as the keynote speaker. I think it's understandable when interviewing someone who is a professional in the field(s) you want to make a career in it can give you a moment of pause. Will they respect you as a peer doing the same work they do? Will they even consider you worth giving an interview?
Well I got my answer pretty quick when I walked up to Reid after finishing another interview. I bypassed who I believe was her manager or agent to ask her directly if she had time for an interview. To be fully transparent, I was surprised how quickly she said yes and started walking to a more quiet area of the floor to talk with me. Not everyone, wants to be interviewed if you ask them. You have to message multiple times or feel comfortable talking about themselves to you in some cases.
One take away for me from interviewing public officials and figures is not to be "grateful" or "thankful for the time of day," but a polite thank you is generally enough. I and any other interviewer is doing their job by asking questions and it is appropriate public officials and figures are held accountable for their actions that carry influence. I should never consider holding back on a question or leave a debatable assertion by the person interviewed to go unchecked because I am doing the audience, viewer, or reader a disservice by not doing my job. If I am not doing my job then I need to be held accountable by them.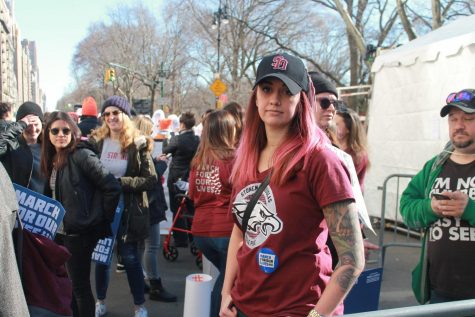 I think showing the simple polite courtesy is needed and expected when talking to people about especially personal matters. I felt this way very much when interviewing survivors of mass shootings and people who have lost people close to them because of drug addiction.
The parts of a job that invoke emotion and reflection are usually tests to determine if someone can manage the troubling, depressing, and hard to watch moments of the job they want to do. It is similar to a medical or veterinarian student who is tested with dissection or viewing a surgery to see if they may faint or have difficulty seeing the discouraging side of the profession they are studying for. I faced this type of test when I worked on in-depth article on opioid addiction in Westchester County.
As I sat barely a foot away from Stephanie Marquesano interviewing her about her son Harris who died at 19 years old after years of struggling with drug addiction and an anxiety disorder I will fully admit it was tough to hear. I dare someone to listen to a mother describe losing her son and come away unmoved in some way. I think the emotions hearing and reporting on these stories are what guides us when writing, filming, editing, or deciding on wording for social media copy.
The details that makeup a story or a specific person that incites an emotional response from us or ponder what they have said is what should go into the article. Odds are they will have the same effect on the reader as it did on you.
I look back on the past several months as how most of the interviews for the article on the Voices 4 Chechnya Rally and March were conducted. Me walking over forty blocks from lower Manhattan to Trump World Tower while interviewing over ten people in between.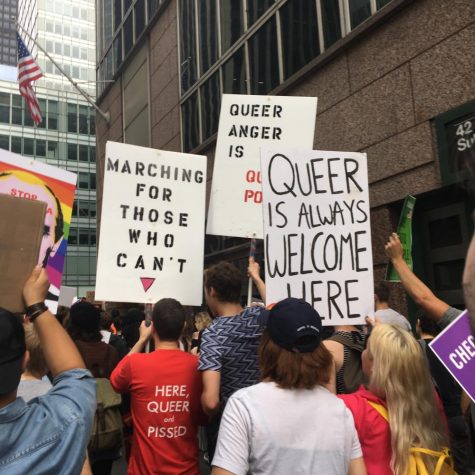 A start, numerous points in between, and an ending.
My first interview for an article initially unsure of what questions I should ask, but as time went on I learned how to better frame my questions, prepare for short periods of time to interview someone, channel the emotions the work I was doing invoked and utilize them to create a story that would have the same effect on the reader, and finally, to be confident about every action I took in creating the work I am proud to have reported on.
What was once a fear of talking to people is now a passion for interviewing that gives me joy, inspiration, and motivation to learn. To be able to channel this passion into a forging a career or even a small part of my job position's responsibilities would be something I could not pass up.
So let me ask you a question. Can I interview you?
Leave a Comment
About the Contributor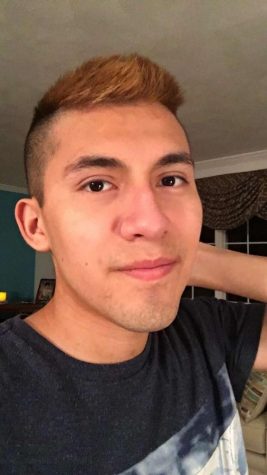 Matt Reich, Former Associate Editor
Matt Reich is a guy constantly on the go who can't let a minute go unused. Born in a city in Texas, raised in rural Connecticut, and now he's trying to...