One Week To Go! NFL Mock Draft
The NFL Draft is something both fans, and the players cannot wait to watch. For the athletes, the dream of one day playing in the NFL is about to come true, and the fans cannot wait to see who their team picks. With the draft just seven days away, I decided to give a mock draft a try to try and predict how the first round will play out.
1. Houston Texans-  Jadeveon Clowney, DE South Carolina
2. St Louis Rams- Sammy Watkins, WR Clemson
3. Jacksonville Jaguars- Khalil Mack, LB Buffalo
4. Cleveland Browns- Johnny Manziel, QB Texas A&M
5. Oakland Raiders- Greg Robinson, OT Auburn
6. Atlanta Falcons- Jake Matthews, OT Texas A&M
7. Tampa Bay Buccaneers- Blake Bortles, QB UCF
8. Minnesota Vikings- Teddy Bridgewater, QB Louisville
9. Buffalo Bills- Eric Ebron, TE UNC
10. Detroit Lions- Justin Gilbert, CB Oklahoma State
11. Tennessee Titans- C.J. Mosley, LB Alabama
12. New York Giants- Taylor Lewan ,OT Michigan
13. St Louis Rams- Mike Evans, WR Texas A&M
14. Chicago Bears- Aaron Donald, DT Pittsburgh
15. Pittsburgh Steelers- Darqueeze Dennard, CB Mich. St.
16. Baltimore Ravens- Odell Beckham Jr, WR, LSU
17- Dallas Cowboys- Ha Ha Clinton-Dix, S, Alabama
18- New York Jets- Brandin Cooks, WR, Oregon St.
19. Miami Dolphins- Zack Martin, OT Notre Dame
20. Arizona Cardinals- Anthony Barr, LB UCLA
21. Green Bay Packers- Calvin Pryor, S, Louisville
22. Philadelphia Eagles- Kelvin Benjamin, WR FSU
23. Kansas City Chiefs- Marqise Lee, WR USC
24. Cincinnati Bengals- Jason Verrett, CB TCU
25. San Diego Chargers- Kyle Fuller, CB VA Tech
26. Cleveland Browns- Carlos Hyde, RB Ohio State
27. New Orleans Saints- Bradley Roby, CB Ohio State
28. Carolina Panthers- Allen Robinson, WR Penn State
29. New England Patriots- Jace Amaro, TE Texas Tech
30. San Fransisco 49ers- Lamarcus Joyner, CB/S FSU
31. Denver Broncos- Louis Nix III, DT Notre Dame
32. Seattle Seahawks- David Yankey, DT Stanford
About the Contributor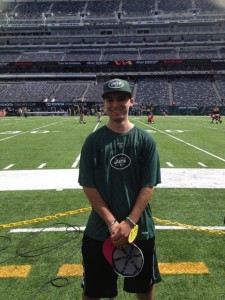 Michael Nash, Impact Staff
Michael Nash is from Shrub Oak, New York. He is a sophomore journalism major. He also writes for the TheJetPress, an online New York Jets fan site,...