Sorrow's of a Fight Fan Part 1: The Madness that was UFC 223
Just as a parent would say to console thier young child awoken by a nightmare, the same can be said about UFC 223; "it's over now".
Now that the storm winds have subsided, and the UFC has moved on to it's next event in Poirer vs. Gaethje, it would be an opportune time to analyze all the sub-plots at play during the week-long madness in Brooklyn and begin to set our gaze upon all the potential scenarios for the future.
In the span of just one week, UFC 223 went from a highly anticipated PPV that would serve as the gateway card to the future in the Lightweight and Women's Strawweight pictures, to a chaos ridden extravaganza more suited for the main event of WrestleMania than the world of Mixed Martial Arts.
Before we dive into the wormhole that is prophesizing the future booking options for UFC, let us analyze the past and the events that took place during the accursed event that set us down this path.
Once again, I feel it necessary to preface that before I also delve into the week of UFC 223, we must look back even further to October of 2015.
The importance of October 15, 2015, is that the 155-story arch that reached a boiling point this past week began on this date, the first cancelation of Khabib Nurmagomedov and Tony Ferguson.
The two were set to meet for the finale of the 22nd The Ultimate fighter. The curse began when Nurmagomedov pulled out of the fight with an injury to his ribs. Should the fight have come to fruition it would have been Nurmagomedov's first fight in over a year as he was coming off two separate injuries to his knee.
Fast forward another year and the two top lightweights were again set to clash, this time on a televised card at UFC on FOX 19. Similar to the most recent event, the anticipated showdown was once again put on hold just over a week out from the bout on April 5 2016, when Ferguson had to withdraw when he was found to have fluid and blood in his lungs.
At this point I feel as if most might have the basic idea of the structure to this story, anticipation, disappointment, fast forward, repeat.
Drawing things out and withholding the gratification of the fans most invested in the story until the end might be a successful device in the literary field but in the world of combat sports, in the end, people want to see the blow off sooner than later.
Then again, there is also the fact that there seems to be no end in sight for fight fans as we seem to be in a constant state of delayed gratification.
Now we arrive upon March, 2017, and I would be lying to you if I said that finding a fan that believed Nurmagomedov vs. Ferguson coming to fruition on the third try would be easier than finding a reliable bigfoot sighting, in reality it probably would be easier to find the latter.
But you know what they say, third times the charm right?
Wrong.
For a third time, Nurmagomedov vs. Ferguson was called off just a few hours before a bout that at this point, the anticipation would have been sharp enough to pierce a hole in the time space continuum (check for a Back to the Future reference)
This time Nurmagomedov was forced out of their UFC 209 bout (also in Brooklyn) when he was rushed to the emergency room with kidney failure like symptoms from a severely botched weight cut.
At this point if you were still hoping to see Nurmagomedov vs. Ferguson I might believe you enjoyed being disappointed.
If you aren't riveted by now, just sit back because here is where it gets good.
Press the fast-forward button again (at this point it might be stuck in position from overuse) because now we come to April of this year. Nurmagomedov vs Ferguson has been booked for a fourth time. With Ferguson being the interim title holder, and Conor McGregor (don't worry, we will get to that later) being stripped of the belt the moment the bell rang, the fight was scheduled to be for the Undisputed Lightweight Championship.
I'm no comedian but if you really don't see the punchline that of all days to announce that Ferguson had to pull out after tripping on a pair of wires during an interview and blowing his LCL completely off the bone on April fool's day, then comedy isn't for you.
Yes, for the fourth time, Nurmagomedov vs. Ferguson was off because of a freak accident and at this point both Nurmagomedov and Ferguson have had to withdraw an equal two times, it's almost poetic.
It wasn't all gloom and doom as Dana White made sure to announce Ferguson's withdrawal simultaneously with his replacement during an interview with Brett Okamoto of ESPN. The replacement; Featherweight Champion Max "Blessed" Holloway, you could say we had been blessed with a savior (no?).
April fool's day been a Saturday, one week before the event. It was now Thursday and the media day event had just come to a conclusion.
Remember when I said we would get back to McGregor? Well now is that moment.
Video; such as this recording from MMA Junkie began to appear of McGregor online along with a massive entourage ferociously pacing the Barclays Center as if they were looking for someone, that someone was Nurmagomedov.
McGregor and his entourage found Nurmagomedov just as the bus carrying all red corner fighters was leaving the parking garage, it only escalated from there.
McGregor charged the bus screaming at Nurmagomedov on the inside, his entourage began to throw items at the bus. McGregor himself attempted to throw a trashcan but was stopped by security, unfortunately they couldn't stop him from hurling a dolly straight at the bus and crashing through a window.
TMZ also capitalized on the madness with video captured from both ends of the attack as the media had been flowing out the building from the event. Inside the bus, there was chaotic footage of confused and agitated fighters wondering what the hell was happening.
The disturbing footage also captured the immediate aftermath of the dolly crashing through the window with a visibly disorientated Michael Chiesa rising from his seat, blood streaming from his forehead, he was seated where the dolly had crashed through the window.
McGregor and his crew then swiftly fled the building leaving shocked and terrified onlookers in his wake. In the chaos, along with Chiesa, who was scheduled to fight Anthony Pettis at UFC 223, Ray Borg who was set to face Brandon Moreno wound up with shattered glass in his eye.
Both Chiesa and Borg were deemed medically unfit to compete and lost their fight on the card. UFC Women's Strawweight Champion Rose Namajunas, who was also on the bus, was apparently so disturbed by the event that she considered pulling out of her fight, but ultimately decided to fight.
A visibly infuriated Dana White responded to questions about the incident with ESPN, claiming McGregor had a warrant out for his arrest, which was untrue. This led to the question Why? Why did someone who have so much to lose, do something so heinous?
To make matters worse, the next day Holloway had to withdraw from the fight with Nurmagomedov due to the New York commission deeming him unfit to compete after he struggled to make weight without risking his health.
At the eleventh hour, "Raging" Al Iaquinta from Long Island, an 11th ranked Lightweight stepped up to fight the seemingly invincible Dagestani native in Nurmagomedov.
Nurmagomedov would go on to dominate Iaquinta and become the Undisputed Lightweight Champion, however a slightly confusing game plan in the latter rounds of the fight allowed Iaquinta to make a valiant effort and become a folk hero of sorts in the process.
As for the reasoning behind McGregor's actions, that became clearer after sometime. At first, people assumed an infuriated McGregor stormed the event after he had been stripped of his lightweight championship. In reality, McGregor's actions were in retaliation to a video of Nurmagomedov confronting his teammate and friend in Artem Lobov.
The confrontation was instigated by apparent insults Lobov made about Nurmagomedov previously. The encounter is reminiscent of the infamous "You broke my heart" scene between Michael and Fredo Corleone in "The Godfather II" as Nurmagomedov grasps the back of Lobov's neck and quietly murmurs to his fellow Russian in their native language. Some believe a slap occurred although the video isn't very clear and the degree to which it did is unclear.
Nevertheless, McGregor got word of this and immediately boarded his private jet and flew across the Atlantic to aid his friend.
Following the incident, McGregor turned himself in and later posted a fifty-thousand-dollar bail.
He faces a slew of potential lawsuits and his future remains unclear.
Or does it?
One of the most unintentionally amusing aspects of this whole debacle was the inability of people to separate reality and show. A great deal of people, media included, suspected that not only was the incident staged, but it was done to promote future fights.
Firstly, the idea the whole event was staged is laughable considering Chiesa, Borg, and several UFC staff members were legitimately injured. Secondly, it is more likely that the UFC had plans for a considerably less overstated showdown between McGregor and Nurmagomedov post-fight, should he be victorious.
The reality is that McGregor most likely showed up early to confront Nurmagomedov for his own reasonings, only he did not intend for the situation to explode the way it did.
But this begs the question, where do we go from here?
McGregor will most likely part with a massive sum of his fortune from legal issues. However, the idea that he is done with the UFC is unrealistic. The fact that most people see McGregor only benefitting from this event down the line due to the UFC eventually playing this event up for future fights is a big part of why they feel it is staged.
That part of the whole "staged" paranoia is correct, as the idea that Dana White has severed all ties of potential future business with McGregor isn't likely. Yes, he was angry then, and is still likely VERY mad now. But as time moves on and this incident becomes further in the rearview mirror and the anger subsides, people will want new drama.
This is where people assume, and most likely correctly, that the UFC will use this incident for promotional purposes to create the mega of all mega fights between McGregor and someone.
So, lets break that down further and see the potential matchups.
The first and most likely fight for McGregor, and how this all ties in with the 155-pound belt, is a matchup with the man whom this whole incident revolved around, Khabib Nurmagomedov.
With the odds of the UFC holding a fight in Russia becoming all the more likely and the UFC already having a firm presence in Ireland, a potential McGregor vs. Nurmagomedov in the motherland or emerald isle is a headlining fight that would make fight fans salivate at the mouth.
A second option that fell out when Holloway had to withdraw, was a rematch of Holloway and McGregor. Should Holloway have won, he would have become the second man in history to hold two belts in two different weight classes simultaneously. The first was McGregor, whom was also the Featherweight Champion when he dethroned Eddie Alvarez in November of 2016. McGregor was also the last to defeat a much younger Holloway in 2013 during the Irishman's second fight in the UFC.
What an interesting dynamic, a rematch of one man, McGregor, who became the first simultaneous two weight champion doing battle against the man, Holloway, who became the second simultaneous two weight champion. The added bonus of McGregor being the last man to defeat Holloway that would return to fight against a noticeably improved Holloway for the same two belts that he was stripped of. That would be a fight for both the MMA purists and "prizefight" lovers.
Then there is always a trilogy bout with Nate Diaz which no one would ever object to.
Now comes the variable, the asterisk, the "Money Fight"(wink wink).
The chances of McGregor vs Mayweather II inside the Octagon are becoming more and more of a possibility. While the odds of the fight are still low considering that Mayweather would be at a severe disadvantage being forty plus years old and risking his perfect record, the potential payout would be astronomical.
These rumors exploded after Mayweather appeared on Showtime Boxing to sow the seeds of intrigue by talking up a potential fight inside the eight-sided cage with McGregor just a day after the UFC 223 incident. Another reason people assumed the whole fiasco was staged.
This McGregor vs. Mayweather II has seemingly become one of the two most likely scenarios alongside a McGregor vs. Nurmagomdeov showdown. However, the added rumor of absurd rules that Mayweather would request for the bout, essentially making it a barefoot boxing match in a cage, have killed a substantial amount of intrigue as McGregor's abilities would be clearly handicapped.
Lastly, should McGregor be required to stay away from the cage for an extended period of time, well there is only one option.
The dreaded curse that is Nurmagomedov vs. Ferguson would need to be revisited for a FIFTH time, and maybe, just maybe, the MMA god's will grant us clemency for whatever infraction we have caused upon them and award us this gift.
Leave a Comment
About the Contributor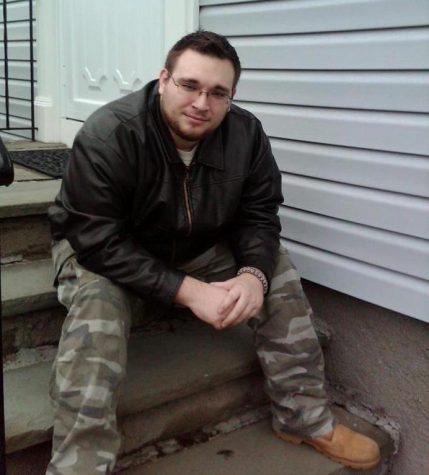 Michael Dunnings, Former Associate Editor
Michael Dunnings, otherwise known by the Hungarian equivalent "Miska", is a native of Dobbs Ferry and a senior studying Journalism at Mercy College. Michael...