Sorrows Of A Fight Fan Part 2: The Rematch That Was Not To Be
UFC 223 was not the only travesty to occur for fight fans in a short period of time. The second, just two days after news broke of Tony Ferguson's withdrawal from the card, Saul "Canelo" Álvarez withdrew from his scheduled rematch with Gennady Golovkin on May 5.
The two, who happen to be two of boxings biggest stars, were set to once again do battle under the bright lights. This time on Cinco de Mayo.
Should they have fought, it would have been a rematch of their highly anticipated, yet equally controversial first encounter that occurred on September 15, 2017.
The fight was seen as the "purest" boxings fans alternative to Mayweather vs. McGregor, a fight that had been labeled as a circus show.
The first encounter proved to be a successful one as a scintillating performance from Canelo Álvarez in the fights early stages brought the raucous crowd to its feet.
As the fight dragged on, Álvarez's gas tank seemed to run empty as Golovkin's relentless pressure and iron chin seemingly sucked the life out of the popular star.
The fights end became just another chapter in a storyline that has become synonymous with boxing, corruption.
The general consensus among both fans and experts come the final bell was that Golovkin had pulled away on the scorecards with a somewhat dominant performance in the fights mid and later stages, while Álvarez had demonstrated his expertise in the fights early and final stages. Overall, Golovkin had the more complete performance, while Álvarez landed the harder punches.
The numbers did not dissuade the judges as the fight was ruled a Draw, something that angered fans and pundits as Álvarez had seemingly lost the fight, the furor was no more evident than a shouting match during coverage on ESPN by reporter Stephen A. Smith and commentator Teddy Atlas.
The draw was only exemplified by the fact that the fight had been set up by Oscar De La Hoya's Golden Boy Promotions, whose banner Álvarez fought under, Golovkin did not.
The fight, although entertaining, had once again demonstrated boxings biggest issue, outside elements leaving a poor taste in the mouth despite what happens between the ropes.
It was virtually a given that a rematch would be booked immediately between the two, as a rematch would assuredly draw in equal or even bigger numbers than the first meeting between the two.
As expected, the two began negotiations for a rematch and a date was set for May 5, 2018, Cinco De Mayo, for the two superstars to meet between the ropes again.
All was right in the boxing world, right?
Wrong.
On March 5, 2018, exactly two months before the fight was set to occur, it was reported that Álvarez had failed two separate urine tests that had been conducted in his hometown of Guadalajara, Mexico by the Voluntary Anti-Doping Association on February 17, and 20.
Álvarez was found to have trace amounts of Clenbuterol in his system at the time the drug tests were taken.
Clenbuterol is a banned substance known for its ability to aid in weight cutting.
Despite the failed drug tests, Alvarez's guilt wasn't as obvious as it might have seemed.
The issue of Clenbuterol is quite a common occurrence for Mexican athletes as it is commonly used in meat, which was the reasoning given by Álvarez.
If this was true, it certainly clears Alvarez of any nefarious intentional attempt to gain an edge over Golovkin. However, the issue then would be that of negligence on Álvarez's part as if this is a common issue that plagues Mexican athletes, why would someone of his stature risk the obvious consequences that came with eating meat that could be potentially contaminated with a substance that could put his much-anticipated rematch in jeopardy.
A noticeably frustrated Golovkin was not as lenient in his judgment of Álvarez when he essentially accused Álvarez of cheating in numerous interviews given in the immediate aftermath.
Despite the grim news that Álvarez failed two drug tests, it wasn't completely a lost cause as the circumstances surrounding the failed drug tests might not warrant the kind of response from officials that could put the fight in jeopardy.
As time progressed, fight fans worst fears seemed as if they were coming true as it began to seem more likely that the showdown on Cinco De Mayo was not going to happen.
By March 28, almost a month after the news broke of Álvarez's drug test failures, a report from The Las Vegas Journal stated that MGM International had begun offering full refunds to those who owned tickets to the fight at the T-Mobile Arena. An ominous signal that the fight was off.
A day later, on March 29, several outlets reported that the Nevada State Athletic Commission (NSAC) had filed a formal complaint in regards to the failed drug tests, essentially hammering in the final nail in the coffin of the rematch as complaints are seldom given without some form of punishment.
Álvarez would subsequently withdraw from the fight on April 3, making the rematch officially off.
As for Golokin, he was left without an opponent for a fight that he was preparing for and his options were limited.
Though the rematch had been canceled, in reality, it was merely postponed as the most likely scenario for the rematch would now favor it occurring in either late August or early September, around the same time of their first fight in September of 2017.
For Golovkin this left two options with two very real consequences. Firstly, Golovkin could wait for the rematch which, in reality, had no concrete proof would still occur come the fall. By doing so, he would sacrifice the training and money that came with preparing for the fight he expected to occur in May. The extended layoff might have unforeseen consequences as Golovkin (36) was almost a decade the elder of Álvarez (27).
The second option would have been for Golovkin to accept a fight against an opponent whom he hadn't properly trained for on short notice. The consequences of this decision being much more obvious when considering if he sustained significant damage, he might not be able to make the rematch come the fall should it come to fruition. Should he win a fight against an opponent and be physically capable to fight come the fall, the damage he did sustain might adversely affect his chances to be victorious in the rematch with Álvarez.
Golovkin ultimately chose to fight on Cinco de Mayo against Armenian-American Vanes Martirosyan. Martirosyan, who was coming off a previous loss and who hadn't had a fight in two years. Martirosyan was also moving up in weight from junior middleweight to meet the devastating Golovkin at middleweight.
Martirosyan gave a valiant effort and delivered significant shots to Golovkin when the two eventually met. However, the fearsome knockout artist in Golovkin proved too much for Martirosyan, who bludgeoned him en route to a vicious second-round knockout.
With Golovkin having easily disposed of Martirosyan, the attention will now turn to the fall and whether the two will ever settle the fallout from their first encounter.
Leave a Comment
About the Contributor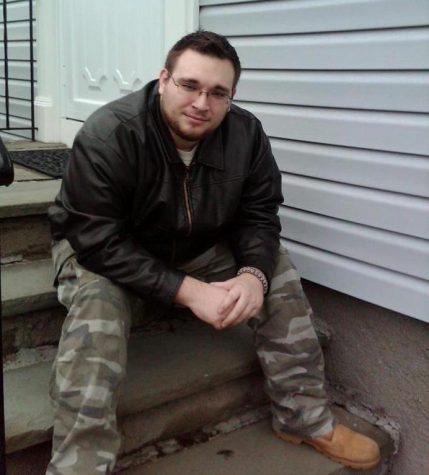 Michael Dunnings, Former Associate Editor
Michael Dunnings, otherwise known by the Hungarian equivalent "Miska", is a native of Dobbs Ferry and a senior studying Journalism at Mercy College. Michael...