How The Holiday Season Calms My Anxiety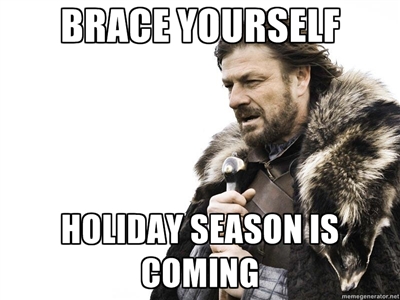 The beginning of September; the dreadful back to school season. The time where everybody begins to procrastinate their assignments, and pull all-nighters at the last minute.
The one thing that keeps me going during the fall semester is the holidays that take place each month. I mean what's better than back to back events to take you away from your stress and guide you into another world.
At the start of every new season, we have certain holidays to look forward to.
In February, we have Valentine's Day. In March, St. Patrick's Day.  In May, we have Memorial Day. In June, Father's Day and so forth.
In September, we have the first day of fall, October has Halloween, November has Thanksgiving, and December has of course, Christmas.
It's September 22nd, the leaves are beginning to change colors, and I finally start to feel the crisp air brush between my hair.
I'm not feeling sweaty and drained all the time, and I can step out of the house with a light bomber jacket and some booties and strut down the sidewalk like I'm modeling a new collection at New York Fashion Week.
The month is only just beginning and as I walk into a Walgreens outlet, I know I'm not the only fanatic anticipating the holiday season a little earlier than normal.
Rays of orange, red and yellow fill the isles as I slowly admire the change in setup.
Leaf pillows, pumpkin mugs, apple pie ingredients, and cinnamon candles become the new attraction. I begin to feel exactly like a kid in a candy store. Not worrying about anything else besides how I'm going to blend these new holiday accessories with last year's.
It brings me peace knowing all my skeleton's and witches have a designated spot in my home.
Unlike National Watermelon day on August 3rd , Halloween is one holiday that I have a particularly close bond with. I was born on October 31st.
Being the "devil's child" as many would describe me, actually has made me appreciate the holiday even more.
When I was younger I would most likely be the one to go to bed early to not accidentally catch my parents watching a horror movie, when all I wanted was to get a glass of water from the kitchen.
I was that dramatic kid that ran through Party City like I was being chased by the actual Michael Myers, just to avoid making any eye contact with the dreaded costume mask wall.
Fast forwarding to the present, one of the only things that takes my mind off real life are horror movies.
Scenes such as not expecting what can be next, seeing other people conquering my personal fears, getting revenge on a killer, or experiencing the ultimate fantasy life as witch, vampire or werewolf just gets my heart extra pumping.
Films such as Halloween, Scream, The Blair Witch Project, Jeepers Creepers, Saw, Psycho, The Exorcist, Insidious, and Carrie take me to a place I know is unlikely in my life. Even the toned-down movies such as Hocus Pocus, Halloweentown, The Craft and Beetlejuice have the same effect.
Any life more invigorating than mine, just attracts me. Although most of these films are far from calming, they give me a different kind of peace. I appreciate my real life even more because it could be worse, I could be sawing my own foot through chains. Poor guys.
On the other hand, celebrating something as special as my birthday, on my favorite holiday (totally not biased) just brings out the spooky, quirky personality in me, instead of the anxious girl in the back of the classroom.
As the ear piercing screams and soul chilling music slowly fade away, here comes the smell of candied yams and garlic mashed potatoes.
Thanksgiving is here and all the freshly picked apples from my yearly apple picking trip are ready to be devoured.
Although this is one of the more laid-back holidays, it is the main one that truly shines a light on family.
Yes, Christmas has a similar underlying meaning, but it is lost with the tradition of gift-giving. Proving you love and care about someone shouldn't be reflected on how much you spend on a gift.
Now, Thanksgiving reminds me that no matter the past difficulties one may have, such as family fights, or the loss of an admirable grandparent, loved ones can still come together and focus on the positives.
I have been though times I just described, I mean who hasn't. By experiencing these events, even if your loved ones aren't blood related, we can all forget about our current stresses and focus on what's truly important. Love.
Christmas can't begin without some eggnog! Or as Puerto Rican's would call it, coquito. Similar concoction, but with a heightened taste.
In New York City, Christmas is unlike any other.
Walking down 5th Ave on an average winter day, and passing the Rockefeller Christmas tree is something I just can't ignore, no matter what Rihanna song just came up on Spotify.
The hundreds of ornaments hang from the tree, reflecting the lights of the busy city, create a serene atmosphere.
After a quick ice skating session in Central Park, with hot chocolate in one hand, and an apple cider doughnut in the other, I gaze upon the twinkling lights on the lanky trees and think of the world beyond.
Leave a Comment
About the Writer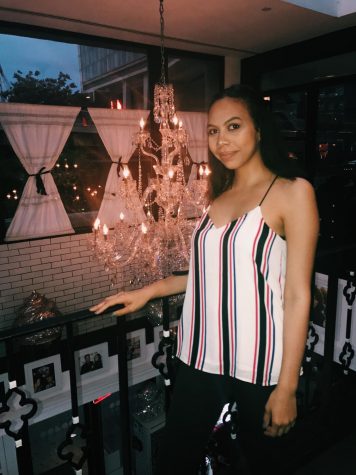 Nicole Acosta, Managing Editor
Nicole is from The Bronx and is a journalism major at Mercy College. Her hobbies include discovering new places to eat on a budget, photography, listening...