Drake's Album Signing in New York City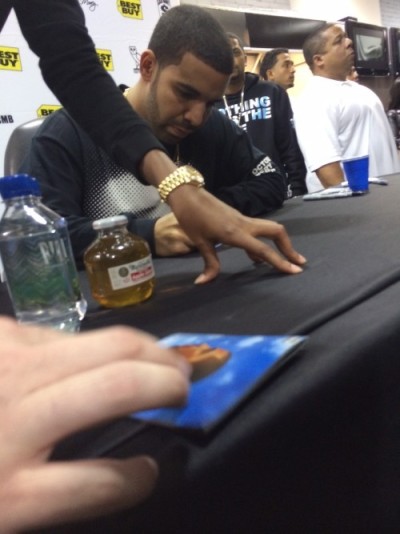 Tuesday, Sept. 24, was a big day for Canadian rapper, Drake. His anticipated junior album "Nothing Was The Same" hit stores world-wide. Despite his album leaking a week early, it didn't stop his fans from lining up and buying his album. Best Buy in Greenwich Village gave fans an opportunity to meet Drake himself.  The first 500 people to purchase his album at 8 a.m. were given a blue wristband. This wristband allowed the fan to meet Drake and get their album signed. Album signing began at 6pm however, fans started lining up at 12 in the afternoon.
These people were determined to meet their idol. Two girls from New Jersey came out to Best Buy at 2 a.m. to wait on line to purchase the album for a wristband. After getting their wristband they took out their chairs and literally waited the whole day until they can get back on line for the album signing. They came out Tuesday morning at 2 a.m. and didn't make it home till midnight following day. They were truly dedicated.
As the time approached for the album signing, fans nerves began to build; however, little did they know they would have a bit more time to gather their composure. Unfortunately, Drake was two and half-hours late. Those that had been waiting eight hours began getting restless. Some even debated on selling their wristbands to other fans that didn't have one. Bystanders stood and waited as well, just for a glimpse of the Canadian rapper.
I was one of those bystanders. By the time I heard about the wristbands, I was too late. I told my cousin at 11 a.m. to rush down to the city and buy me a CD in hopes I would get a wristband as well. Unfortunately, it was way too late. I went down to Best Buy anyway because my cousin just got out of work and I wanted to get my CD. By the time I got down there, my cousin had called and informed me that he was actually backstage of the event, because Best Buy mistook him for security. Although he is a licensed security officer, he wasn't employed by Best Buy. I was very excited because I felt that was my way in. Unfortunately, hours later, they caught wind that he wasn't security with them and was asked to leave. I was discouraged but I was determined to get in. While I was waiting on line, with no wristband, a detective came up to me and sparked a conversation. An hour into speaking to him, I mentioned that my father was a detective as well. As we continued to speak about my father, another detective interrupted us and asked if I had a wristband. The detective told him that I had lost it but that my father was on the job at One Police Plaza. That's when the detective told him that he would pull some strings only if he recommended it. Ten minutes later, the detective called me inside and put a wristband on me and told me to not say a word and get on line. I was in complete shock.
Finally, two hours later at 8 p.m. security officially opened the doors and allowed half of the crowd to go upstairs. And yet, Drake was still nowhere to be found. About twenty-five minutes later Drake finally arrived. At that moment, the long hours of waiting, hunger, back pains, and restlessness would be all worth it to his fans. Despite the fact that he was late two and a half hours, he actually rushed in signing the CD's. I actually should have been in the back of the line however, I knew one of the girls in front of the line so I went up ahead. I was afraid that if I went to the back of the line there would be a possibility Drake would not sign my CD because of the time. However, I would've benefited more if I went to the back. Drake rushed the signing of 490 of his fans and actually took pictures of his last ten fans standing in line. Unfortunately, that could've been me.
Leave a Comment
About the Contributor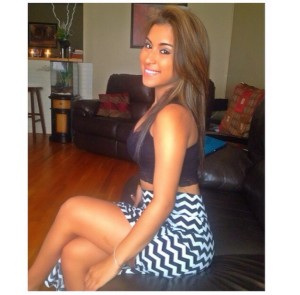 Kayla Rivera, Impact Staff
Kayla Rivera is a 20 year-old college senior. She is a Media Studies major in hopes of being a successful news reporter. She is an overachiever and will...