The Weeknd comes to New York City
The Weeknd kicked off his first official "Kissland" tour on Sept. 06. He is scheduled to perform in over 15 cities around the world. From Canada to England, the Weeknd will be singing his heart out to thousands of anticipated fans.
The Weeknd, a Canadian singer, just recently released his first official album "Kissland" on Sept. 10. Although, this is his first album, he is no stranger to the United States and Canada. In March 2011, the world fell in love with his debut mixtape "House of Balloons."  Just five months later, the Weekend released his second mixtape "Thursday" and yet again it was a success. His third mixtape "Echoes of Silence" was released just four months after that.
The Weeknd doesn't produce your average kind of music. His music has a gloomy, peaceful aura to it and all his songs range from five to eight minutes long. Unlike most artists, the Weeknd keeps a notebook and writes all his songs. He is very open with his songwriting and doesn't hold back for his fans. He is very different from a lot of artists today and his uniqueness is what sets him apart from everyone.
This Monday and Tuesday he performed at Radio City Music Hall for all his New York fans. The entire venue was packed with dedicated, screaming fans wearing his apparel. In fact, I was amongst those dedicated, screaming fans. I fell in love with him back in 2011 and took the opportunity to see him this past Tuesday.
He had two amazing opening acts, Anna Lunoe and Banks. Lunoe was an Australian DJ and Banks was a Los Angeles singer that resembled a lot to Florence and the Machine.
Although, they did a good job, fans couldn't wait till they were done. "Every time she said next song I got mad because I just wanted her to leave so my baby can come on," said Katiuska Jorge.
Finally, it was the Weeknd's turn to bless the stage. He opened up with "Adaption" one of my favorite songs off the album.
Since his upcoming fame, he has done several songs with artists like Drake, Wiz Khalifa, French Montana, and Juicy J. In fact, he brought out French Montana on Tuesday to perform "The Gifted" with him.
I had an overall great experience. I always go to concerts however, he was one of the artists I've been dying to see. I also loved that he did not only do the songs off his new album, but he also performed some of his greatest hits off his other mixtapes.
The entire venue was high off energy and anticipation. However, it was clear that energy wasn't the only thing getting most of these people high. Surprisingly, everyone in that place was smoking marijuana.  It came as a complete shock to me. I would expect that from a venue that was standing only, not Radio City Music Hall.
As soon as the Weeknd got on a stage, I had to rush to the bathroom because I had been holding it all day. With that being said, he was only on stage for about two minutes and by the time I got upstairs the smell hit me. I smelled it from all the way downstairs, that's how strong it was.
While on stage, the Weeknd mentioned the big cloud of marijuana smoke and that he loved that his fans were enjoying themselves. The Weeknd is notorious for smoking marijuana and popping pills. In fact, the Weeknd has his own logo called "XO" and has a famous slogan that says, "XO till we overdose." According, to the man himself, this stands for Ecstasy and Oxytocin.
He has made several drug references in a lot of his songs. Therefore, he was happy that his fans felt that comfortable to do the same during his concert.
Aside from that, the Weeknd had one of the best concerts. And not because of the fumes his fans created, but because he is truly talented and amazing at what he does.
Leave a Comment
About the Contributor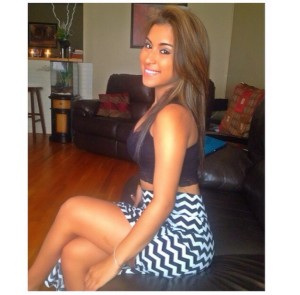 Kayla Rivera, Impact Staff
Kayla Rivera is a 20 year-old college senior. She is a Media Studies major in hopes of being a successful news reporter. She is an overachiever and will...