Would you like a tour?
Drake blessed the stage at the Barclay's Center in Brooklyn on Monday. It had to have been one of the most amazing concerts I've attended. I've been a big fan for years so it was great seeing how far he has developed as an artist. He also had two of the hottest opening acts out right now. Future is a well-known rapper and Miguel is a great singer with an angelic voice. Personally, I think this was a good choice because fans were given a bit of diversity throughout the concert.
Miguel has been in the game for a few years now however, he isn't as widely known, as he should be. He recently went on tour with Alicia Keys and is now on tour with Drake. Those are not only two very different types of artists, but also big names in the industry that hopefully expand his fan base.
Drake's birthday was Oct. 24 therefore, it was only right he celebrate his birthday in the city that never sleeps. He is known to do it big therefore; his concert wasn't expected to be anything less. He opened up with "Tuscan Leather" a popular song off his new album "Nothing was the same."
One thing that was unexpected about the concert was that Drake literally performed every song off his new album. He made sure his fans were pleased and that there money was well spent. That indeed it was.
He also performed hit singles like, No New Friends, Versace, HYFR, B*tches Love me and The Motto to name a few. The energy at the Barclay's Center was unbelievable. Drake even brought out a bunch of his artist friends.
Busta Ryhmes came out and did an old song of his. That came as a shock because Drake and Busta never did a song together but nonetheless, he did a great job. Jhene Aiko, an upcoming singer, made a guest appearance as she performed the song they did together, "From Time."
He also brought out Asap Rocky and Asap Ferg. Both rappers are from Harlem and good friends of Drake. Although, Future was his opening act, they have collaborated in the past therefore Drake brought him back out to perform one of their songs together.
Aside from performing every song off the album, Drake also went back to his mixtape days and did songs only his true fans would know. Drake's energy was at an all time high. Every time it appeared like the concert was coming to an end, he would surprise the crowd with yet another performance. Drake came out on stage at 10:00pm and the concert didn't officially finish till about midnight.
For those that had work or school in the morning, it felt like a never-ending concert. Unlike most fans that were just happy to be in his mere presence.
One thing I really admired about Drake was the fact that he made sure all his fans got a clear view of him. For example, the Barclay's Center is a huge venue. There were people that had seats all the way at the top that are typically labeled as the "nose bleed" section. Drake appeared as a small dot to them. However, fans didn't care. As the concert was going on, a huge platform came down right above the people in the floor level seating. Drake got on it and asked the men in charge of it to bring him up. There he went through each section and acknowledged fans in those sections. He was persistent and made sure he went to the very top so that his fans could see him.
This came as a surprise being that Drake showed up to his album signing at Best Buy two hours late and rushed his fans because he had 500 CD's to sign. However, he was probably in a much better mood and being that fans spent hundreds of dollars, he wanted them to have the best experience of their life.
As the concert came to an end, not a single fan was disappointed. Drake did an amazing job of keeping the crowd entertained and truly showed how great of an artist he really is.
Leave a Comment
About the Contributor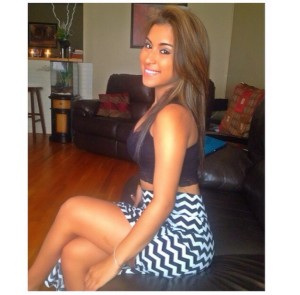 Kayla Rivera, Impact Staff
Kayla Rivera is a 20 year-old college senior. She is a Media Studies major in hopes of being a successful news reporter. She is an overachiever and will...